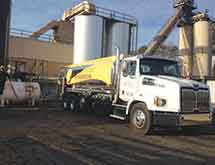 Family owned and operated, Great Lakes Petroleum started out as a one-man, one-truck operation in 1976. Currently, the company has one of the largest and most responsive state-of-the-art transport and tank wagon fleets in the petroleum industry, capable of delivering from 300 gallons to 8,800 gallons directly to client locations.
"Over the last 10 years, Great Lakes Petroleum has experienced tremendous growth and expansion," Marketing Manager Laura Boone says. "Today, we have a fuel delivery fleet of more than 150 vehicles, more than 300 employees and provide service in 19 states east of the Mississippi."
Building the Base
The company's legacy began when CEO Tom Arcoria purchased his first fuel truck and began delivering heating oil to homes in Cleveland for Standard of Ohio as Tom Arcoria Inc. Throughout its many years in business, the company has continued to evolve.
In February 1998, Tom Arcoria Inc. became what is now Great Lakes Petroleum. In 2001, Great Lakes Petroleum expanded into the lubricant business when it bought into Northeast Lubricants, a small lubricant jobber that is currently one of the larger BP and Castrol distributors in the country.
Tom's youngest son, Anthony Arcoria, joined the company in 2002 and is now its president. During the past decade, the company's service area began expanding through Ohio and into Pennsylvania, West Virginia and the Carolinas. In November 2004, Great Lakes Petroleum introduced wireless tank monitoring technology to the company.
In 2014, Great Lakes Petroleum became Coast Guard-approved for vessel fueling at several ports. The company is continuing to expand in this market, as well as capitalizing on opportunities in the fracking ancillary industries.
Great Lakes Petroleum's customer base has become very broad and diverse. Great Lakes Petroleum fully understands that down time costs money for its customers. This is why the company takes great pride in providing outstanding customer service with quick, reliable delivery.
The tank wagon division delivers fuel in quantities from 300 to 5,000 gallons, typically to aboveground fuel storage tanks that are wirelessly monitored with smart tank technology. These tanks can be temporary site tanks or permanent.
As for its transport division, that provides fuel deliveries of more than 5,000 gallons. Transport customers typically have underground fuel storage tanks. By shipping its own product and having its own transport and tank wagon fleet, the company can offer quality products at competitive prices, giving customers a fair return on their investment.
"Customers range from cell tower generators, construction sites, onsite fleet fueling, retail fueling stations, municipalities, military bases and marine fueling along with many other industries," Boone says.
Ongoing Growth
To establish and grow its reach within its target markets, Great Lakes Petroleum has historically relied heavily on its sales team to develop its markets the old fashioned way by knocking on doors. Members of the company's sales team research their market, attend networking events and introduce themselves to prospective customers to let them know about the services that Great Lakes Petroleum can offer.
"Our continued success is the result of innovative thinking, persistence, hard work and dedication," Boone says. "Our dispatch and customer service team are available 24/7. We invest in cutting-edge technology in fuel delivery, providing our customers with the best value and service. We also have well-established relationships that have been developed over many years with vendors."
As the company has worked on efforts to continuously improve and evolve, it has made a number of key investments that have been essential to its strategic plans. Technology has been important. For example, all of its trucks are equipped with Smart Truck logistics technology that is fully integrated with its Smart Tank and enterprise DM2 software to maximize efficiency and productivity.
In addition, Great Lakes Petroleum has its own unbranded petroleum product on the Colonial Pipeline as well as access to product from all major fuel suppliers through established relationships. This gives the company a competitive edge in terms of supply and pricing.
The company is well aware of the current trends that are impacting its operations, industry and customers. Product shortages are becoming an issue in some markets. Great Lakes Petroleum will continue to provide not only the product but also the exceptional service to its customers by continuing to increase its own product supply in each market.
"Our major priority in the years ahead will be to continue to provide exceptional service on a 24/7 basis to our existing and future customer base as we continue to expand into new markets on an annual basis," Boone says.