Green Lines Transportation Inc.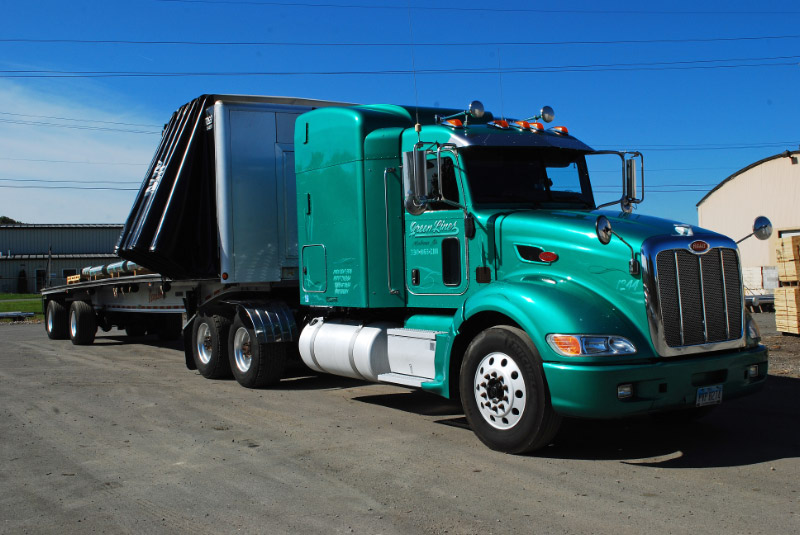 Asset-based logistics provider Green Lines Transportation believes in forming close partnerships with its customers.
By Jim Harris
Roger Bettis has long been a believer in the value of teamwork. Whether as a quarterback on the University of Michigan's football team – which he helped win three Big 10 Conference championships – or as owner and president of Green Lines Transportation Inc., Bettis knows that surrounding himself with the best people possible is critical to his own success.
"I'm just a part of the puzzle – the company needs every piece to be successful," he says. "I'm proud of all the people who work together here to make this company work."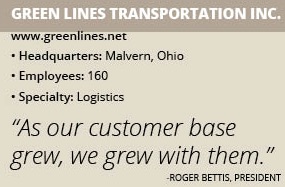 Teamwork and professional partnerships have played a major role in Bettis' career since he co-founded the company in 1980 with his cousin. At the time, Bettis was seeking a part-time job as he attended grad school. His cousin, an agent for a truck line, found Bettis a job with his company before the two set out on their own. Bettis had previously worked in distribution for the Ford Motor Company after graduating from college.
Green Lines Transportation quickly grew from having 20 hired trucks in its early days to an asset-based trucking company with 150 trucks. Much of the company's growth has come since 1993, when Bettis became Green Lines' sole owner. "As our customer base grew, we grew with them," he says.
'Working Hand-In-Hand'
Headquartered in Malvern, Ohio, Green Lines Transportation specializes in transporting goods for the steel industry. The company moves every type of product typical to the industry including steel coils, blanks, sheets, bar stock, tubing, guardrail and light poles.
To handle the large size and weight typical of the products it hauls, Green Lines owns and operates specialized trailers and equipment including spread axle, tandem and multiple axle trailers. All of the company's trailers are equipped with side kits or rolling tarp systems.
In addition to trucking, Green Lines operates a third-party logistics division, GLT Logistics Inc. "We've evolved into a logistics company with dedicated truck which manage shipping for companies," Bettis says, noting that third-party logistics (3PL) work constitutes the vast majority of the company's business. "We provide staff as well as trucks, drivers, trailers and whatever else it takes to manage a customer's site."
The company operates eight terminals in Ohio, Michigan, Illinois, Indiana and North Carolina. All of the company's terminals are located on or adjacent to customer sites.
"We're very customer driven and work hand-in-hand with our customers every day because we're on their site," Bettis says. "We're very much a team with our customers."
At each location, company staff members work with a client's sales and production department to plan truckloads. After steel goods are produced, the company stages it in trucks. Green Lines also handles dispatching, scheduling and delivery, all of which are aided by its use of the cloud-based Omnitracs electronic logging system, he adds.
3PL has been a large part of the company's offerings since 1991, when a customer in North Carolina asked Green Lines to manage its shipping operations. The North Carolina terminal today has a staff of between 35 to 40 people as well as 25 drivers. "[3PL] has become a big thing in the industry in the past 10 to 15 years, but it's something we have been doing for more than 25 years," he adds.
Safe Deliveries
All of Green Lines' customers can expect a high level of quality service from the company, Bettis says. The company's dedication to quality and safety is reflected in its standing as an ISO 9001 certified company. Green Lines has maintained ISO certification since 1998.
"ISO 9001 has helped us grow and expand without a lot of heartache," Bettis says. "It has made us pay greater attention to detail and do what we say we're going to do."
Safety is the part of Green Lines' operation to which it pays the most attention. During the past 10 years, Bettis says, the company has had the lowest loss ratio of the 32 truck lines within the insurance group it helped form. The captive insurance group is managed by National Interstate Insurance. "This is a tribute to the culture that we've created, which is very dedicated to safety," he adds.
Green Lines invests heavily in safety. This includes regularly purchasing new trucks and equipment as well as installing in-dash two-way cameras on all of its trucks that document video recordings enhancing safety. The average age of one of the company's trucks is three years old; the average trailer age is four years.
The back of each of the company's trucks bear the words "Safety is Part of our Delivery," a philosophy Green Lines espouses in every part of its organization. "Not everyone can work for us – we're very strict on who we hire," Bettis says. "We've always tried [to encourage] our drivers to go one step beyond what is required – if something needs six chains, we'll put seven on it. We would rather police ourselves than have someone else police us."