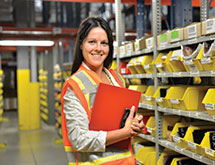 Although it was founded in 1946, it wasn't until a decade ago that logistics company Groupe Robert began growing in a major way. Vice President of Sales Gilbert Duquette has been at the company for 25 years and says that with new markets and services, Groupe Robert has been able to take its reputable name to expand its Canadian and U.S. presence. It's even been able to use its Canadian presence to help U.S. companies trying to break into the Canadian market with their products.
"We've had pretty fast growth in the last 10 to 15 years," Duquette says. "We made some acquisitions during that time and they were always focused on growing our solutions."
Those acquisitions supported Groupe Robert's main strategy to become a turnkey logistics provider, offering clients logistics, distribution and transportation services all under one roof. The company's fleet encompasses 1,100 trucks and 3,200 trailers and is capable of handling truckload, less than truckload, intermodal, transborder and specialized services. Groupe Robert's warehousing space totals more than 3.5 million square feet among 25-plus warehouses in Quebec and Ontario.
The company's warehousing and distribution capabilities include order preparation, delivery appointments, automatic resupply, prepackaging and repackaging, kit assembly, palletizing and pallet tracking.
In recent years, Duquette says the company has focused on growing its business within particular markets, causing the company to invest in the capabilities needed to serve those customers.
More Markets
"We started as a drybox carrier, but we wanted to offer more services to attract more customers so we grew our distribution centers and fleet to handle all the things we work with today such as automotive, food grade and aeronautic products just to name a few," Duquette says of the company's evolution.
In addition to the automotive, food and aeronautic product industries, Groupe Robert also serves the mining, pharmaceutical and cosmetic industries and has developed a skillset in handling heavy hauls and over-dimensional products. It still covers the general merchandise market, but Duquette says the heavy regulation associated with these new industries has caused the company to up its game in new technology and processes.
Within its fleet operations, Groupe Robert uses technology such as MCP 200 onboard computers that allow the company to communicate with and track its drivers in real time. The company can monitor the employee's driving to strategize on ways to increase safety and decrease fuel consumption. Inside of its warehouses, Groupe Robert employs inventory management software that gives customers real-time online access to check product inventory and order statuses. It also uses EDI transactions to receive information on upcoming deliveries or orders to prepare, as well as to confirm that products have been received or shipped.
Groupe Robert can adapt its data transmission to the various systems used by its customers such as VAN, FTP or flat files.
These techniques, Duquette says, not only help the company stay within the regulatory guidelines of its clients but also help clients reduce operating costs.
The Call to Reduce Cost
"All of these things also help us to reduce our cost," Duquette says. "Our customers are challenged to reduce costs so we have to reduce the cost of assembly. We have to reduce costs by making sure their products are on time. We have to reduce their costs by offering management systems that allow for efficient distribution."
Cost reduction is certainly the focus with two of the company's newest projects. Groupe Robert is 70 percent complete with a fleet optimization project that will replace 200 of its diesel trucks with trucks that run on liquid natural gas. It has 125 liquid natural gas trucks on the road today and has liquid natural gas stations at its hubs in Quebec City, Montreal, Toronto, as well as in London and Cornwall, Ontario. For its New York and Indiana operations, the company works with other operators to fill up at natural liquid gas stations in the states. Duquette says the switch will reduce the company's carbon footprint.
Groupe Robert is also reducing the environmental footprint at its distribution centers. The company is researching the possibility of converting its lift equipment from electric and gas to hydrogen. It is also replacing fluorescent lighting with LED lighting, which Duquette says is 30 percent more efficient, and installing motion detectors so lights automatically turn off when no one is in the area. Other environmentally friendly upgrades made by the company over the years include:
• Introduction of large truck trains resulting in a 45 percent reduction in fuel consumption;
• Reduction in vehicle speed limit to 100 km/h resulting in a 2 percent reduction in fuel consumption;
• Installation of aerodynamic skirts on fleet resulting in a 7.4 percent fuel savings at 100 km/h;
• Reduction in idling time resulting in a 95 percent reduction in idling time;
• Use of a generator rather than the engine to air condition the cab, resulting in 1 liter per hour for the generator versus four liters per hour for the engine at idle speed;
• Training in energy efficiency management and installation of the ISAAC (information sharing, administration and analysis center) system, resulting in improved driving and 8 percent fuel savings.
New Appeal
Duquette says these energy-saving factors not only help the company appeal to new customers, but are effective tools in recruiting, as well. The new generation of drivers has different priorities than their retiring predecessors. For one, being able to spend more time with family and less time on the road is a crucial factor. Also, companies with a strong environmental stance tend to stand out. "Our commitment to the environment does attract younger people," Duquette explains. "The fact that we are more aware of the environment with our trucks and in our distribution centers shows our commitment and that has helped gain new customers and employees."