Hansen & Adkins Auto Transport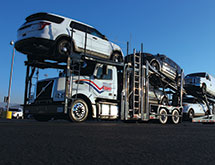 Hansen & Adkins Auto Transport started with one account and 10 trucks in the southeastern United States. Today, the 835-truck company transports more than 1.8 million automobiles per year from 30 company locations.
"Basically, our company started as a Hansen family venture that soon turned into a partnership between Louie Adkins and myself becoming Hansen & Adkins Auto Transport," Executive Vice President Steve Hansen says. "We utilized his contacts and marketing expertise and my trucking and operations expertise. We operated out of a terminal in the Southeast for three years and then expanded to our second location in Jacksonville, Fla., hauling new cars. We work with manufacturers moving freight from rail, port or plant locations to dealerships."
Adkins had been working in the business three-and-a-half decades when the company started in 1994, so he had many contacts in the traffic departments of auto companies. Hansen & Adkins started small and business simply increased as the new company continued to do good work throughout the region.
"We were a small carrier doing a good job," Hansen says. "We'd have 10 percent in a certain area, then increase to 25 percent and 50 percent and then end up with the contracts."
The company then developed an additional import business, adding Kia, Nissan and Hyundai to its customer list. Growth then accelerated at a quick pace, and it has not stopped.
Hansen & Adkins is a contract carrier offering transportation services for new and remarketed vehicles. The company moves vehicles from manufacturing plants, ports, railheads and auctions to retail dealerships and auction sites throughout the Southwest, Southeast and Midwest of the United States.
Top Drivers
When driving down the road, motorists are accustomed to observing auto-hauling trucks. However, those motorists might be surprised to learn the drivers of those trucks are responsible for all components of their hauls. Unlike no-load, no-touch haulers, Hansen & Adkins drivers oversee the entire process of inspecting, securing, loading and unloading vehicles.
Hansen & Adkins recruits drivers with at least two years of commercial trucking experience. "We have an open mind and hire drivers for attitude, not experience," Hansen says. "We will teach the auto transport part of the job to those with commercial driving experience." Hansen & Adkins Auto Transport's training program includes more than three weeks of intensive classroom, loading and driving training. Based on similar industry programs, the training program was developed by Barry Williams, vice president of operations.
"We originally had a buddy system in which new drivers partnered with a single driver for training," Hansen explains.
According to the Auto Haulers Association of America, of which Hansen is chairman, the driver shortage in the trucking industry affects auto haulers, too. Hansen & Adkins feels the pinch, as well, and is focused on driver retention and hiring. In the never-ending battle for talent behind the wheel, fortunately, it has several things going in its favor. First, auto transport drivers tend to earn more compensation than truckers hauling less valuable freight with fewer responsibilities. In addition, Hansen & Adkins' drivers are home more of the time, driving hauls averaging about 250 miles.
Auto Transporters
Yet it is not only drivers that keep Hansen & Adkins trucking. It also must acquire up-to-date technology and proper equipment. Its auto-hauling trucks can haul up to 11 small sedans or seven SUVs, on average. Its trucks last about 10 years apiece and cost more than $250,000. Heights, width and lengths, along with hauling load capacities, are the key features analyzed when shopping for new auto trucks, Hansen explains.
Hansen & Adkins' primary business is about 95 percent new automobiles. It fills occasional "empty miles" with used vehicles and is allowed 48 hours upon receipt to ship autos to their final destinations.
"Our new car shipping volumes decreased along with the general economy in 2008-09 and then grew again," Hansen says.
No matter how the market behaves, Hansen & Adkins Auto Transport is committed to providing the best service. "In fact, we strive to be the very best in all we do for our customers, our employees and the general public with whom we share the highways," the company says.