Harley Marine Services Inc.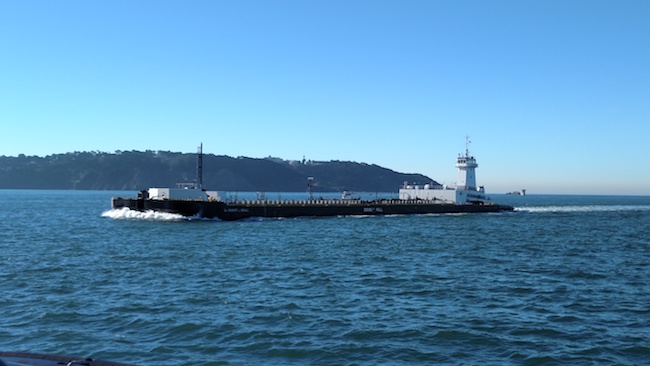 Harley Marine Services' founder and employees play a critical role in the 30-year-old company's growth and evolution.
By Jim Harris
In 1987, Harley Franco saw a need for a customer-focused marine transportation company serving the Pacific Northwest. With just a single leased tug and barge, Franco began fuel distribution – also known as bunkering – operations for fleets and ports located in the Puget Sound of Washington.
Over time, oil companies, shipping lines and others became aware of the focus on quality and safety exhibited by Franco's company – Olympic Tug & Barge Inc. – enabling him to rapidly expand the company.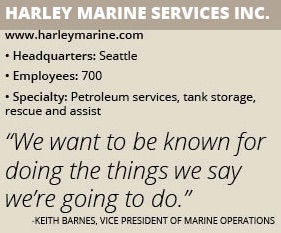 Today, the company is known as Harley Marine Services Inc., of which Olympic Tug & Barge Inc. is an affiliate. It operates more than 150 vessels at every major West Coast port as well as along the East Coast and the Gulf Coast. Although the company has grown considerably from its humble origins, Franco's focus on customer service remains at its heart.
"At the end of the day, we want to be known for doing the things we say we're going to do," Vice President of Marine Operations Keith Barnes says. "When a customer comes to us to request a specific service, we go out of our way to provide that service at a fair cost that is both profitable for us as well as a good deal for our customers."
A Hands-On Presence
The Seattle-based company guarantees quality service in part through what it calls its "boots on vessels" policy. "Our managers spend the majority of their time in the fleet working with our crews instead of spending their time working in an office," Barnes says. "Having a management presence on board our vessels has been the single-biggest differentiator for us."
Harley Marine's management staff includes line managers, vessel captains, barge managers and port captains. The company's managers ensure Harley Marine's operational and safety policies are followed and oversee training and continuous education programs.
Harley Marine Services Inc. and its affiliates provide petroleum services, tank storage, ship assist and escort, and rescue and towing services to petroleum companies and ports. In addition to Olympic Tug & Barge, which remains based on the Puget Sound, the company's affiliates include:
Pacific Coast Maritime, which provides tug and barge services in Alaska, Washington and California;
Westoil Marine Services Inc. and Millennium Maritime Inc., which transport marine fuels and provide ship assist and escort services, respectively, in Los Angeles and Long Beach Harbor;
Starlight Marine Services, which serves the San Francisco Bay Area market;
Harley Marine NY, Inc., which runs between ports in New York, Philadelphia and Connecticut; and
Harley Marine Gulf, based in Houston.
A Culture of Safety
Each of Harley Marine Services' affiliates follows an extensive and industry-leading safety program. "We're a safety-based company that has a culture of 'if we can't do it right and safely, we don't do it, no matter what,'" Barnes says. "We communicate that culture to everyone in the company fleet as well as onshore."
All employees from seamen to tug captains are authorized to stop work immediately if a hazardous situation arises. "We feel that having a 'stop, look, listen and share' program and an overall safety culture is reducing our incidents and making us a safe company," he adds.
The company's safety program meets or exceeds several internationally recognized standards including ISO 9001 and 14001 as well as International Safety Management code and the American Waterways Operators Responsible Carrier Program.
Continued Evolution
Harley Marine Services continues to evolve its capabilities. The company – which celebrates its 30th anniversary in 2017 – has in recent years invested in articulated tug and barge (ATB) vessels, which it operates on the west and east coasts. The vessels consist of a tugboat coupled to a barge through an articulated connection, giving them greater movement than tugboats that are connected to barges via towlines.
Harley Marine's ATB vessels have an 80,000-barrel capacity. "Many of our customers are leaning toward moving products via ATBs vs. towing them," Barnes says. "This gives us a niche market."
Harley Marine is also expanding its physical footprint. The company within the past five years has expanded its market in the Gulf Coast as well as in Alaska. It is also expanding the ship assist services it offers in ports in San Francisco and Los Angeles into the Puget Sound area.
The company is investing in high-horsepower tractor tugs to enhance its ship assist capabilities. "We're continuing to build and enhance our fleet, even with oil prices being down and companies not moving as much product as they used to," he adds. "We have taken what we've learned from other ship assist tugs and are always improving our fleet."
In addition to investing in equipment, Harley Marine is enhancing its brick-and-mortar surroundings. The company recently moved into a $45 million headquarters building in Seattle that is LEED Gold certified for its energy efficiency. A new base of operations in Houston – also projected for LEED Gold – will open in summer 2017.
Barnes credits Harley Marine's staff and founder with the company's continued growth. "[Franco] is committed to our being the best and safest marine transportation company possible; he is not satisfied with being mediocre," Barnes says. "He wants us to provide the best possible service to our customers, and that's what he's enabled us to do for the past 30 years by investing in people and equipment and building a strong safety management system."