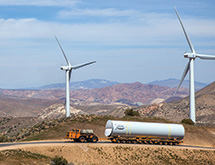 When Heavy Transport provides transportation services, it does it with a state-of-the-art fleet. This enables the Long Beach, Calif.-based company to meet its customers' needs. "We do what we say we'll do," General Manager Bob Weyers says.
One of three divisions of the Bragg Companies, Heavy Transport specializes in transporting over-sized, multidimensional and large-capacity cargo throughout North America. The company's history dates back to 1946 when Jim Bragg founded Bragg Crane Service.
Two years later, Bragg formed a heavy haul trucking company to support his crane division. "When we first started out, the company was designed to support our crane service division. Our focus has changed over the last decade," Weyers says.
"We still have our first commitment to Bragg, but now we are out in the heavy haul industry as a competitor hauling project work and heavy cargo," Weyers says.
Today, Heavy Transport has a 49-truck fleet as well as branches in California, Utah, Texas, Arizona and Nevada that provide services to all 48 contiguous states.
In addition to the flatbed and project work, Heavy Transport provides services to the refinery and power generation industries. Weyers also notes that a large portion of its work stems from ports on the West Coast.
A Booming Business
"Heavy Transport is keeping busy," Weyers reports. "Although the company's business in the wind energy sector rose in the fourth quarter, it seems like business was strong all year long."
Additionally, the southwest has been a particularly strong region for Heavy Transport. "About 70 percent of our work has been based in California and the majority of the work has been project work," he explains.
Satisfying Work
Weyers is a longtime veteran of the logistics industry. "My family all came from trucking," he says.
Weyers, himself, started working in the industry right after graduating from high school. "I think that the trucking industry is one of the best industries you can get involved in," he says.
Weyers then went to work for Heavy Transport in 1986 as an owner/operator and grew with the company. For the past six years, Weyers has been the general manager of the heavy haul division. He also is very proud of the fleet that he now oversees.
Additionally, "We've got the best drivers and technology for trailers in the business," Weyers continues, noting that he appreciates working with "equipment that you never have to worry about breaking down.
"In the future, I would like to see the company continue to grow and I also want the Bragg family to stay involved in the management of the Bragg Companies," he adds.
"Scott Bragg is our vice president/COO and Mr. Bragg's sons also work for the company," Weyers says. "Just watching their work ethic on a daily basis is satisfying."