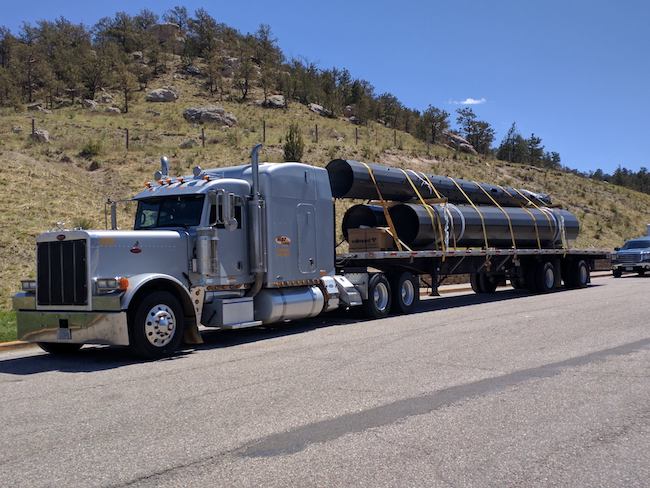 Hinz Trucking strives to take care of its customers.
By Alan Dorich
Hinz Trucking Inc. specializes in flatbed trucking services, but it never overlooks the importance of its connections with clients and employees. "We can talk logistics all day, but in the end, the key is what you have in a relationship [with them]," Vice President Rod Hinz says.
He co-founded the Elm Creek, Neb.-based company in 1985 with his father, Dale Hinz, and his brothers, President Todd Hinz and Secretary and Treasurer Scott Hinz. "We grew up farming and the farm crisis kind of edged us out of it," Rod Hinz recalls.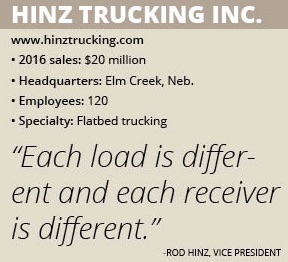 The family hauled its own grain to feed lots, which allowed it to easily move into trucking as a grain hauler. Over time, Hinz Trucking expanded its markets and now regularly transports irrigation equipment, lumber, coils and plate steel.
The company also focuses on flatbeds, which provides "the opportunity to be in a niche that fit what we were best at," he recalls. "It also gave us the greatest potential for income and revenue."
Flatbeds require drivers that can be flexible. "Each load is different and each receiver is different," he says, noting that the destinations also can vary. "Sometimes you're in the middle of a field or you're in a building site. It's certainly not warehouse to warehouse."
Hinz Trucking operates a fleet of more than 90 trucks, which includes special edition model 567 Heritages from Peterbilt. Hinz and his son, Alec Hinz, had the opportunity to drive the vehicles off of Peterbilt's assembly line at its plant in Denton, Texas.
"That was fun," Rod Hinz recalls. "They've definitely taken logistics to a new level. When you look at their plant, it's mind boggling."
Taking Care
Hinz Trucking serves a customer base that includes CertainTeed, Universal Forest Products Inc. and Valmont Industries Inc. The latter, Hinz notes, is an irrigation equipment manufacturer in Omaha, Neb., that his company has served for many years.
"We've definitely built a lot of our business around their needs and tried to serve them," he says, noting that Hinz Trucking's work for Valmont reflects its strong focus on the customer. "They know if they have a special need, we'll take care of it.
"If they have an issue, they don't find out about it from a customer, but they'll hear it from us," he continues. "We say, 'This is what happened and how do we work through it?' Their culture is the same as ours where they treat people the way they want to be treated."
The Family Business
Hinz's children work alongside him at Hinz Trucking, which makes him excited for the company's future. Alec Hinz works in the firm's dispatch office. "He wants to move more towards sales," the elder Hinz says.
His daughter, Elizabeth, also works in its accounting and payroll department. "She does all of the billing," Rod Hinz says, noting it has been rewarding to have them at the company.
"It's been fun to watch how they've grown closer together and how well they've performed," he says. "They're very young, but at the same time, they're able to interact [well] with customers and drivers."
Hinz also is "cautiously optimistic" about the current economic climate. Many drivers at other firms, he explains, are looking for new employers that will keep them busy with work.
Hinz Trucking can provide them with that work. "We feel like we're ahead of the curve because of the close relationships we have with the shippers," Hinz says. "If you have solid, long-term relationships with your customers, they're going to take care of you as you take care of them."