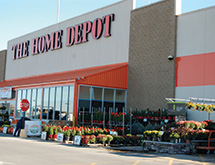 When selecting a transportation partner, many companies' only concern is cost, and the lowest rates often win the bid. But although cost is always a factor for Home Depot, the home improvement giant puts performance first. "We are not a shipper that is necessarily using the cheapest rates and the cheapest carriers," says Ron Guzzi, senior manager of transportation carrier relations and sourcing. "What we are chasing is a balance of performance and cost."
For the past several years, the company has been retooling its approach to the supply chain to better support its retail operations. "We are a retailer who runs a very lean supply chain model," Guzzi explains. "It is critical for us to get product where it needs to be and when it needs to be."
At the end of the second quarter, the company operated a total of 2,270 retail stores in all 50 states, the District of Columbia, Puerto Rico, U.S. Virgin Islands, Guam, 10 Canadian provinces and Mexico. The company employs more than 370,000 associates Home Depot is the largest home improvement retailer in the world. Guzzi has been with the company for 18 years, and has spent 16 of those years involved in Home Depot's various transportation roles.
Centralized Supply Chain
Home Depot began rethinking its supply chain over 10 years ago, Guzzi says. Transportation responsibilities were taken away from regional offices and centralized at Home Depot's headquarters in Atlanta. The company's other territories, Canada and Mexico, also have their own centralized supply chains.
Prior to centralization, 30 percent of Home Depot's freight went through the distribution supply chain and 70 percent went direct to store. Those numbers have since flipped, with 70 percent of products sold in stores first traveling through its supply chain and 30 percent delivered from the vendor directly to retail locations. "Within the last 10  years, we have completely transformed our supply chain," Guzzi says.
In the United States, Home Depot operates over 60 distribution centers across the country. Of that, 27 are bulk locations supplying lumber and building supplies, 12 are stocking distribution centers (import product) and  18 are Rapid Deployment Centers (RDCs). Roughly half of Home Depot's products flow through those RDCs, Guzzi says. At the RDCs,  vendor freight delivers  to Home Depot's mechanized cross-dock buildings and products are then swiftly delivered straight to stores and placed directly on store shelves. Stores receive daily deliveries from the RDCs, which has allowed Home Depot to cut the amount of inventory each retail location must keep.
Moving products between those  distribution centers and more than 2,000 U.S. locations requires Home Depot to utilize multiple forms of transportation. Although Home Depot does not own its own trucks, each distribution center has a dedicated fleet run by dedicated carriers on three-year contracts. Likewise, its less-than-truckload (LTL) contracts are bid out every two years. There's nothing unusual about the length of those contracts, but the way Home Depot is managing its national trucking and intermodal bids for over-the-road (OTR) shipping is changing the relationship between carrier and customer.
Rethinking the Bidding Process
In 2009, the country was deep into the Great Recession and declining retail sales slowed activity along transportation lines. Home Depot recognized that trucking companies had an abundance of capacity and few expiring contracts. The company began to aggressively bid out its trucking rates against the evergreen prices carriers had long held.
Carriers needed work and accepted the new, lower rates, but when the economy began rebounding in 2010 those carriers came back to Home Depot looking to raise prices even though the new contracts were still in place. Guzzi says Home Depot held firm at first, but soon saw its tender (load) acceptance go down. "Our rate per mile went up because carriers weren't accepting our loads, causing many of those loads to move by spot rates," he says.
Home Depot responded by quickly adjusting rates for carriers, but the experience made the retailer realize it needed a more standardized process for setting OTR shipping costs. In 2011, Home Depot held its first national bid for a one-year OTR shipping contract. "We've been on an annual rhythm of bidding since that time," Guzzi says.
For the past five years, Home Depot has rebid approximately  80 percent of its expiring OTR trucking and intermodal contracts. The 20 percent that has not bid was retained by incumbent carriers at rate neutral. This practice allows strong performing carriers to hold on to lanes that are critical parts of their network.  The bid launches each year in May and the new rates go live on Aug. 1 of each year. The annual bids involve 80 carriers: 65 are asset carriers (that own their own trucks) and 15 are carrier brokers. Guzzi says Home Depot typically favors asset carriers because it wants to spend money with companies that are investing in their own trucks and drivers. More than 95 percent of Home Depot's overall OTR shipping is done through asset carriers, he adds.
Rating Carriers
Rebidding all of the national carrier contracts each year requires a strong understanding of how each transportation partner and the network as a whole have performed. Home Depot has developed the Carrier Rack and Stack program, a scorecard that rates the performance of all 80 carriers in the network. Those scorecards are shared with carriers on a weekly basis and show how the carrier performed that week and in four-week, 12-week and year-to-date periods against all other transportation providers in the network. "You can imagine what that does in terms of the competitive nature of the trucking companies," Guzzi says.
Home Depot uses those scorecards to review each carrier's performance over the course of the year and then factors that performance into the following year's bid. "Based on where their rank is, we will artificially inflate the carrier rates we enter into the bid tool," Guzzi says. The reasoning is that a  low performing carrier will actually cost more than a top performing one, and accounting for carrier service in the bid helps Home Depot determine the true cost of its contracted rates.
The end-process rewards carriers based on a combination of performance, rates and a carrier's SmartWay ranking, an EPA rating that encourage transportation companies to reduce emissions and support the environment. Even within those one-year contracts, Home Depot uses the scorecards to make service adjustments based on 90-day performance intervals, Guzzi explains.
Understandably, some carriers were skeptical about the shift to one-year contracts at first. Transportation partners worried about the impact short-term contracts would have on long-term viability. But after five years, Guzzi says they now understand the benefits and see that Home Depot is not aiming to upend those relationships. "We are very transparent," Guzzi says. "[The carriers] know where they stand with us, and, as a shipper, they know we aren't always chasing the best rates. We will pay  for quality service up front because on the back-end we know what poor service will cost us."
Guzzi says the yearly bidding process has benefitted both Home Depot and its carriers. "We feel that the 12-month bid process allows Home Depot and our carriers to reset based on market conditions and network  changes," he explains. The process has also encouraged carriers to follow through with their commitments. Guzzi says once the new lanes and rates are set, approximately 98 percent of the volume Home Depot locks-in is sustained during the following 12 months.
Further, resetting those contracts annually gives Home Depot an opportunity to adjust its lanes and commitment levels to improve capacity. . "I feel that we get the best capacity and service in the industry," he adds. In 2015, Home Depot's year-to-date tender acceptance level is  about 97 percent, Guzzi says, and even during the difficult winter of 2014 the company saw as much as 95 percent of its shipments accepted even as other retailers dropped to the 70-80 percent levels. "We think that our process keeps us at industry-best levels," Guzzi explains.
Next Steps
After transforming how it approaches its transportation contracts, Home Depot continues to work with carriers to improve efficiency in its supply chain and capacity. Home Depot has begun employing supply chain synchronization, which results in steadier week-over-week shipping and cuts down lead times. Using synchronization, freight orders are made to coincide with selling patterns at stores. Instead of shipping five loads in one day, those loads are spread out over an entire workweek, allowing for more predictable freight and making it easier for carriers to support capacity. "One of the biggest things carriers are looking for is that consistency and predictability of volume," Guzzi says.
Inspiring Loyalty
"Some might say it's risky for a company to throw out its business to bid every year," Guzzi says. "We know that, and in the end we make sure there is a competitive environment. But our top performing core carriers have remained our core carriers." Home Depot's top 10 carriers still make up a large part of the company's total shipping volume, and that number has stayed consistent even after Home Depot instituted yearly bidding. "We do a good job of staying loyal to our core carriers who have stayed loyal to us," Guzzi adds.
Although carriers may have been initially skeptical about the yearly bidding process, in truth there has been little turnover and it's actually created opportunities for many smaller trucking companies. In the last five years, Home Depot has added between 25 and 30 new players to its network and removed fewer than 15 that have underperformed, Guzzi says. The process has helped Home Depot find those carriers who can best serve its network.
Big national carriers may still take the bulk of Home Depot's shipments, but the bidding process has also created new partnerships with regional trucking companies. Carriers in the 200- to 700-truck fleet range have become increasingly important components of Home Depot's network. Guzzi says those niche, regional partners have proven to be cost effective with above-average performance. "They know what they want and they do it very well. So I think we've seen value in that," he explains.
As one of the largest retailers in the world, Home Depot strives to be seen as a top-10 spend for each of its trucking carriers. When the market gets tight, carriers are more loyal to the customers that make up the larger parts of their business. "If there are less trucks than loads, we want to be the ones getting the trucks," Guzzi says.
The company understands its role in developing those relationships, as well. Guzzi says Home Depot wants to be seen as a "shipper of choice" not just by its carriers, but also by the drivers themselves. Home Depot is conscious of the difficult work/life balance many truckers experience and is responding by doing all that it can to improve efficiencies across its carrier base. That leads to happy drivers that want to run loads for Home Depot.
The goal of those efforts, Guzzi says, is that drivers will make Home Depot a higher priority in shipping. "We are a high-demand shipper who expects nothing but strong quality of service," Guzzi says. "As a real-time inventory retailer, we can't afford to be out of stock."