Honda of South Carolina Manufacturing Inc.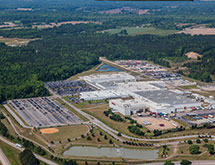 Now is an exciting time for Honda of South Carolina Manufacturing Co. as it rolls out an assortment of new and exciting off-road products for worldwide customer satisfaction.
Honda of South Carolina had been producing about 100,000 all-terrain vehicles per year. In 2014, it is slated to produce 125,000, says Brian Newman, president of Honda of South Carolina. The increased production is the result of Honda of South Carolina adding side-by-side vehicles to its manufacturing lines in June 2013. These one-, two-, three- or four-person four-wheel-drive off-road vehicles are produced as either recreational or utility models.
Since incorporating in 1997, Honda of South Carolina has produced more than 2.5 million ATVs, with 70 percent sold in the United States and 30 percent exported to several countries.
Those vehicles are sold through more than 1,100 dealers via Honda's U.S. sales team based in Torrance, Calif. Honda is ranked No. 1 in the American ATV market with about 34 percent of sales, Newman says.
Nine Models
Honda of South Carolina's 630,150-square-foot plant sits on 615 acres. It is one of Honda's 14 major factories in North America and its only ATV site worldwide. It produces nine different ATV models. Seven of them are multiuse utility models for farming, ranching, hunting and other uses. Honda's marketshare of U.S. multiuse ATVs is about 46 percent. It also produces two ATV models in the sports category – the TRX 250 and the TRX 400. These represent about 21 percent of the American ATV sport market, Newman says.
"The ATV market is pretty well saturated," Newman says, but it is expected to grow at a modest rate of 3 percent annually. Side-by-side vehicle growth, on the other hand, is soaring with 35 percent growth predicted. "Baby boomers are moving from ATVs to side-by-sides," Newman explains. "As they are getting older, they notice the side-by-sides have a smoother ride and they can have more passengers with them."
Honda's side-by-side model the Pioneer 700 quickly gained over 5 percent market share after its launch last year. Honda R&D Americas in Ohio designed and developed the Pioneer 700. "The Pioneer 700 was so well received, the demand is more than we can produce," Newman says. "Honda is recognized for its quality, dependability and reliability. So our customers know anything with a Honda nameplate is going to be high-quality, dependable and reliable."
Producing nine different models of ATVs is a manufacturing challenge. The models feature many variations so supply chain and logistics must be carefully planned. Honda of South Carolina favors a lean and just-in-time manufacturing approach with minimal inventory, Newman says.
Dynamic System
Scheduling is one of its biggest manufacturing challenges, says Kim Melton, senior manager of the parts management group. This is especially the case considering all of the different process times, changeovers and inbound freight the company must juggle. To maximize efficiency in such a complex arena, schedules are completed one week in advance to avoid surprises. Schedules are so carefully coordinated, in fact, that parts may go directly from a truck onto the production line.
"It is dynamic to the point that we don't have static addresses for parts," adds Joel Stokes, assistant manager of the Information Systems Group. "We allocate floor space for parts and parts go to different locations depending on the schedule. So we give them the parts needed and there is not a lot of empty space in the warehouse."
Honda of South Carolina receives more than 700,000 parts containers per year. Freight vending partners are selected via a fair and transparent sealed bidding process, Melton says, in which all have a fair shot at the business.
Assistant Manager of Trade Compliance Diane Embry says approximately 80 percent of parts received are domestic. About 15 containers per week are received from Japan and the others are primarily from Canada. She maintains a networked connection system with customs officials to ensure parts are never stranded at the port stalling production.
"We send the data through to customs," Embry explains. "We transmit it before the ship leaves the port in Japan so we are approved to load the ship." Non-compliance with customs could lead to large fines. Customs officials even have the power to shut the doors of an uncooperative plant, "so we stay above board on rules and regulations," she says.
All in all, the future looks bright for Honda of SC. "Our associates are engaged in always producing the highest quality products safely and at a reasonable price for world wide customer satisfaction," Newman says.