Honda of South Carolina Mfg., Inc.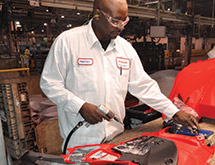 Growth requires effort, and the associates of Honda of South Carolina Mfg., Inc. as well as its suppliers are making strong efforts to add a second production shift and the new Pioneer 1000 side-by-side flagship multi-use vehicle to its annual production. The Pioneer 1000 is scheduled to be in dealers' showrooms by late September or early October.
Besides adding the shift and additional associates, increasing production to that extent requires more production equipment. "We had to bring some more in-house tooling in to be able to produce that model," Honda of South Carolina President Brian Newman says. "We're a full manufacturing facility here.
"We do our own plastic blow-molding for fuel tanks for all models and plastic injection molding of the larger component parts – such as fenders and side covers for the ATVs, and the front hood, fenders and grilles and instrument panels for the side-by-sides – as well as the side fenders," he says. "So we try to do as much as possible in-house with some of the more critical parts, especially appearance parts, with our injection machines."
The new Pioneer 1000 will add manufacturing of another component to Honda of South Carolina's production line. "We already do all the frame welding for the ATVs and side-by-sides in-house, and for the new 1000 we just expanded a little bit," Newman continues. "We're going to produce the rear bed of the new 1000. It's a larger bed than the 700, which we currently bring in from the outside. We're bending the raw material and final welding the 1000's rear bed, as well as the frame."
Newman explains the plant will produce the 1000's bed and frame in-house "so we can guarantee the quality, durability and reliability of the frame, both for ATVs and side-by-sides. We want our associates to manufacture some of the most critical components for us."
Another large section of the plant is for the manufacture of power trains. "We have high-pressure die casting that makes our engine cases and covers," Newman explains. "We also have low-pressure casting operations here as well, where we make the cylinder heads of the engines."
Engine case and cylinder head machining is done in-house, while steel crankshaft and forged materials are obtained from outside suppliers. "We do the final machining and confirmation of the crankshaft in-house, as well as some engine covers and some differential case covers," Newman points out. "We also do our two-wheel drive and four-wheel drive differential assemblies in-house."
Among the challenges Newman sees is hiring the number of associates Honda of South Carolina needs for the production ramp-up and then training them.
"The second challenge is with 235 local suppliers in North America, getting them verified and confirmed and making sure they can meet our quality and delivery needs to where it all comes together to produce our high-quality product," Newman explains.
Transportation and Logistics
The sizable production increase is reflected in the transportation and logistics departments that must procure the additional 80 percent of components that Honda does not produce in its Timmonsville plant.
Demand forecasts are formulated and shipped to suppliers so they know 26 weeks in advance what quantities of parts will be needed. "All of our parts are driven off of the individual schedule, and my group is responsible to make sure that the suppliers ship full quantities in the right type of containers," explains Scherrell McElveen, manager of production service (OEM and logistics). All shipping is done by third-party carriers.
Associates working for the inventory control group at Honda of South Carolina's warehouse scan the parts into the system by the label. "Once the parts are actually received, if there is any type of discrepancy, they can issue a domestic trouble report," McElveen explains. "If there is a quality issue with a part, then our quality department is contacted." Once the containers are emptied, they are returned to the warehouse, where they are cleaned and the labels removed before being returned to the supplier for refilling.
Early Notification
If there are problems with a supplier getting its components, subassemblies or parts to Honda on time, Honda will be notified. Honda requires its suppliers' trucks to be equipped with GPS so their locations are known in real time, and the drivers can be reached through their cell phones. "There are times when we know in advance that a part is going to cause a problem," McElveen says. "When we know that, we are able to meet with our team here at Honda, all the groups – plant manager, production control, all the sections – we could come together and say, 'This is what we got,' and we can work together."
But if a problem is discovered with parts or components upon their receipt, usually three days are available to solve the problem – the day it is received at the warehouse, the day it is transported to the staging area and the following day, when it is used on the production line. "Sometimes we don't know of a problem until it's on the line, where it could be the parts were short in the container or there is a quality issue with the parts," McElveen says. Air transport sometimes is required for emergency part shipments.
"We have to do our follow-up by getting in touch with the supplier and making sure they understand what caused them to be late, do a partial shipment or even miss a shipment," she continues. "If those parts don't come in on time during the three-day window, it interrupts the flow at our warehouse. Then we have an abnormal situation where parts come in and sometimes some have to come directly here. Sometimes, that could cause other issues. We like to make sure the suppliers ship on time, and if they do have a problem, we work with them, but it's that communication that is the key."
Honda of South Carolina invites bids from most suppliers and transportation providers every three years. "We normally send out packages to the different transportation companies, and we give them the criteria and let them know where most of our supply base is located in the northeast part of the country," McElveen describes. "Then the bids come in, and we go through their bid packages. Normally, it is based off of cost. If they can come in with the cost we need to keep our budget, that's normally who will be awarded the business."
McElveen's department is responsible for the specialized packaging that Honda owns in which the components are shipped from the suppliers. "We need to make sure that when the product leaves the supplier and comes to our warehouse that we don't have any impact to our production line," McElveen says. "We have to keep the quality and integrity of the part."
Honda of South Carolina has longlasting relationships with many of its suppliers. "We are committed to that supplier to do whatever it takes to work together to get through any type of issues we may have," McElveen emphasizes. "If a supplier has a problem, we work together with them. We are one team and we have a family oriented atmosphere."
Legislative Outreach
Additional efforts are being made by the state of South Carolina to improve its infrastructure as Newman's outreach efforts bear legislative fruit. "We've had great support here by the local elected officials in our county and city, and more importantly, the state of South Carolina," Newman says. "Those elected officials have been huge supporters to us. They work very closely with us, and we have very good working relationships with the state, as well as the county and the city."
With the number of manufacturers locating plants in South Carolina, Newman has been spearheading efforts to support infrastructure improvements to roads, bridges, harbors and docks. "I'm trying to put my voice out there to elected officials about the importance of that to Honda," Newman reports. "I've been quoted in the paper and had opportunities to talk to Governor Nikki Haley about that, as well as other elected officials. Other major companies in South Carolina are really pushing for this infrastructure improvement. That's the type of relationship we have here in South Carolina. It's a wonderful state to do business in, and that's why it's growing as fast as it is and will continue to grow as long as the state and the counties get together and work together and improve the infrastructure and bring more jobs into South Carolina."
Honda of South Carolina emphasizes safety in all its operations. "We just achieved 3 million hours without a lost-time accident, and we are three months away from achieving 4 million," Newman says. Honda of South Carolina has a history of being recognized for its safety programs, including being named one of America's Safest Companies in 2014 by EHS Magazine and earning the Theodore Roosevelt Workers' Compensation and Disability Management Award for efforts to reduce the number and cost of injuries to workers.