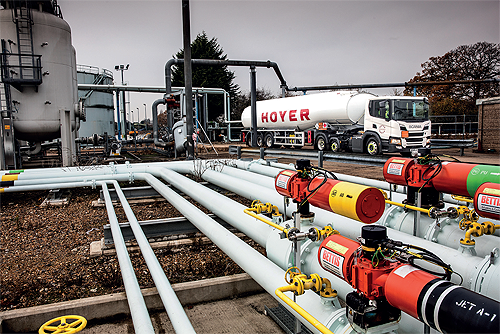 Fuel for thought
Faced with the unprecedented challenge posed by the Covid-19 pandemic, HOYER's people in the UK have stepped up to the plate to not only see the business through tough times, but also keep the country moving
For HOYER in the UK, recent times have been not only challenging, but more importantly exceptionally rewarding. The business has been delivering petroleum products within the UK since 1974, through its fleet of vehicles and drivers to a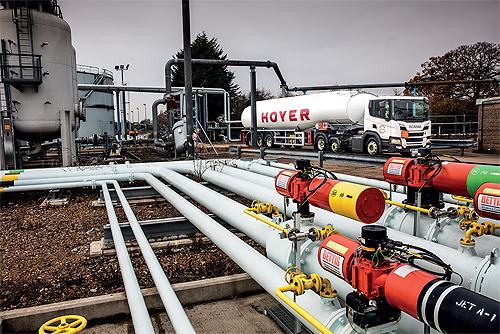 mixture of traditional oil majors, independent oil companies, and specialist fuel retailers. It has, therefore, experienced a great deal over the last 46 years, yet 2020 will no doubt go down as its most uniquely complex to date.
"In the 18 years that I have been with HOYER, 2020 has easily been the most challenging," explains Allan Davison, who at time of writing served as Operations Director of HOYER's Business Unit Petrolog in the UK, but will shortly move up into the role of Managing Director at the beginning of 2021. "Referring to the Covid-19 pandemic as 'unprecedented' has become a bit of a cliché, but it's true. The industry – and every stakeholder in it – has been hit exceptionally hard. At its worst, our ground fuels volumes were at only 30 per cent of normal levels, with aviation down as low as five per cent. Whilst these volumes stabilized a bit over the summer, they were still considerably lower than pre-pandemic levels, whilst the second wave has only made the situation worse.
"Despite this, I am very proud of the business and all of our colleagues' resilience as we very quickly took ownership of the issues presented to us and adapted to a way of working that ensured we could still deliver on our primary purpose, which is delivering fuel and other essential commodities that provide continuity to the lives of millions. As employers of recognized key workers, we collectively found a way to deliver and ensure the country did not come to a complete stop."
Particular praise from Allan has to go to the men and women who make up HOYER in the UK. "2020 has seen a remarkable response by all of our colleagues, staff and drivers alike. Moving to remote working in a matter of days was exceptionally challenging but achieved without fuss or fault by our colleagues, and our drivers continued to make deliveries of bitumen and fuels without complaint. We also have to remember that everyone's lives have not only been affected professionally, but also personally. The care and respect shown by all our colleagues to each other, our customers and the general public during this challenging time has really made a difference."
Critically for the business, it has managed to successfully extend all of the contracts that it has tendered during the last 12-to-18 months, as well as winning some additional business in its aviation and ground fuels sectors. "Notwithstanding the significant impact of Covid-19 in 2020, our like-for-like volumes have increased in the past two years, which is an outstanding achievement in an overall declining market," Allan enthuses.
"We have also recently won some new business with BP for delivering ethanol to a number of terminals within the UK. We see this as a particularly important, growing market, which is why we have over 150 vehicles in our existing fleet capable of delivering this product."
One of the present focuses of the business is the development of its fleet. Among the ways it is doing so is through the introduction of enhanced technology, while also increasing its efforts when it comes to sustainability. "We have continued to invest heavily in our fleet, in new equipment and new technologies," Allan confirms. "In the last 18 months alone, we have purchased over 150 fuels and bitumen trailers, and over 200 Euro VI tractor units. All of our new vehicles now come fitted with equipment to improve safety as well as reduce emissions – such as Adaptive Cruise Control – whilst all new fuels trailers have red reflective rear dishes fitted to help reduce the likelihood of rear end collisions. Furthermore, we are undertaking large scale trials on nearside cameras, reversing cameras, audible warnings and 'puddle lighting' on our vehicles, thus doing everything we can to reduce the likelihood of incidents.
"In addition to all this, we have also invested more than £1 million in the upgrading of the On-Board Truck Computers across our entire fleet, helping to fully digitize and optimize the order to invoice process for both ourselves and our customers. As part of this process, we will soon be introducing a MyHoyer app, helping to significantly improve two-way communication with our driver colleagues."
As HOYER's Head of Human Resources for the UK, Nichola Blenkinsop goes on to add, there have also been several important internal programs initiated by the business in the last 12 months. "Our Graduate scheme (known as the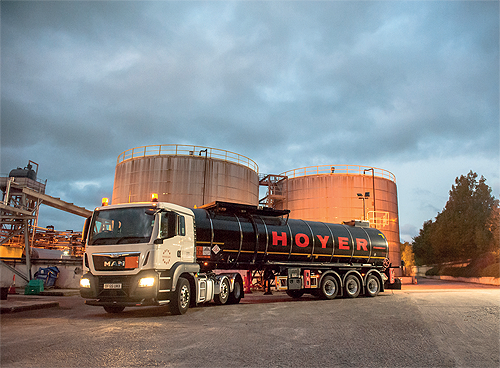 Management Development Program– or MDP) is an important part of our talent agenda, and with a continual focus on adapting and striving for excellence, we recently reviewed and have redefined our three-year program. It now includes four rotational placements; three placements for a duration of eight months (experiencing and delivering in our field operations, control center and/or our support areas), with a final 12-month placement, either in a leadership role in field operations, or in our control center in Huddersfield.
"As well as experiencing our full end-to-end profile, we recognize the importance of real work, ownership and delivery within our placements. Delivering a full breadth of experience, leadership confidence and capability, supported through our active senior leadership mentoring and cohort led development program, are some of the ways we provide the critical success factors needed for future leaders in our industry beyond the rotational placements. We continue to see our graduates succeed within the MDP and their careers at HOYER, with 23 per cent of our current leaders joining and developing through our MDP, including 50 per cent of our UK board members."
The business also understands that its safety and service proposition – delivered through all of its colleagues – is what truly differentiates it within the market, and its culture is the foundation of that. "Our values of care, ownership, adaptability, respect and in striving for excellence underpin all of our people-led activities," Nichola continues. "How our teams work together and deliver is of critical importance to us, and we ensure that our development and leadership agendas are all focused on guaranteeing that every colleague is set up for success every day, whether through the relationship and support of their leader, the excellent training and development that is continually reviewed and delivered, or the communication that is shared.
"Communication and clarity have never been more critical than throughout the Covid-19 pandemic, ensuring that every colleague understood the guidance, what it meant for them as key workers at HOYER, and how our procedures had been amended to keep themselves, their colleagues, our customers, the general public and their loved ones safe. This was, and continues to be, a real team effort and one in which we are proud of everyone's continuing contribution."
Moving forward, the HOYER Group has taken a strategic decision to merge the operations and organizational structures of its Petroleum Products and Gas Logistics Business Units – Petrolog and Gaslog – into a single combined Contract Division, as of 1st January 2021. "As well as enabling the Group to harness various synergies, this will set the business up to effectively and proactively deal with the challenge of energy transition over the coming years, from petrol and diesel, to alternative fuels such as hydrogen and LNG," Allan declares.
HOYER Petrolog UK
www.hoyer-group.com
Services: The delivery of petroleum products and fuel logistics solutions