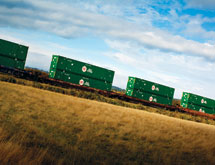 Many of the largest retailers and manufacturers in the United States look to Hub Group for solutions to their logistics and transportation concerns. With an expanding fleet of more than 24,000 intermodal containers and access to 20,000 trucking companies at its disposal, Hub Group is North America's largest intermodal marketing company and a leading provider of third-party logistics (3PL) services.
"We pride ourselves on providing exceptional customer solutions and building long-lasting relationships," says Donald Maltby, Chief Supply Chain Officer for the Downers Grove, Ill.-based company. "Our rich history, our access to innovative technology, and ability to attract the best talent in the industry are the qualities that make Hub Group a leading provider."
The Hub Group consists of four main business units:
Hub Intermodal, which provides access to an extensive fleet of over 24,000 intermodal containers on major North American railroads.
Hub Highway, which offers truck brokerage services;
Comtrak Logistics, a wholly-owned drayage subsidiary, offering nationwide truckload and drayage services; and
Unyson Logistics, a leading 3PL provider offering custom supply chain solutions.
In addition, Hub Group acquired Mode Transportation in 2011, a Dallas-based transportation provider. This gives the company the ability to serve new markets through an agent model, Maltby says.
Growth through acquisition is just as important as organic expansion for Hub Group, which also recently added trucking companies in New Jersey and Seattle to its assets, he adds.
A Vital Partner
Hub Group believes in taking a hands-on approach to solving the logistics needs of the retail and manufacturing companies that make up the majority of its customer base. The approach is to listen to the needs of its customers and provide customized solutions that meet their individual transportation demands.
Hub Group takes advantage of proprietary systems that allow it to execute customer orders in an efficient, secure and transparent manner. The company provides its clients with a number of tools including load planning and load optimization software, as well as data warehousing. Customers can access shipping reports, place orders and track and trace shipments on personalized websites, Maltby says.
Case Studies
A large national pharmaceutical and research company turned to Unyson Logistics to develop a new supply chain network that includes 20 North American distribution facilities responsible for making more than 62,000 shipments annually. Unyson also helped the company develop a supply chain strategy that includes data and cost analysis and the use of multiple transportation modes including rail, air and ocean liners. The customer reported a 98 percent on-time performance record in 2011 as a result of this strategy, Hub Group notes.
One of the country's largest tool and equipment catalog retailers looked to Hub Group to support its delivery network and manage its day-to-day transportation planning and shipping operation. Hub Group provides the company with on-site logistics coordinators and centralized customer service in its headquarters, and developed a customized network to provide freight routing and pool point locations.
Other notable customers include:
A national home improvement retailer, for whom Hub Group streamlined and standardized international shipping processes, including providing a dedicated account that manages import shipments from Mexico;
A national retailer, for whom the company established cross docks near high-volume vendors in California and New Jersey as well as consolidated less-than-truckload (LTL) shipments; and
A major food company, which tapped Hub to establish a dedicated 24/7 call center and a program carrier network to manage inbound and outbound freight.
Hub Group provides exemplary service to all of its customers as a result of its relationships with its suppliers and the carriers with whom it contracts. "We work in close collaboration with all of our suppliers, from major rail providers to local trucking companies," it says.
'Green' Light Going Forward
Hub Group's strong presence in the intermodal field allows customers to convert portions of their over-the-road trucking business to the more environmentally friendly rail-driven option.
Intermodal conversion helps customers reduce emissions and fuel consumption. For instance, one double-stack train equals the capacity of 280 trucks, making rail more than three times more fuel efficient than trucking.
"We are pleased to be the leading provider of green initiatives in the transportation industry," Maltby says.
The company applies sustainability principles to its own operation in part through its construction of a new headquarters in Oak Brook, Ill. The 130,000-square-foot building is being designed to LEED Gold specifications, will utilize a number of environmentally friendly and energy efficiency features. These include such features as natural habitat landscaping, energy efficient lighting and rainwater harvesting.
You don't get to be the largest intermodal marketing company in the United States by providing one-size-fits all products. For 41 years, Hub Group has been dedicated to making their customers' lives easier.
By doing so, they've grown to become a $2.8 billion, publicly traded company, offering comprehensive intermodal, highway and logistics services throughout the United States, Canada and Mexico. And they are looking forward to new challenges ahead.