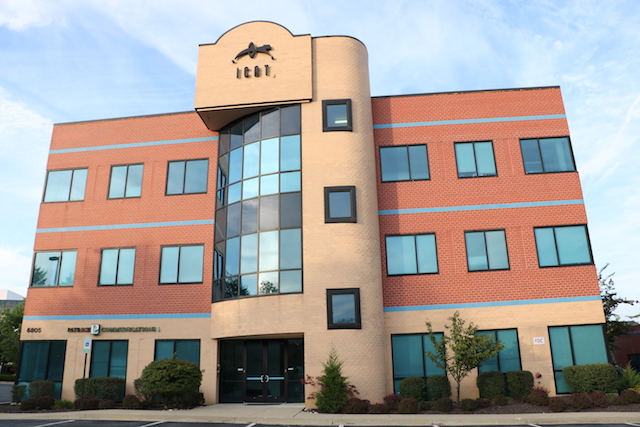 ICAT Logistics matches its extensive experience with useable data to create solutions for customers.
By Tim O'Connor
When Rick Campbell got into the logistics business in 1982 it was all about airfreight. Planes were the obvious choice for moving goods and materials with speed. Then the Sept. 11 terrorist attacks happened and aircraft all over the country were grounded for two days.
Campbell recalls the eerie silence of those days. ICAT Logistics, the company he founded and serves as president and CEO of, is located only a few miles from Baltimore-Washington International Airport and the familiar sound of takeoffs and landings were replaced with nothing.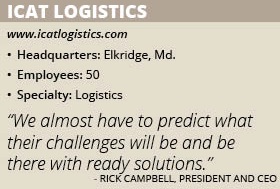 The attacks were a tragedy for all Americans, but they also compelled logistics companies such as ICAT to rethink their reliance on airfreight in an age when a terrorist attack could shut down an entire mode of transportation. "Supply chains were disrupted pretty drastically and people were forced to think, 'Do I really need this as quickly as I thought?'" Campbell says.
The industry was impacted again in 2007 when the Great Recession led to budgets being slashed and a renewed focus on efficiency. "Organizations learned to live with a little less," Campbell notes. One area where companies reduced costs was in their supply chains. Airfreight is one of the most expensive modes of delivery and shifting deliveries to trucks or rail was a more economical option.
Logistics providers such as ICAT had to evolve alongside that change and shift the nature of their business from expediting and air to creating solutions. "If we can help our client manage expectations then it doesn't necessarily need to be there in three hours," Campbell says.
Over the past 10 years, ICAT has become more of a services- and solutions-oriented company. As clients cut budgets, they relied increasingly on ICAT to manage their air, ground and ocean freight and many now outsource their entire logistics departments. The company coordinates everything from warehousing and inventory to booking transportation. "We're called upon to really understand not just their company, but their business model and provide the right solution," Campbell says.
Setting a Foundation
ICAT's roots date back to 1992, when Campbell opened an agency to support a now defunct freight forwarder. The new company's corporate partner ended up having some difficulties on its end, so Campbell decided to try it on his own and formed ICAT a year later.
The company started with a single employee and much of its early business came through family and friends as it worked to establish itself in the industry. It quickly earned a reputation for stellar service and its customer base soon grew outside of its sphere of contacts.
More customers meant expansion. "We realized the ultimate piece for us was to work through an agency model," Campbell says. ICAT transitioned from company-owned offices to agency locations, letting it focus on mentorship and a specific set of support skills such as IT, marketing, cash management and finance.
With those capabilities in place, the company serves as a guide for people who want to experience ownership within the logistics industry. "If we could be a requisite resource, that DIY book for that subject and make it available, we would be a real good resource," Campbell adds.
Data Driven
The best resource in today's industry is data. Clients want to know where their goods are in the supply chain and when they can expect delivery. Logistics companies have gotten good at collecting that data, but the sheer depth of information can sometimes feels like a fire hose on full blast. ICAT's interactive portal, ICAT Connect, helps clients distil that data into useable information.
"Customers are time starved," Campbell says. "There are fewer people doing more things today than there was before 2001. The departments that we used to do business with in the '90s that had 15 people now might have five. It's incumbent upon us to be very efficient and effective. We can't have customers being redundant with their information flow to us. That gums up the works."
Using data from ICAT Connect, ICAT can identify common problems and employ solutions from past experience. "We almost have to predict what their challenges will be and be there with ready solutions," Campbell says. "We've learned to become subject matter experts in a number of niches."
The ability to match experience with data enables ICAT to quickly solve problems for its customers. One client recently came to ICAT after struggling with delivery times. ICAT determined that the location of the customer's distribution center – about two-and-a-half hours from the nearest airport – was to blame. So ICAT helped them secure warehouse space outside of a major city closer to the airport, significantly cutting delivery times.
"At the end of the day you better have people that know what they are doing because if a computer could do it by itself none of us would be around," Campbell says. "You can't just compete with what everybody else is doing. You have to bring a solution to the problem."