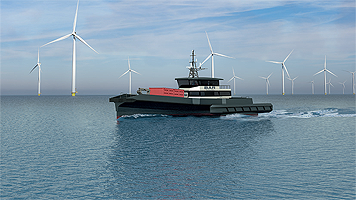 This AiP is a further stepping-stone towards an advanced, class-certified, Jones Act compliant fleet of offshore wind support vessels for the US market. Following on from the AiP awarded to the Chartwell 24 vessel design earlier this year, it expands the range of complementary options available to the industry for highly efficient and capable vessel support.
The BAR 30m CTV makes use of FOSS technology (foil optimised stability system) to enhance seakeeping and manoeuvrability, while reducing vertical acceleration by up to 70% in 2.5m wave heights. While offering greater levels of availability in rough seas, the BAR 30m CTV also demonstrates up to 50% fuel efficiency savings at 15 knots, keeping emissions at bay in line with stringent EPA Tier 4 guidelines.
This initial vessel will be closely followed by a 50m variant capable of 45 knots top speed and 30 knots in a 3m high sea without exceeding vertical acceleration limits.