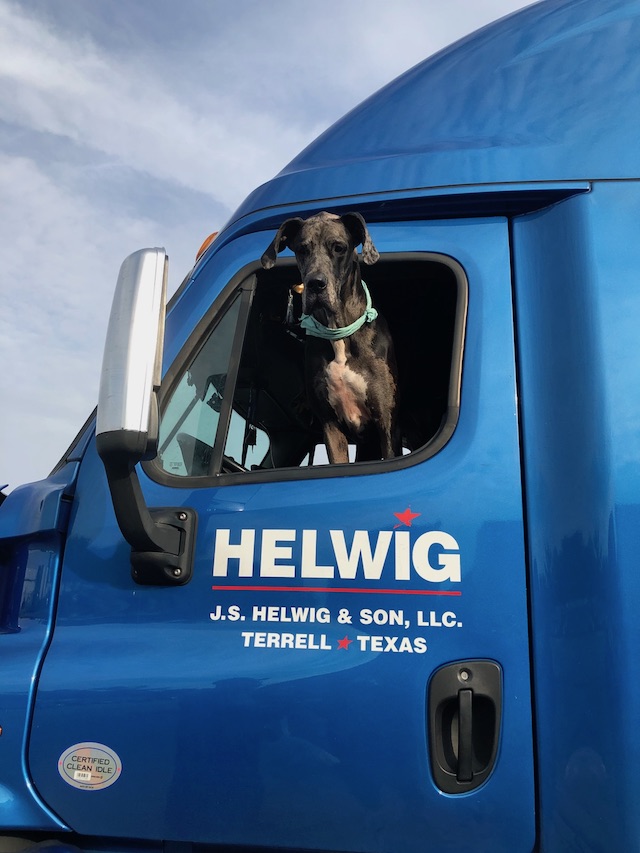 J.S. Helwig & Son succeeds with simple formula: service to its customers and respect for its drivers.
By Staci Davidson, Senior Editor at Knighthouse Media
J.S. Helwig & Son is a highly regarded operation, known as one of the most successful, competitive and reliable temperature-controlled trucking companies in the United States. It has gained this status by remaining dedicated to safe on-time delivery, on-time pick up and consistent communication with customers. Helwig & Son's dedication to its drivers ensures this level of service, and has allowed it to deliver a rate of over 98 percent on-time performance.
Additionally, Helwig & Son has been on the list of Tyson's Top Carriers every year the company has done business with it; the company has been the top carrier for Cargill 18 of the last 20 quarters; and it was recognized as the Southwest Region Best New Carrier by Nestle when it started working with that company in 2015. CEO, owner and President James Helwig explains the company's dedication to service and safety is "just the way it is," because that is the culture he established, but his son notes there is more that keeps these values important to the company.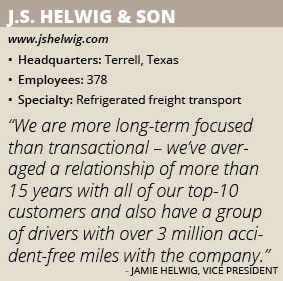 "We only hire experienced drivers, and that helps with our level of safety and service," says Jamie Helwig, vice president. "We also have a commitment to a new and young fleet of equipment, so that helps minimize breakdowns. We have a culture of flying a driver somewhere or doing something extra to keep a commitment to a customer, even if it means doing something that in the short term is unprofitable, it helps us be a more reliable carrier. We are more long-term focused than transactional – we've averaged a relationship of more than 15 years with all of our top-10 customers. That shows how much my dad values long-term relationships rather than short-term loads, and what you get in return is a customer that knows you can be relied upon and will give you more business."
Service and Respect
To build strong relationships like that, Helwig & Son rely on a strong team of drivers and owner/operators. The company's driver turnover rate is less than half of the industry average, and much of that is a result of how Helwig & Son treats them like family. For example, every single driver that starts at the company meets with James Helwig at orientation and he gives them his direct line and cell phone number so they can reach him at any time.
"I started out 40 years ago driving a truck myself and I want them to know they are not a number," James Helwig says. "Once people sign on here, everyone is treated with respect. I explain there is a chain of command, and give them my card to call me if a problem doesn't get solved. But the chain is working because the people who work here know the culture of the company."
The culture is that everyone in the office and on the road works hard, but they work as a team and the company supports its people. For example, the industry average is 80 drivers to one fleet manager, but Helwig & Son keeps its ratio to fewer than 50 drivers to each fleet manager. "That makes them so much better as an advocate to the drivers," Jamie Helwig says. "It is part of our culture to show the drivers that they are important, that they are not dispensable or replaceable."
Additionally, Helwig & Son raised wages in June to 47-cents to 52-cents per mile, depending on the driver's tenure with the company. It also increased its owner-operator compensation to $1.40 per loaded mile (plus fuel surcharge, detention and other accessorials) in addition to $1 per empty mile. "In terms of driver pay, we offer a straight per-mile rate, no games or special incentives," Jamie Helwig says. "We try to be straightforward, no B.S., a simple-to-understand formula."
The company also shows its appreciation with lunches, frequent cookouts and other events. It opened a new 6,000 square foot driver facility that has a large main lounge with a big screen TV and recliners, 2 additional media rooms with recliners and big screens, well-equipped hotel-quality bathrooms and showers, a full-service gym, free washers / dryers and dog kennels (all shown in video on TLI website). Helwig & Son is happy to let drivers bring their pets with them on the road.
"In the new facility, we have four washers and four dryers," James Helwig explains. "I can't tell you how many drivers have said 'you don't have to put money in the machine to get it to work?' I never had that thought – I would never do that to earn an extra buck – I'd rather give back and make this company a home." The numbers suggest this attitude works as Helwig has a group of career drivers with over 3 million accident free miles with Helwig but even after 1 accident free year, drivers get a gold ring and then diamonds each year after that.
Helwig & Son has over 300 tractors and 500 refrigerated trailers, and usually runs from its base near Dallas to the Northeast, Southeast and Midwest. Jamie Helwig notes the company has always grown by serving customers the right way and respecting its drivers, and it plans to continue on that path by doing things right rather than expanding by cutting corners.
"I am proud of the job we do and proud of the reputation we have – it's a team and everyone does a great job," James Helwig says. "When someone puts a load on a Helwig truck, they can feel confident their criteria will be met. We will get it there on time, safely and in good shape and these days, that is something that sells very well."