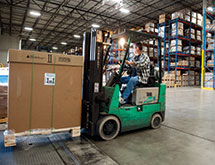 Founded in 1986 by transportation industry veterans Alec Gizzi and Sam DiMaio, JBS Logistics continues its strong growth today fueled by surging food warehousing and the Chicagoland trucking business' growth.
"We strive to earn our customers' business every time we fulfill an order in one of our warehouses or arrange to move a shipment through our transportation division," says Gizzi, the company's president.
The mission of JBS Logistics is to provide transportation and warehousing services by building relationships with its customers and vendors while utilizing its employees' experience, skills and unique characteristics: honesty, integrity and dedication, Gizzi explains.
Headquartered in Naperville, Ill., JBS Logistics provides standard and expedited transportation service to clients in the manufacturing, retail, wholesale and distribution markets. As an asset-based 3PL transportation provider, JBS provides the flexibility of utilizing its own equipment or more than 5,000 carriers to handle all of its customers' transportation.
With more than 750,000 square feet of warehouse space in Chicago, Dallas and Los Angeles, JBS is a full-service logistics provider large enough to handle customers' transportation, warehouse, and distribution challenges while still providing a personal touch to set it apart. "We believe our customer service has been the driving force since we first opened our doors," Gizzi says.
JBS Warehouse provides high efficiency storage and fulfillment services. Its Warehouse Management System (WMS) provides inventory activity reports via its web site. JBS also offers master packaging and fulfillment assembly services.
Combining its warehouse, transportation and brokerage divisions has been a key for success. JBS services general commodities with an emphasis on the food and packaging industries.
JBS operates 50 OTR dry van and refrigerated vehicles as well as servicing the Chicagoland cartage market. "Our brokerage division concentrates on servicing the traditional TL spot market as well as volume LTL partials to and from any point in the continental U.S," Gizzi explains. "We do this by either utilizing one of our own trucks or by contracting out to one of thousands of carriers through our brokerage division."
JBS Logistics has a fulfillment center in Chicago where it maintains 500,000 square feet of food-grade storage, much of which is temperature controlled. "We specialize in fast-turn just-in-time inventory fulfillment storage utilizing our front-load multi-door warehouse facility," Gizzi says. "It is not uncommon for us to load and unload over 100 trucks a day, some of them full of LTL shipments for our customer's customer."
Food Staples
Operating in the food business provides stability as the demand for food remains solid despite economic conditions. "Food is a staple of the consumer environment," Gizzi says. "That is what attracted us to it."
Working in food transportation requires strict adherence to tight regulations and large upfront investment to pass muster with the FDA, however. JBS Logistics also maintains stringent American Institute of Baking (AIB) certification, which assures facilities are clean and free of insects and in accordance with all pertinent specifications. The high cost of food-grade warehousing keeps competition low, he notes.
JBS Logistics services Fortune 100 companies as well as small and mid-sized companies, offering assistance to match any requirement. For some companies, JBS Logistics operates as an entirely outsourced shipping and logistics department and manages their entire supply chains.
Huge Growth
JBS Logistics grew from operating a small 10,000-square-foot facility to today's 750,000 square feet of warehousing. "It was a combination of things," Gizzi says of the company's growth. "We have a good customer base, good vendor base and good employees."
The company built its solid customer base with hard work and good service. JBS Logistics also relies on its vendors, treating them fairly and paying on time to maintain good relationships, he says.
It has also enjoyed recruiting and retention success. In a tight labor market beset by driver shortages, JBS Logistics treats employees well and pays decent wages. "In an industry notorious for turnover, we are very fortunate," Gizzi says. "We have many people still here from nearly the start of the company."
The company's focus on short one- and two-day trips in the metropolitan Chicago region helps with driver recruitment as well as overall efficiency and success, Gizzi points out.
Industry Improvements
One reason for the industry's driver shortage is government regulations, Gizzi says.
Drivers must meet commercial drivers license requirements, follow government hours of operations and drive on inadequate roads.
Therefore, Gizzi visits Capitol Hill and meets with Federal Motor Carrier Safety Administration officials to discuss improvements.
He is active in the Transportation Industry Association (TIA), which is currently lobbying lawmakers to include vicarious liability reform and federal jurisdiction requirement to the next federal highway bill and approve House Bill 4727.
These measures would ensure brokers who hire certified carriers are not held liable for others' mistakes and that federal shipping cases are heard in U.S. courts and not local jurisdictions.
"This would better define what the role and responsibility of brokers are," he says. "It would also ensure actions against shipments that moved via intrastate commerce, would be heard in a federal court instead of the many county, city or state courts who may not know the various federal shipping laws well."