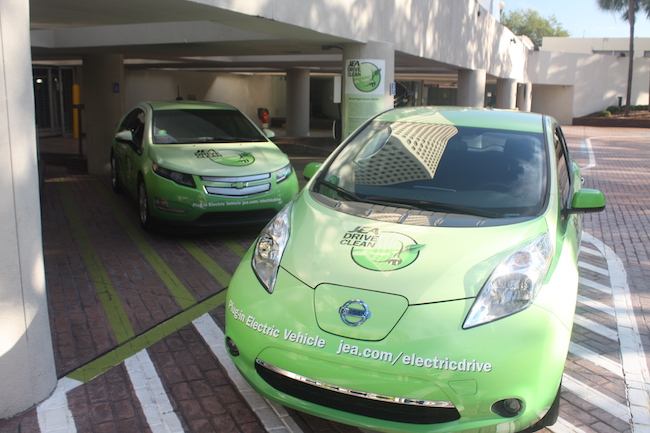 JEA Fleet Services strives to improve the dependability of its vehicles.
By Alan Dorich
JEA Fleet Services has thrived for 50 years by continually looking for ways to improve its services. When planning for their businesses, "Most people say, 'I want to look out onto the horizon,'" Director of Operations Support Services Alan McElroy says.
"What you really need to do is look over the horizon," he advises. "You're going to be better prepared and a step [ahead of] your competition. That's what I constantly strive to do: look at what's next."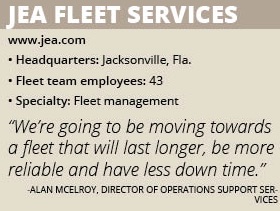 McElroy oversees Fleet Services, Warehousing, Investment Recovery, Procurement Inventory and Utility Locates for JEA, a Jacksonville, Fla.-based, nonprofit community-owned utility that serves electric, water and sewer customers. The group started operations in 1967 when JEA became an independent agency.
Today, JEA Fleet Services manages more than 1,300 assets, including over-the-road vehicles, as well as off-road equipment, portable generators and pumps. But in recent years, the group has focused on making its fleet more durable, reliable and safe.
In fiscal year 2018, "We are will be taking a big step forward with this strategy," McElroy reports. "We're going to be moving towards a fleet that will last longer, be more reliable and have less downtime."
The group's initiatives in this process include re-evaluating its vehicles and their payloads. "A good example is our Wastewater vacuum trucks," he says. "We recognized that we were experiencing constant engine problems with these vehicles. We discovered the engine was undersized. So future models now will have a bigger engine and will be capable of carrying its payload without breakdowns."
Big Steps
McElroy joined JEA in September 2014 after 32 years at Duke Energy. Although he had retired for a year, "I had to get back into the swing of things," he recalls. "There's not much downtime now."
His Fleet Services team includes five vehicle asset coordinators who manage preventive maintenance and schedules. "[They] also work between the vendors and the end-users to get the repairs done in a quality and timely manner," he says. "We do what we can do to keep the crews rolling."
The Fleet Services' team initiatives to keep the crews rolling include a fleet loaner program that provides temporary vehicles to crews while their regular ones are being repaired. "With this option, the crew actually can continue to work and do perform their jobs," McElroy says.
His team also recently moved from using a single maintenance and service vendor to multiple providers. "This arrangement has proven to us to be a successful business model to follow," he says. "We're taking the vehicle to someone who can deal with it directly, like an OEM dealership."
This saves time by having the vehicles go straight to a dealer instead of having to move through a service vendor who sends it to an OEM. "They know their vehicles, they go straight to the problem and they fix it," he says.
JEA Fleet Services also now involves end-users in choosing the final specifications for their vehicles. "The involvement of the end users in the development of specifications was probably one of the biggest steps we took," McElroy says.
Proactive Approaches
Like many organizations, JEA is coping with environmental regulatory issues. Although McElroy is not involved with the power generation part of the business, he focuses on reducing emissions from vehicles in the fleet. Since 2007, "There's been a lot of emissions equipment that has been regulated into vehicles," he says. "It requires utilities to take a proactive approach to maintaining their vehicles."
JEA Fleet Services also copes with variable fuel costs. Recently, it initiated a joint agency group with the City of Jacksonville's Fleet Management Division and Duval County Public Schools.
"Instead of three entities under the umbrella of the city going out and getting their own deals, we've combined the efforts of those three groups," he says, explaining that the three strive to get lower fuel prices as one group. "This approach is going to help big time for all agencies."
Going Forward
JEA's vendors have played a part in its success, including Utilimarc, an analytics and telematics firm based in Minneapolis. "They provide our proposed capital replacement plan which helps set the baseline each year for our capital planning," McElroy says. The firm also provides benchmarking information that will help JEA continue to improve its Fleet operations.
He also praises the company's fleet, maintenance and material vendors. During emergencies, "They step up to the plate to support us," he says.
McElroy sees a strong future for JEA, which plans to stay financially stable by re-evaluating its assets. "[We are] re-focusing on how we can become better managers of these assets and be utilize them as efficiently as possible," McElroy says.
JEA also has hired a consultant to look at process architecture and another to study its data architecture. "I see those efforts as having a huge impact on the direction of JEA going forward," he says.