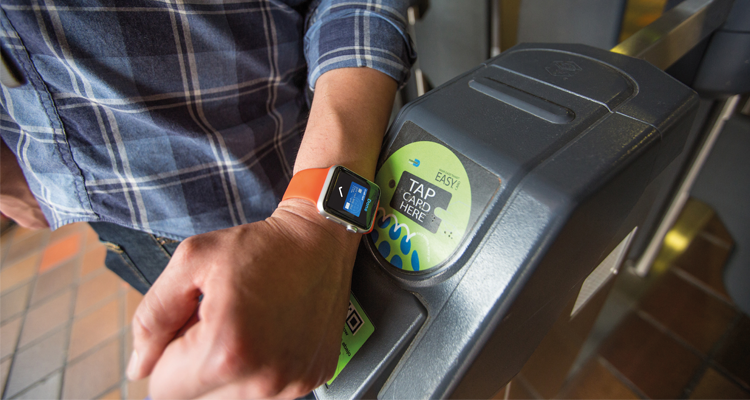 Jeffrey Lowinger of Cubic Transportation Systems motions for mobility made easy
Cubic Transportation Systems (Cubic) knows 'there's more to journeys than the destination.' Advancing mobility to create seamless, integrated and efficient solutions will simplify daily commutes, reduce traveller frustration and make journeys safer: all in a day's work for Jeffrey Lowinger (Jeff), President of Cubic Transportation Systems (Cubic).
"I was lucky enough to work with someone who helped to shape my thinking surrounding learning agility, and participating in the conversation. I had a great mentor, and as such, I'm focused on growing the next generation of leaders, offering insights that hopefully allow people to develop better solutions and make quicker decisions," begins Jeff.
Currently, in the 40th year of his career, Jeff spent his first 25 at Boeing, where he held several engineering leadership roles within the field of defense. Commercial operations, however, intrigued him. "Finding solutions that meet customers' different operational needs while out-strategizing the competition always interested me," he continues. "I liked the idea of figuring out how to win."
Hence, a move to the commercial sector. Prior to joining Cubic, Jeff was President of the eMobility segment for Eaton Corporation, overseeing the global profit and loss for sales, marketing, development, production and services across all power management technologies for on- and off-road vehicles.
"I'm really passionate about environmental and societal considerations. In fact, the move to Cubic was motivated by a desire to improve people's quality of life by optimizing mobility. Transportation is going to be key to navigating population growth, particularly in terms of addressing some of the inequities surrounding it, including creating better sustainable communities through multimodal solutions, and freedom of choice," he explains.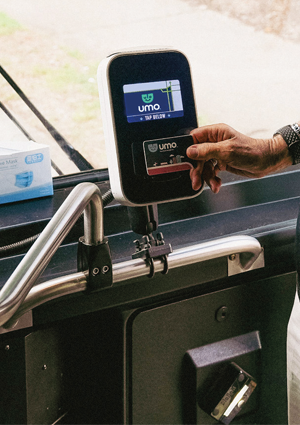 Cubic is a technology-driven, market-leading global provider of innovative, mission-critical solutions that reduce congestion and increase operational effectiveness and readiness through superior situational understanding.
"The transportation business is around 65 percent of the company, with a focus on simplifying movement and fare collection, alongside intelligent transportation solutions that detect traffic and congestion to improve flow in cities," Jeff continues.
"We look at this from a strategic perspective, in terms of work patterns, travel into cities, and environmental challenges, and help our customers improve operational efficiencies. With ridership down, post-pandemic, lower operational costs are essential to help support continued growth, and maintain a competitive edge. Every day, I focus on figuring out the challenges facing our customers, and how they can navigate them, now and in the future. It's about how we partner with our customers effectively.
Encouraging passengers
"There are a lot of different cities out there. Of course, there are the mega cities, such as London and New York, but there are also innumerable secondary cities that might be sitting with archaic solutions. New patrons expect digital modes of transportation. They expect contactless payment. We like to work with a variety of clients to achieve cost-effectiveness that supports ridership and revenue generation," he enthuses.
Indeed, New Zealand's cities join key areas around the world where Cubic is successfully delivering its proven public transportation solutions. Its implementation of the new account-based National Ticketing Solution (NTS) will make public transport a more convenient, reliable and cost-effective choice for riders, encouraging them to use mass transport options more often.
"We understand that accessible and affordable public transport options are key to helping cities grow sustainably and become more livable and connected. Cubic has a proven track record in delivering complex solutions in public transportation, in locations including New York, San Francisco, Chicago, Queensland and London. Our account-based and open payment ticketing solutions are trusted by transport agencies globally and by the millions of passengers who use the systems every day.
"Our strategy is to provide a product and drive its delivery, at speed, to ensure our customers receive the next-generation solution that their patrons expect, and at a much faster pace with higher levels of assurance. This strategy has paid off, and our customers can leverage our solutions. Seeing ideas come to fruition is an incredibly rewarding part of my job."
Trends ahead
Looking at today's priorities, Jeff expounds the virtues of contactless payment and the part it plays in making multimodal travel far simpler. "Passengers can utilize their bank card, tap on, tap off, and not concern themselves with fare complexity," he describes. "This is proving increasingly important as more and more employers want to see their workforce back in the office, at least two-to-three days a week. From scooters to bike shares, we also can't overlook the fact that there are new modes of transport being added to the mix. Integrating payment solutions is essential. The idea of hopping off the subway, taking a scooter or an Uber for the last mile, and having one account that ensures the next mode of transport is ready for you when you need it is game-changing, and I think that's where we're headed.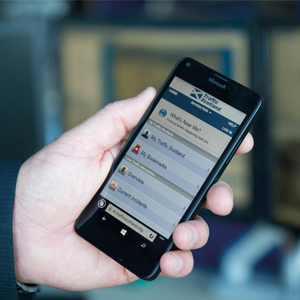 "A further consideration surrounds congestion, in terms of both crowded public transport and penalty charges. Congestion charging is a political issue and there are questions surrounding whether the right people are being penalized. The people driving into cities every day are generally not the people who can afford the charges. They may not have an electric vehicle, or equally, the ability to work from home in the same capacity as others. It is crucial to deploy charging appropriately to ensure the right people foot the bill.
"We want to help nudge people back to mass transport. We truly believe our system ties together not just fare collection and intelligent Mobility as a Service (MaaS), but also congestion detection and management. For example, we can advise users accordingly on particularly congested days to mitigate the impact of their movements," he suggests.
In terms of challenges facing the sector, Jeff highlights three trends: "The first is urbanization. We know there is going to be a significant change in city dynamics. Despite the pandemic delaying that change and encouraging relocation to more rural areas, today, we do see populations returning to cities. Eventually, we could see 65 percent plus living in urban areas. Any solutions must withstand that growth and deal with the second factor, combating emissions to meet net-zero targets. While electrification is key, this has to be balanced with the fact that the majority of vehicles still use combustion engines. The last piece of the puzzle is patron health and safety. Our work is to connect these factors through IoT services, and nudge users to embrace healthier mobility behaviors for themselves and the planet.
"What people really want and expect is simplified, seamless, and safe mobility. Equally, predictability and reliability are critical. From the subway to the bus to an Uber, each mode of transport needs to be on time to join the dots. This all ties in with encouraging commuters to take an alternative mode of transport where applicable, even opting to walk at some points in a journey if it's more appropriate. The timely and necessary focus on environmental sustainability will also slot seamlessly into this whole ecosystem.
Seamless and safe
"It's an exciting time. Nobody would have predicted the circumstances of the last three or four years. While clients are starting to see recovery in their ridership, their customers expect the emergence of a more digital era. Nobody wants to touch anything, and contactless EMV is a given. The worst scenario would be that people want to get back on public transport but can't because of a lack of appropriate technology to make them feel safe to do so. Creating and implementing this type of seamless and safe MaaS will consume the next five-to-ten years in the industry. I'm passionate about what I do, and committed to figuring out how we help our customers accelerate this journey," Jeff concludes.