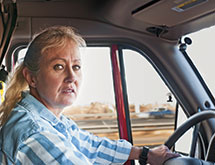 Just like in the United States, Canada's transportation industry is feeling the sting of the driver shortage. The natural attrition resulting from an aging workforce has yet to be filled by an influx of younger workers. Margaret Hogg, owner and general manager of JG Drapeau, says the industry should look to a viable half of the workforce that it is currently ignoring.
"The driver shortage challenge is something we're all going through," Hogg says. "We are trying to recruit more women. There is an organization called Women with Drive, organized by Trucking HR Canada, that is trying to recruit more women."
Women make up 48 percent of Canada's labor force but represent a disproportionately lower percentage in the transportation industry, and it's not just in the truck driver category. Here are the numbers from Trucking HR Canada:
•Freight claims/safety and loss prevention specialists: 25 percent
•Parts technicians: 13 percent
•Managerial staff: 11 percent
•Mechanics, transport trailer technicians and cargo workers: 3 percent
•Truck drivers: 3 percent
Hogg says these low numbers are an issue. Her father and mother started JG Drapeau in 1971 and Hogg learned the ins and outs of the industry at a very young age. In 2000, she gave up her full-time career in photography to take over her parents' business. She knows that women can be successful in the transportation industry and she and others like her are living proof. "Not to mention that we continue to have loyal employees as far back as 34 years ago from drivers to office staff, we are family," Hogg says. "It's never been about the size but about our service and integrity.
"I was living in Los Angeles when I got the phone call saying my dad needs me," she explains. "I dropped my life and career in Los Angeles and moved back home. Things had changed in the industry since I left so I had to learn from the very bottom again."
Hogg dove herself into the 14-hour days necessary to retrain herself in every aspect of the business. In 2005, she took over as general manager. In her role she oversees JG Drapeau's 29-truck fleet and its 200,000-square-foot warehouse. Based in Ontario, the company services Ontario and Quebec and all of the United States. Most of its work – about 60 percent – is full truckload. It delivers all types of merchandise but also specializes in transportation of hazardous materials. Hogg says hazardous materials makes up 70 percent of JG Drapeau's business.
"We started in hazardous materials and we have trailers and training dedicated to that," she says. "The training for hazardous materials is very lengthy, especially if you get a new driver on board. Sometimes it could take a full day just to go over all those aspects beginning to end. We have some customers with specific products and they have their own training on how to handle that, so we have to go through that training, as well."
Committed to Safety
Hogg says a first-rate safety program is a must for JG Drapeau and its clients. In fact, the company's commitment to safety has allowed it to keep in good standing with its very first client, a relationship dating back 43 years.
"At the end of the day, safety is the most important thing," Hogg says. "We just want to know that the drivers are going to get home safe. [Our] system really helps with communication and safety. Our safety officer is able to track where our guys are and hours of service and make sure they are in compliance."
Hogg would like to see this commitment to safety displayed across the industry. In her experience, she has hired credentialed drivers coming from excellent training schools. But she has also witnessed students coming out of training schools ill-prepared for the workforce.
"I think there needs to be more regulation with truck training; it should be more audited," Hogg says. "There are some legitimate ones in Ontario and there are some that shouldn't be allowed to call themselves a truck training school when they are not doing things right. There should be tougher rules when running a school. With the new rules and different ways trucks are built and the road requirements, there's a lot more to it than driving around the block for a couple of hours and here's your license."
Hogg is thankful for the schools that do get it right, however. In fact, JG Drapeau recently recruited a new woman truck driver from one such school, proving that the transportation industry is a viable career path for women.
"We recently hired our first woman driver in many years," Hogg says. "She invested a lot of money in herself and went to a great truck training school in Ontario. We went there to meet with the students and she was one of two women in the course. We hired her and she has been awesome. We plan to attend more schools and let young ladies know they can also get into this industry."