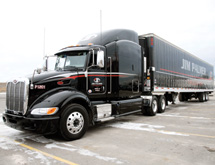 Despite the major changes that have occurred at Jim Palmer Trucking in recent years – a bankruptcy, ownership change, management change – the company has rallied to retain its core mission of recruiting and retaining the best drivers so it can deliver the best service. The temperature-controlled transportation company with a fleet of 350 tractors and 500 trailers has been in operation since 1964, and in 2009, Jim Palmer Trucking went through a major overhaul that has put it on track for another 50 years.
"The company entered bankruptcy in 2008 and Jim Palmer sold the company in 2009," explains President and CEO Jim Kalafat who has worked for the company for 15 years. "Shortly thereafter, we had a management change and the current ownership tapped me with managing and leading the company forward. It's been an incredibly challenging period, not only internally to right this ship, but also the industry as a whole has suffered through the economic crunch. We have worked feverishly to focus on building structure and management processes inside the company that allow us to understand our business, forecast and continually adjust based on results. The level of detail we've built never existed before, and that more than any other single thing has given us the ability to survive in this sideways economy and ultracompetitive market."
The company set out to define exactly what role it would play in its market. It has the capabilities to service 48 states but with terminals in Denver and Missoula, Mont., it focuses on states west of Ohio, although that wasn't the case in the past. The company used to operate three more terminals in Kansas, Florida and South Dakota. Kalafat says the company had stretched itself thin and needed to scale back to better serve its core base.
"For the last 10 years, the company has built a pretty strong network, but there were some outliers and trips that took us quite a bit outside of our network," Kalafat says. "We focused on how to get back to the network as quick as possible and reduce those trips that took us out of our network as much as possible.
"It's increased the strength of our network," he continues. "It took a little bit of doing, but slowly we were able to do that and make changes to increase our utilization."
Driving Improvement
As Jim Palmer Trucking reinforces its network, it's also improved technology in its trucks. Kalafat says the company has always had a reputation for purchasing quality equipment and it's a "stickler for maintaining equipment."
"During this recent period, we like many other carriers, missed an equipment buying cycle and maintenance either suffered or got incredibly expensive," he says. In a recent investment, the company upgraded half its fleet with Freightliner Cascadia's and at the same time upgraded the communication platforms in its trucks, switching from a 20-year-old Qualcomm Omnitracs technology to a Qualcomm's latest technology fitted with a touchscreen monitor and new capabilities that will better facilitate information collection so the company can make better management decisions.
The investments play a dual role of making Jim Palmer Trucking more efficient while also attracting high-quality drivers, which the company says is the core of its business. With the nation's driver shortage, Kalafat says the company is acutely focused on finding and keeping high-quality drivers.
"We take care of our drivers and we know them by name," Kalafat explains. "We've taken the right steps to always include what our drivers are telling us is important to them into our decision-making and include their ideas in business decisions to make sure we are investing in equipment they want to drive in.
"We feel that with the moves we have made, the investments ownership has made and the level of detail we can manage to now, along with our great driver base, Jim Palmer Trucking can continue to grow and prosper and be a leader in delivering on-time refrigerated trucking service," Kalafat continues.
And it's looking very much like a better picture for Jim Palmer Trucking as it was recently awarded the 2012 Temperature Controlled Gold Carrier of the Year for WalMart.