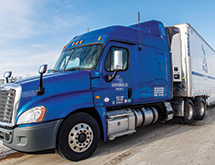 As the ongoing driver shortage continues to be a roadblock for the transportation industry, savvy companies such as K&B Transportation are seeking innovative ways to recruit and retain employees.
When K&B President and owner Kory Ackerman joined the company in 1991, the only way to reach potential drivers was through magazine and newspaper advertising. But today, virtually every prospective worker has a cell phone in their hand or a laptop on the couch. "We're basically using any avenue there is to get in front of a driver today," Ackerman says. "With social media, there are more opportunities than ever."
K&B will expand on those recruiting and retention efforts when it opens its new training center in 2016 about a block away from its South Sioux City, Neb., headquarters. Construction on the $2 million, 10,000-square-foot facility began in August and it is designed to better prepare new drivers before they take on their first routes. The training center will feature driving simulators and a K&B truck to teach drivers about each part of the vehicle. Even experienced employees will be able to use the facility to refresh their knowledge or improve their skills.
Ackerman says K&B lacks room at its current facility to accommodate that level of in-depth training. But simply having the space and equipment is not enough to prepare its drivers. K&B plans to extend its orientation process from two to three days so that trainers can provide more detailed instruction. "We will have the capability to do it and do a good job at it," Ackerman says.
Efficient Organization
Ultimately, better-prepared drivers will result in better service for K&B's customers. Service and on-time delivery have been fundamental concerns for K&B since the company was founded in 1986. Back then, K&B primarily hauled carcass meat from kill plants to processing plants. In the 28 years since, the company has expanded its operations to include all sorts of perishable and refrigerated food products. About 85 percent of its shipments are food items, with the remainder beer and paper products. Kory Ackerman is a 50-50 owner of the company along with his brother, Brock Ackerman, who serves as vice president of K&B.
K&B serves many of the United State's leading food manufactures, including Tyson Foods, Hormel Foods and Cargill Meat Solutions. "We've grown with these people because we do a good job for them, charge them a fair price," Kory Ackerman says.
The company operates in the middle-third of the United States with about 95 percent of its shipments occurring between Denver and Cleveland. By limiting its market area, K&B is able to streamline its operations to focus on providing the most efficient service for its customers, Ackerman explains.
Maintaining its own fleet is a key component of that efficient organization. Each of K&B's 650 tractors and trailers are driven by its own employees, enabling the company to better control quality and manage routes. That extends down to the make and model of every vehicle. Instead of going out to bid on trucks and trailers, K&B prefers to work with a limited number of vendors.
Its tractors all come from Freightliner Trucks, its trailers from Wabash National and its refrigeration units from Carrier. "It's been a good partnership," Ackerman says. "Those three companies have certainly stood behind their product and with us."
Meeting Demand
Because K&B is purely a trucking company – it has no intermodal business – the company must find ways to out-perform its peers who have a wider range of capabilities. "For us to be valuable to our customer, we really have to beat our competition by service," Ackerman says. Time and time again, K&B has proven that value by completing 98 percent of its deliveries on time. "The level of service demanded today is far greater than it was in the '90s," Ackerman says. "That's driven by the Targets, the Walmarts and the Krogers of the world. Everybody wants to carry less inventory, so when a truck shows up late it's a problem."
By working closely with its drivers and customers, K&B avoids delays before they become a problem. Only 0.01 percent of shipments ever receive a claim. In the rare event a problem does occur, such as a traffic collision, the driver initiates a phone call to K&B's office. K&B then notifies the customer of the issue via phone or email and coordinates a solution.
Its new training center could drive the number of claims even lower. "We think by doing a better job of training our people before putting them out in a truck will cause less confusion once they're out on the road," Ackerman says.
Those kinds of service improvements can only happen through experience. Like many transportation companies, K&B has had difficulty persuading drivers to turn trucking into a career. Hours are long and erratic. Many drivers are on the road for 290 days a year, and the typical trip is 450 miles. That doesn't leave a lot of time for family – or sleep. Driver turnover was 125 percent in 2015. But by better preparing its employees for the conditions they face, K&B is hoping to make the job more appealing and encourage talented drivers to stick around longer.
The training center exemplifies K&B's strategy moving forward. Instead of expanding to either coast, the company is concentrating on more work with existing customers and perfecting what it already does well. "At this time, [we] just plan to do more of what we're doing now," Ackerman says.