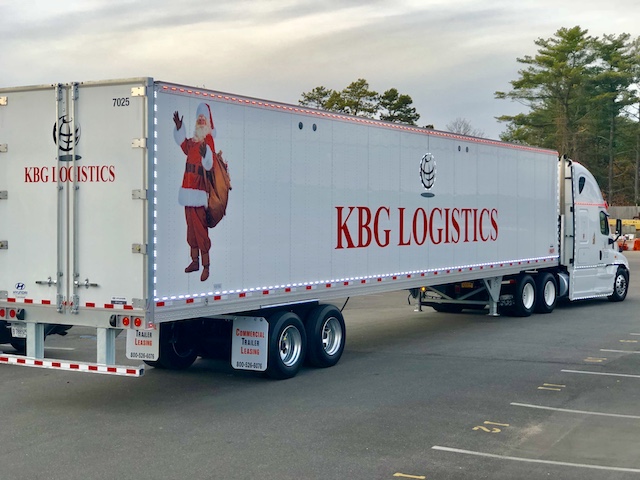 KBG provides strong support for its customers and its employees.
By Alan Dorich
For Samael Gutierrez, the CEO of KBG Logistics, the key to personal success has been perseverance and a refusal to quit that he maintains to this day. "I continue to strive through all our challenges," he asserts.
Based in Bay Shore, N.Y., the company offers truckload, less-than-truckload and logistics services to clients across the nation. A native of El Salvador, Gutierrez arrived in the United States in 1992.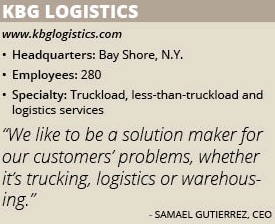 "I had nothing but a dream and $200 that my father gave me when I was 17 years old," he recalls. His first job was assisting a trucker who worked for General Trading Co. Inc., a food distributor in Carlstadt, N.J.
When Gutierrez got a job that required him to make deliveries on his own, "I developed a passion for driving and delivering," he recalls, adding that this led to the dream of owning his own trucking company.
After buying his second truck, he had two accidents, including one where he almost died. "I started driving a taxi cab, but the dream never died," he recalls, noting that he also took jobs washing and driving trucks for other companies.
In 2004, Gutierrez established his first company, KBG Inc., which took its name from the initials of his sons, Kevin and Brian Gutierrez. The firm, which began as a construction and maintenance company, won a contract for the parks and recreation maintenance in Brookhaven, N.Y.
Afterward, Samael Gutierrez began building the operation that led to KBG Logistics with a few box trucks. Today, the company has 200 trailers and more than 80 trucks and serves clients such as UPS, FedEx and Amazon.
A large percentage of its clients, Gutierrez adds, are repeat customers. "We like to be a solution maker for our customers' problems, whether it's trucking, logistics or warehousing," he says. "It's what's made us very successful."
His sons also have joined him in leading the company, which has given it an advantage over competitors. "We've got that family oriented service touch that a lot of companies lost over the years," Gutierrez says.
Full Throttle
KBG Logistics not only focuses on serving customers, but it also enables Gutierrez to fulfill another important passion: giving people jobs. "We're a full throttle of creating jobs," he says.
Gutierrez also enjoys rewarding employees for their work. "Because of a tax break Trump gave us this year, we were able to give bonuses," he says, noting that the company also provided them with full-life insurance and a 401(K) program. "I want to make sure my employees are treated well."
Many of the workers are people who worked with him before KBG Logistics. Although the firm has not operated for very long, "We honor their seniority," he asserts.
"They literally get a brand new truck every other year as a reward," Gutierrez says, noting that this has kept turnover low. "We keep our drivers [because] we care about our employees."
Ready to Grow
Gutierrez sees a bright future ahead for KBG Logistics, which is in growth mode. "There's a lot going on in 2018," he says, noting that this includes the purchase of 50 new trailers that will take four months to build.
The company also is preparing for the launch of its new, high-end car division, which will serve major players such as Ferrari, Lamborghini, Porsche and Maserati. "Some of them are already customers," he says, noting that the division will be fully operating in April.
Its first points of distribution will be in New York, Florida, California and South Carolina. KBG Logistics will have warehouses in each state that will be temperature-controlled for the cars, Gutierrez says.
This will be part of a white-glove service the division will provide. It also will use Rail Ryder, a one-man, trolley-loading/unloading system that loads cars to the inside of a trailer without any damage to the vehicles.
"Eighty-five percent of the damages on cars occur while loading and unloading," Gutierrez says. "It's a very smart loading system for high-end cars."
KBG Logistics also will launch a new truck driving training school this June that will help it continue to create jobs. "It's hard to find good drivers," he says. "The best way is to train them and make them yourself."
Gutierrez also wants to help other firms in the battle for success. "We're starting our own financial institution to be able to fund and help other small businesses grow," he describes.
The institution will provide short-term loans for trucking companies. "My dream is not only to grow, but help other entrepreneurial businesses to grow," he declares.