Keith Hall & Sons Transport Ltd.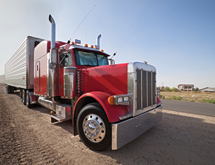 Keith Hall & Sons Transport Ltd. started in 1965 with one truck, hauling milk from local farms and delivering it to Ontario dairies. Since then, the company has grown to be one of Ontario's largest family owned and operated transportation businesses. Dedicated to hauling liquid foods, dry foods and general freight throughout North America, Keith Hall & Sons Transport has found that its quality of service goes far in ensuring customer satisfaction, as well as the company's continued growth.
"High-quality service is just second nature to us," President Brian Hall explains. "The phone rings and we do the job. We have a dedication to our people and a dedication to our customers. We tell our customers that we will look after them, and we are determined to do that and keep that promise."
Based in Burford, Ontario, Keith Hall & Sons has a fleet of 115 tractors and 250 trailers, which are primarily food-grade tankers, reefer trailers and dry vans. The company has an on-site, five-bay wash facility where its tanker trailers receive a kosher wash before they are used to transport goods. It also has its own maintenance facility with three drive-through bays and two open pits for completing repairs. In addition to ensuring its fleet represents speed and efficiency with ongoing maintenance, Keith Hall & Sons continuously adds to its fleet with new vehicles.
"We are dedicated to upgrading to the new trucks of today," Hall says. "These investments provide us with better fuel mileage, automatic transmissions, disc brakes and super-single tires. But the maintenance we provide to our equipment also is very important. We maintain our own equipment to give better service, and we have our own wash facility to wash our own tankers and ensure they meet our customers' standards."
Strong Reputation
A quality fleet is critical to any transport company's success in the industry, which is why Keith Hall & Sons invests so much into its own tractors, trailers and tankers, but Hall notes that it is the company's focus on service that sets it apart. He says Keith Hall & Sons' dedication to service has kept the business strong for 48 years, which is due to its employees.
"Our equipment is our advertisement, but it's our employees who deliver the service," he says. "We have 15 employees who have been with the company for more than 30 years, and there are many others who are following that same trend.
"We transport food products, and in this business there isn't a lot of notice with shipments, but we can't let our customers' plants run out of product," he adds. "We are always there on time with the product that will keep their plants running."
Hall expects the company's growth to be "marginal" going forward, although that is less to do with the market and more because of the company's desire to not get too big too fast. To ensure it can deliver the level of service that will meet or exceed customers' expectations, Keith Hall & Sons only takes on customers that it feels comfortable with.
"We have a great reputation, and that will continue to push us forward," Hall says. "We are proud of the reputation we have in this industry, and our people and the service they provide will help us maintain that."