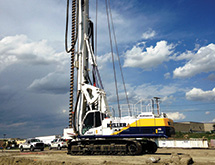 Keller Canada is renowned across its home country for its ability to take on any project that requires piling or extensive ground engineering solutions. The company is often called upon to design and self-perform jobs ranging in size and complexity from single-pile projects that take less than a day to multi-year projects involving thousands of piles with multiple pile types and technologies.
"Where possible we like to engage in a partnership with our customers from the earliest stage of a project where we can apply our value added engineering excellence and innovation to find new and better ways to get the job done," Senior Vice President Jeff Grieder says.
The company is part of the global geotechnical and ground engineering specialist Keller Group's North American operations and relies on a fleet of roughly 800 pieces of heavy, mobile and support equipment to complete its jobs. This fleet, like Keller's Canada's projects, also varies in size and capabilities.
"We have a diverse fleet of equipment and in-house technical expertise to design and perform the installation of most any pile type or geotechnical offering currently available," Fleet Manager Craig Gramlich says.
The company serves a variety of markets including infrastructure, industrial, commercial, residential and environmental construction. Keller Canada is COR certified by the Canadian Federation of Construction Safety Associations and currently holds ISO 9001:2008 certification and is actively pursuing ISO 14001 as well as OHSAS 18001 certifications, which it anticipates to complete in the Spring of 2016. Once complete, Keller Canada will be the first and only specialty foundation and ground improvement contractor in North America to attain all three certifications.
A Diverse Fleet
Keller Canada's services include the design and installation of piling systems, load testing, earth retention systems, ground improvement, specialty grouting, soil anchors, nails and micropiles as well as tank maintenance. The product offerings within these piling systems include drilled cast-in-place concrete piles, continuous flight auger (CFA) piles, driven steel piles, sheet piling, helical/screw piles and anchors, as well as various displacement pile types.
Within the 800 pieces of equipment that are owned and operated by the company, there are 150 pieces of what it classifies as core equipment. These include machinery essential to the completion of its piling and ground engineering projects such as drill rigs, cranes, pile drivers, and other large specialty rigs as well as mobile support equipment which includes loaders and excavators.
The company also maintains 150 pieces of licensed equipment which include pickup trucks, flat decks, mechanic, service and lube trucks as well as tractor trailer units. The remaining 500 pieces of equipment are specialized in nature and include support equipment, tooling and attachments for their cranes, drill rigs and other core piling equipment which includes items like concrete pumps, vibro-hammers, diesel hammers, down-hole hammers, hydraulic lead systems, hydraulic powerpacks, trailer mounted air compressors, manlifts and forklifts as well as grouting and slurry equipment to name a few.
Keller Canada's equipment fleet is distributed and housed across nine regional offices in four provinces and one state. Each region utilizes a different mix of equipment which is based on the soil conditions and project types most in demand in that region.
"Each region has different soil conditions and preferred or common pile types," Gramlich notes. "Saskatchewan, for instance, has great soil conditions for cast-in-place piles, which typically means you won't see many driven steel piles there." Gramlich continues by saying that "but should a project or need arise, we can mobilize the alternate equipment from another region within days."
Capital Investments
The company in recent years has "right-sized" its fleet in response to changes in the economy of the provinces it serves. The global drop in oil prices has deeply affected the western Canadian provinces of Alberta and Saskatchewan in particular. Many of the country's largest oil producers and the general contractors that work for them actively seek project cost reductions from all subtrades, Keller Canada included.
"This has motivated us to be more cost-conscious and competitive and work closer with our vendors to negotiate cost savings," Gramlich says.
In recent years, Keller Canada has sold in excess of 100 pieces of unused, unreliable and aging equipment for proceeds in excess of $3 million. The company analyzes several key performance indicators and lifecycle targets and benchmarks related to the equipment including age, meter hours, downtime and over/(under) cost recovery.
Although work in western Canada has slowed down because of the drop in oil prices, other Canadian provinces are seeing an increased demand for Keller Canada's services. This includes manufacturing and infrastructure-related projects in Manitoba, Ontario, and Quebec, as well as liquefied natural gas (LNG) projects in British Columbia.
The company's technology investments include expanding and growing their leadership across their existing product offerings such as continuous flight auger (CFA) and moving these developed products into new markets while also adding capacity and capability for new and growing technologies such as displacement piling, soil mixing, pressure grouting and other ground improvement products. "With these new technologies, we are further differentiating ourselves as the geotechnical contractor of choice," Gramlich says.
Keller Canada has also added technology that allows it to be more efficient and improve quality. This includes geospatial technology including web portals that allow it to monitor its equipment and pile installation parameters in real time.
The company owns equipment from several major manufacturers including Soilmec, Liebherr, Link-Belt, Manitowoc, Kobelco, John Deere, Case and Caterpillar. "We look at our suppliers as being our business partners," Gramlich says.
Building Skills
Training is also a priority for Keller Canada. The company employs engineers, journeymen crane operators, mechanics and certified rig operators as well as skilled drivers. However, as noted by Gramlich, "specialized training for our foundation equipment is in short supply."
The company is an active member of the Association of Drilled Shaft Construction (ADSC)/International Association of Foundation Drilling, which works to standardize training, safety and other aspects of the piling industry. Through the relationship with the ADSC, Keller Canada is working to establish a trade specific training curriculum with the Northern Alberta Institute of Technology.
Keller Canada also works closely with equipment manufacturers such as Soilmec and Liebherr to set up and arrange classroom and hands-on training for equipment operators and mechanics. "We continue to work closely with the ADSC, university and equipment manufacturers to provide and enhance our training programs, with the ultimate goal of certifying all of our operators," he adds.