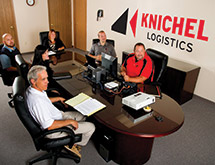 Knichel Logistics understands that one size does not fit all. The company is a third-party transportation provider that offers its customers a suite of transportation solutions, including intermodal, full truckload, less than truckload (LTL), boxcar, warehousing and other specialized services across North America.
With 25 years of industry experience, William Knichel started the company in 2003. After he retired, his daughter, Kristy Knichel, took over as president of Knichel Logistics in 2007. Initially, the company was doing only intermodal business with roughly $2 million in revenue to speak of, but eventually it branched out after hiring salespeople who helped grow the business from there.
Knichel Logistics prides itself on being a best-in-class intermodal company with the ability to expand its service offerings based on customer needs. Knichel's customer base consists mainly of small- to mid-sized shippers across various industries, so needs vary across the board. To adapt to any customer requirement, the company offers many additional services: professional services for international shipments; transportation management to customize every solution for every customer; warehousing solutions across the country; blanket services for companies and customers with temperature-sensitive products; and port moves with carriers that specialize in and out of major ports on both coasts.
"Our customers expect seamless door-to-door transportation solutions with superior service at market-competitive pricing," Knichel says. "They define quality by on-time pick-up and delivery, low damage claim ratio, accurate freight invoicing, proactive communication and customer service and, lastly, the ability to provide customized solutions as both their business and the industry changes."
With intermodal continuing to grow as a shipment mode, Knichel Logistics is in a strong position to benefit, thanks to its existing wholesale contracts with class 1 railroads and its carrier relationships. The company also works to improve supply chain efficiencies by executing mode optimization for its customers to move their freight in the most efficient and cost-effective manners possible. Customers are always looking for new, better solutions for their businesses and Knichel Logistics strives to keep up with the times, including updating its technology on a regular basis.
"The primary change for us has been the technology element and continuing to keep up with industry demands," Knichel says. The company has invested in many new technologies over the years, including implementing a new web-based operating system to increase efficiencies and the overall value of its offerings. Additionally, Knichel Logistics recently partnered with DOMO, which is a business management platform that brings all data together in one business intelligence visualization platform. This allows it to quickly make better-informed decisions for the company and its customers.
Future Growth
Knichel Logistics plans to grow its revenue 15 to 20 percent every year. It will do this by continuing to grow existing services with current customers, and adding additional services where it can leverage its current customer base. It also will continue to solicit and grow its customer base, strategically add additional sales personnel and identify strategic partnerships.
"We grow by being the best transportation provider to our customers, offering best-in-class services, being a great partner to our underlying carriers and vendors and creating and maintaining a work environment that is second to none," Knichel says.
Recently, the company started BlueGrace Pittsburg North for its growing LTL business because it found that many customers were asking for LTL service quotes. Knichel was able to get this up and running quickly. "My brother, William Knichel Jr., and I opened this separate company so we could capture more of that LTL business," she says. "We've definitely seen a decent increase in business as of June 1st, growing the margin and revenue in that area."
Knichel Logistics' hard work has been recognized in several ways. It was listed on the Inc. 5000 list, received the Pittsburgh Business Times' fastest-growing business award and was named one of the best places to work in 2012 by Pittsburgh Business Times.
Challenges Overcome
When Knichel began her career in the logistics field, not many women were in the industry. She faced many challenges that most men in her position would have never experienced.
"Many men in the industry didn't believe that I was in charge," Knichel explains. "My father initially had to get involved and said if they didn't want to work with me, we wouldn't do business with them anymore. He would say, 'She's running the business and if you don't like it, too bad.'"
To this day, Knichel is usually the only woman in a room at railroad meetings. "I went to two events this past month and I was the only woman," she says. "You really have to put yourself out there and be more vocal to be heard, period. It's better than it was a few years ago, but there are issues where you might not be taken as seriously as a man would in my position."
But Knichel doesn't let that deter her; it only strengthens her resolve and passion for her company. Because of her work, dedication and reputable position in the industry, Knichel has won several awards, including the 2014 Businesswomen First Award by the Pittsburgh Business Times and 2015 Distinguished Woman in Logistics Award by the Women in Trucking Association. "When I first started working for my father, I did intermodal dispatch," Kristy Knichel says. "Then I handled finance, claims, HR, payroll. I've pretty much done every position in the company until I became president. I've been in everyone's shoes here and have done every job. And I'm not afraid to jump in if we're short for any reason."
Knichel has only positive advice for other women wanting to get into the industry. "Never give up no matter what challenges you face," she says. "It can only make you stronger."