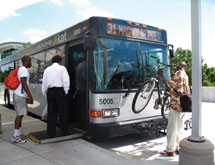 Knoxville Area Transit (KAT) has spent the past five years modernizing and researching more efficient ways to provide public transportation to the city's commuters.
Mass transit in Knoxville dates back to 1876 when the first streetcars of the Knoxville Street Railway Co. were pulled by horses and mules along tracks on Gay Street. In 1890, the streetcars were converted from animal to electric power and the first electric streetcar traveled from Gay Street to Lake Ottosee. Knoxville had progressed by 1910 to operate 42 miles of track and carry 11 million passengers per year. The first buses began operation in 1929 and by 1947, electric streetcars made their last run. "The last rail car was completely restored and sits in the East Tennessee Historical Society museum in Knoxville on Gay Street," Chief Maintenance Officer Si McMurray says.
Today, KAT operates two fleets: demand-response, which operates 24 vans to transport people in need who qualify through an application process, and fixed route, which operates 72 buses along 24 pre-planned routes. According to a recent study conducted by the transit system, 10,600 riders board a KAT bus during an average weekday. Of that number, 40 percent are job-related riders, 21 percent are shoppers, 13 percent are students and nine percent ride to get to medical treatment centers.
Transit Modernization
"Over the past five years, I would say we have caught up with our peers and become a very modern transit system and that takes money," McMurray says. "Public transportation is funded through local, state and federal tax dollars. We were faced with capital purchases to modernize our fleet and operation and that's one area the federal government really helped a lot. We couldn't have done it without them."
KAT was awarded a federal grant five years ago that allowed it to install a fully automated vehicle locator (AVL) system. Previously, only supervisors could track buses on the road. The new system allows dispatchers to easily access each bus' estimated time of arrival at any stop for passengers who call the service line, for example.
Each dispatcher has access to a map of the city that highlights each route and shows the bus' location, arrival times and whether it has a maintenance issue. "We have real-time information that we have never had before," McMurray adds. "This enables our telephone information people to give passengers accurate information instead of getting on the radios and communicating with the bus and then getting back on the phone with the customer to relay the information. Passengers get real-time information."
The AVL system works in conjunction with the new talking bus system that vocalizes stop information and displays it on a multimedia screen for passengers. The vehicle triggers the information as it approaches, arrives or leaves specific locations.
"This helps Americans with disabilities keep up with where they are on their bus trip," McMurray says.
Later this year, KAT plans to expand on its automated system by including a smartphone app that will show riders the location of the bus and provide an estimated time of arrival. "We get a tremendous amount of help from the city of Knoxville and we couldn't do it without their help," McMurray notes. "We have a very supportive relationship with them and it's amazing to see how much the IT folks get done with a small staff."
Fleet Improvements
KAT streamlined and standardized its fleet five years ago by shrinking the number of bus manufacturers it uses from 10 to three, which enables the transit system's operators to learn fewer configurations and mechanics to focus on training and repairing fewer vehicle types.
Once the older buses in KAT's fleet are ready to be retired, the transit system will purchase replacements and is looking at procuring a few low-floor cutaway buses. "It's something that's pretty new in the transit industry," McMurray explains. "Design changes have occurred in the bus industry that replaces the [wheelchair] lift with a ramp. The ramp flips out and makes boarding and disembarking of wheelchairs a whole lot faster and safer."
The vehicle has been on KAT's radar for a while, but the transit system wanted to wait to make a purchase until a majority of the kinks had been worked out of the new technology, he adds.
The maintenance team at KAT is experimenting with new transmissions that will increase its fuel efficiency. Buses idle about 20 to 30 percent of the time and can't be turned off because systems need to operate to collect fares, power the air conditioning and run the wheelchair lift. "We are looking for any efficiencies we can find," McMurray says. "We recently introduced six hybrid buses to the fleet in which we also expect will bring us additional fuel savings."