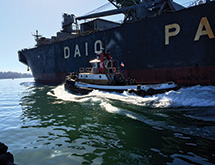 The Pacific Northwest is renowned for its forest products, and the Knutson family has been at the center of that industry for the past 100 years. The family's involvement extends from early methods of floating logs down the river to sawmills to today's use of tugboats, trucks and even high-tension lines that function like zip lines to send carriages of logs weighing tons speeding down mountainsides to trucks and barges.
President John Knutson attributes the company's longevity to several factors. "First of all, we have been very flexible in the jobs and the industries that we have aligned ourselves with," Knutson says. "The need for that has been due to evolution in our different industries and our geographic area."
A recent example of the company's flexibility is a new joint venture with the Coquille Native American tribe named K2 Exports exporting logs to China. Bryan Knutson, John's son and the fourth generation involved in the business, has spearheaded this joint venture that has developed over the last two years.
"That's been a challenge, but we're starting to see the reward of that," John Knutson says. The joint venture combines a terminal that the Coquille tribe purchased from Weyerhaeuser with Knutson's log yard and logs from the area.
Knutson estimates that the supply of logs for the joint venture will last for approximately 20 years. "It will last long after I'm out of the business, but hopefully, not totally gone," Knutson remarks. "It will be fun to see the next generation spread their wings and do some interesting things."
Joint Venture
Circumstances and underused resources combined to create a win-win for Knutson Towboat Co. and the Coquille Tribe. Knutson's log yard had been shut down for years but still had its log processing equipment, such as a debarker. Knutson began speaking with Chinese trading partners who were purchasing logs exported from the Pacific Northwest. The local company that had been processing raw logs and exporting them to China decided to handle only its own logs, thereby creating a local monopoly. So the Chinese were seeking a log processor and exporter, and Knutson had the log yard.
Another piece of the puzzle was provided by the Coquille Tribe, which had purchased a terminal from Weyerhaeuser 15 years ago. When that forest products company closed its facility there, it had a 1,200-foot-long dock. The dock had not been used for some time and it showed. Independent engineers assessed its condition and recommended repairs that Knutson's associates performed to fix it up.
"It took about a year of negotiation with the Chinese to get a contract that was viable," Knutson recalls. "Now we've been operating for one year. We're going to be in the black after the first year, which is remarkable given the fact that we've had a huge amount of infrastructure redevelopment and expenditures for capital goods, such as log loaders, stackers and general infrastructure improvements."
Two Log Yards
The joint venture has leased two log yards, one at the Coquille tribe's dock and the other at Knutson's headquarters in Coos Bay, Ore. "The tribe is helping to manage the entire operation and Knutson does all the heavy lifting," Knutson explains. This includes being responsible for the day-to-day operations of the terminal and log yards and the associates that work there, who are all employed by Knutson.
Trucking and repair services through its machine shop also are provided by Knutson. "We have a large group of mobile mechanics that are ready to repair equipment when it breaks down, and it's always breaking down," Knutson asserts. "It's actually working out to be a pretty good arrangement."
The terminal began operation in April, and three vessels were loaded with logs in 2015. Knutson says eight to 10 ships will be sent to China in 2016. Depending on the size of the vessel the Chinese charter, each one can handle from 3 million to 6.3 million board feet of logs. "By the end of 2016, we'll have moved in the neighborhood of 50 to 60 million feet of timber," Knutson says. "It's a growing concern, a growing operation."
Logs are trucked in by Koos Transportation, a Knutson sister company, and other companies. A 2,000-foot-long spur of a railroad is due for completion in mid-2016 that will link the joint venture with a rail line that can transport logs from forests up to a 200-air-mile radius from Coos Bay.
The forests are owned by everyone from large corporations like Weyerhaeuser to small private owners, farmers and investors. The spur also will create opportunities for Knutson when construction of a liquid natural gas terminal begins in 2016.
Towboat Business
Knutson's six towboats operate out of Coos Bay, Eureka, Calif., and Aberdeen, Wash. The boats primarily push log and chip barges into and out of the ports and also transport pilots to boats approaching the ports who know the ports and guide the vessels into and out of them.
Many of the barges entering the port at Eureka are transporting fuel oil because Eureka is geographically isolated without rail service and has difficult truck transport. Knutson does marine construction at the ports and has a full machine shop and fabrication facility where it rebuilds equipment such as diesel engines.
Another Knutson sister company, Millicoma Logging LLC, uses vertical towers called yarders that are mobile winching devices and hold cables called skylines. These transport logs down from cliffs and hills on carriages that ride on the cable. Up to 50,000 pounds of approximately 5,000 board feet of logs can sail down the cables from the hills at speeds of up to 55 mph and then brake at the end of the line.
"It's a pretty awesome sight to see that happen," Knutson says. "This yarder tower is quite a mechanical marvel. The equipment is incredibly expensive. The wire skyline needs to be replaced on an annual basis to the tune of $20,000 per change."
Koos Transportation is another example of Knutson's flexibility. The company was created in 1988 when log shipments moved away from barges to trucks. Koos has a fleet of approximately 105 semi-tractors outfitted as vans to haul wood chips or as 40-foot, flatbed fifth-wheel trailers to haul logs. Because of the shortage of drivers, Koos has more trucks than drivers.
The company trains people with the right qualifications, but its managers find recruiting drivers to be difficult. "People in our industry are all looking for the same person, so it makes it very competitive and difficult," Knutson insists. "By happenstance you find drivers, by word-of-mouth or just plain luck."
A Century of Wood
Knutson Towboat celebrated its centenary last August with a Saturday gathering entertained by a band in Coos Bay. "We had a band and had 400 to 500 people show up, which was very pleasing, because we sent out invitations and didn't know who would take a Saturday to come down and enjoy the day with us," Knutson says. "We had a perfect day, and it turned out to be a great event."
Despite the company's centennial landmark, Knutson does not dwell on the accomplishments of the past. "Our main concern is to keep the doors open and provide services for our clients and customers and employment for our staff and employees," Knutson continues. "We're just pleased to have made it to 100 years. Not many companies do that within the same family ownership."
Knutson emphasizes the importance of providing exceptional customer service. "The company is merely a service-branded business," he adds. "We provide services for our customers that they otherwise don't want to do themselves or can't do themselves. We are currently doing a good job, and we have great, loyal customers. Many have been with us for decades."
He also attributes the company's longevity and success to its employees; his son, Bryan, who is COO and senior vice president of Knutson Towboat Co. and Millicoma Logging; and John's son-in-law, Dax Davidson, who is senior vice president of operations for Koos Transportation.
"Our employees are the key to our success," Knutson stresses. "We have several multigenerational families that have continued to work for us as associates. They have positions of control within our organization, which is a real blessing to us, and certainly heartwarming to myself and my son, who have been doing this a long time."