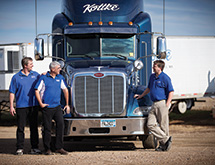 Kottke Trucking began 77 years ago with one man's need to provide food for his family. Today, the company plays a vital role in feeding families nationwide as it ensures the on-time delivery of food to retailers throughout the United States. "We are known for our on-time service and that we are going to get the food to the market when they need it," owner and General Manager Kyle Kottke says. "We do what we say we are going to do."
Elmer Kottke started trucking in 1938. The Buffalo Lake, Minn.-based company provided trucking service to the local creamery, hauling milk, feed and fertilizer. Kottke's sons, Donald and Duane Kottke, took over their father's company in 1961 and added freight and gravel to the business.
Two years later, Kottke Bros. began hauling U.S. mail from Minneapolis to Bird Island, Minn., for the next seven years until Donald and Duane decided to split the company.
In 1970, Duane Kottke acquired the mail route and added grain hauling part-time from Buffalo Lake to Savage, Minn., starting Kottke Trucking. He launched the company with a 1969 Chevy tractor and a rusted 1957 trailer. In 1983, Kottke Trucking was able to overcome losing its main customer to the railroad while finding new shippers, trading in hopper trailers for refrigerated trailers and going from a short-haul intrastate company to a long-haul interstate trucking company. "This experience was hard to endure, but forced Kottke Trucking to diversify its company to new areas and commodities," the company says. "This situation helped us understand the value of our customers."
Today, Kottke Trucking is a Buffalo Lake, Minn.-based contract carrier with a 48-state reach. It has a strong focus on its service lanes in Minneapolis, Chicago, St. Louis, Lubbock, Texas, Rocky Mount and Charlotte, N.C., Columbia, S.C., Atlanta and Orlando. The third generation took over in 1996 when Duane's sons, Kurt, Kory and Kyle Kottke, purchased the company.
Kottke Trucking operates a fleet of 94 trucks and more than 200 53-foot reefer and dry van trailers. "We continue to grow and expand to meet the growing needs of our customers," Kottke says.
As the company grows, Kottke Trucking continues to look for solid companies to work in partnership with. Kottke Trucking prides itself on the premiere service it provides to all of its customers.
"More than ever our customers are recognizing and appreciating the good work we do for them," the company says. "We put forth that extra little effort to make our service stand out from the rest. We appreciate customers that give us the chance to prove our superior service and strive to not let them down."
Part of the Family
Kottke Trucking is a family owned company, but one doesn't have to be a Kottke to be considered a member of the family. "When my mother [Connie Kottke] was alive, she would joke that we had the largest family in Buffalo Lake," Kottke remembers. "We had the largest family because our 120 employees make up our family."
In an industry with an average turnover rate of 100 percent, Kottke says the company prides itself on a 20 percent driver turnover rate. "We treat them right," he says, explaining why turnover is lower than average. "It's more than just pay. We truly care and understand that they are doing a tough job out on the road. There are events they need to make in their life and we will choose a route that allows them to get home. If there is a family reunion, for example, they are going home."
The Kottke Trucking management team is available around the clock for its drivers and Kottke says everyone is available day or night to help solve a problem. Kottke Trucking recognizes the driver shortage continues to be an ongoing problem in the industry and considers itself fortunate to have a full fleet of drivers.
"We are full of drivers today, but I don't know if we will ever remove ourselves from the market to hire someone who fits," Kottke says. "We are always looking for good, moral-based people with a good work ethic."
Tech Talk
Kottke Trucking implemented an analytics system 18 months ago that helps it determine which routes are profitable and whether it should exit lanes that are costly. "Low fuel prices have changed the dynamics of how freight moves," Kottke explains. "Shippers are willing to send farther because the cost of fuel is less. We are seeing more and more trucking companies getting intelligent about business and using technology to tell us where margins are."
Although gas prices are low, fuel efficiency is still paramount for the company and Kottke Trucking scouts reliable fuel sites to offer more economical pricing. Kottke Trucking is also implementing on-board safety technology. It will be one of the first smaller trucking companies to test lane departure avoidance and anti-crash avoidance technology later this year.
"The big carriers have been using it for a little while, but now smaller ones can participate in that," Kottke explains. "The lane departure technology detects a truck that's leaving its lane without its blinker on and gives an audible alarm for the driver that he's leaving the lane."
The new software will improve the company's safety record and keep drivers safe on the road, Kottke adds. To further impress safety upon its drivers, Kottke Trucking holds quarterly meetings and drivers are required to attend three per year. The meetings help drivers stay up-to-date on changes and address management with any concerns they have with equipment, customers or routes.
Moving forward, Kottke Trucking plans to continue its slow and steady growth with plans to geographically diversify and become more competitive. "We like slow and steady growth so we can become more competitive in markets we don't service," Kottke adds. "Our current focus is in the southeast, but whatever the future holds, one thing will be constant: Kottke Trucking will stay true to its family values and continue its strong commitment to safety and customer service."