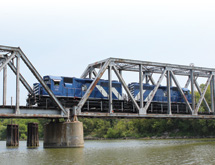 Adding four locomotives to a current fleet of 19 that services only 290 miles of railway may seem excessive – unless you are Lake State Railway Corp. and expecting a boom in transporting agriculture commodities.
"We view ourselves as a granger railroad, one that significantly lives off moving grain products to market," says John Rickoff, president and CEO. "One of the most significant things going on is the expected growth in agricultural commodities."
Rickoff projects growth in tonnage over the next five years. The railway specializes in transporting commodities such as grain, fertilizer, beans, sugar and other agricultural products. More than 50 percent of the Michigan-based company's traffic involves these items, Rickoff explains. In addition to agricultural products, Lake State Railway moves a variety of other products such as chemicals, lumber, steel, cement, limestone, coal and scrap metal.
To stay ahead of the projected demand, the company is purchasing four six-axle locomotives with 3,000 horsepower, each from CIT Rail. "We can pull more tonnage with the same, single locomotive versus our current four axle fleet" Rickoff says. "We are buying more for expected growth and improved fuel efficiency."
Reliable Service
Founder Jim George created Lake State Railway in 1992 after he acquired railroad lines previously operated by Detroit & Mackinac Railway Co. In 2005, the company purchased rail property from CSX Corp., which operated under the name Saginaw Bay Southern Railway until January 2012 when the two companies merged under the Lake State Railway name.
The company is a short line rail as it has only 290 miles of track that run from Flint to Bay City, Mich. via Saginaw and branch lines that reach Alpena, Gaylord and Midland, Mich. When the end of the track is reached, Lake State Railway interchanges cargo with CSX, Huron and Eastern Railways and the Mid-Michigan Railroad. About 45,000 car loads travel the railway annually, which, Rickoff adds, is a sizeable number for a railway its size.
Lake State Railway's annual volume is nearly four times the average of the more than 500 short line railroads in the country, Rickoff says. "We have always focused on providing a high level of service," Rickoff adds. "We pride ourselves on excellence in service and that's our goal every day."
Timeliness can be a challenge in the railway industry as scheduled and unscheduled trains are constantly moving up and down the company's tracks. Unscheduled trains carrying grain and coal come through the tracks multiple times per day, Rickoff says. All movements need to occur in a timely manner to ensure customer satisfaction.
Continuing to Improve
Continued private investment in rail infrastructure, equipment and facilities has allowed Lake State Railway to continue to expand and frequently consider additional acquisitions.
Over the next several years, 120 miles of the company's railway are to be upgraded to meet a higher level of standards for transporting. The rail segment can handle 263,000 pound gross weight rail cars now, whereas the industry standard is 286,000 pounds. Rickoff said the upgrade will allow the line to become more efficient while helping the customers be more competitive.
As fuel prices still fluctuate, Lake State Railway has purchased engine heaters for most of its locomotives, saving gallons of diesel fuel every hour. Leaving a locomotive idle can burn six to eight gallons of diesel fuel per hour but "Hotstart" engine heaters keep fluid warm and the battery charged. An idle locomotive using the Hotstart heater burns half of one gallon per hour, Rickoff says.
Lake State Railway has also entered the digital age by purchasing a system that provides GPS tracking on locomotives, work trucks and handheld radios. Being one of the first companies to use the digital system, employees must also use the analog system to communicate with other railroads. Rickoff says he doesn't know when others will go digital but expects the wave to come soon.
"It's a great industry and we believe the future is very bright," Rickoff says. The projected growth in demand for transportation needs in North America, along with capacity and maintenance issues on the highway system in the United States, bode well for the rail industry in general, he explains. Shipping by rail is also energy efficient and appeals to shippers as they attempt to improve their environmental footprint, Rickoff adds.