Legacy Transportation Services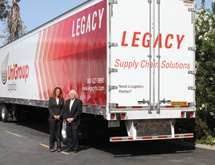 There are many logistics companies, but Legacy Transportation Services sets itself apart from others by concentrating on its relationships with clients, co-founder and President John Migliozzi says. "Excellence in client services has always been our top priority," he says.
"There's a lot of people with trucks out there, but it's how you help the clients solve their logistics and shipping challenges [that matters]," he says. "We provide comprehensive solutions." Based in San Jose, Calif., Legacy provides transportation, warehousing, crating, mobile exhibit and rigging services.
Migliozzi co-founded the company in 1990 with Senior Vice President Shelly Gipson and Executive Vice President Mike Quinn. Today, Legacy's clients include many Fortune 500 companies, including firms in the medical, telecommunications, aerospace and other technology fields, Gipson says.
Legacy's diversity of services also distinguishes it as "a single-source logistics provider," Gipson explains.
"We provide a broad-base supply chain management solution."
Building a Base
Legacy is in the process of a rebranding, Gipson says. It operates as an agent for Unigroup Logistics, a part of Unigroup Inc. Unigroup operates United Van Lines and Mayflower Van Lines, and previously, Legacy was affiliated with United Van Lines. But Legacy has never been a household goods mover so it is fully aligning itself as a Unigroup Logistics agent. From a business sense, this transition is complete, but Legacy will continue to rebrand its trailers the red and brown colors of Unigroup Logistics for another six months.
Although it will still be known as Legacy, as an agent for Unigroup Logistics, "We will be one of the largest asset-based companies out there," Migliozzi says. He notes that in addition to Legacy's own fleet of more than 120 trailers of various types and over 500,000 square feet of its own secure warehousing, it also has access to "Unigroup Logistics' equipment and brick-and-mortar warehouses throughout the country – and world."
These resources will enhance Legacy's ability to turn around projects quickly, Gipson says. "A lot of logistics companies don't have an asset base," she notes. "We have many customers that are very last-minute, [so we] really need to be very responsive."
Longtime Partners
Legacy has strong relationships with its clients, including Sony Electronics Inc., which also is based in San Jose. Sony Senior Event Manager Mark Woudsma says the two firms have worked together for at least 20 years as Sony has presented at trade shows and other corporate events.
When Sony needs to have its electronics goods delivered to the events, it calls Legacy. The fact that both companies are based in San Jose makes things all the more convenient. "If we need to go to their shop [or] if they need to come here, it's simple," Woudsma says.
He also praises Legacy for its drivers' expertise. "They've been in the business for a long time, and they understand tradeshows," Woudsma says, adding that Sony has established relationships with the drivers and the account managers. "They know us, how we work and what we like."
Legacy also has a long history of meeting Sony's needs. "If we say we need them at 4 o'clock on a particular day, 99 percent of the time, they give us that level of service," he says.
Another Legacy client is Varian Medical Systems, which has used Legacy for more than 20 years. "Over the course of our relationship, they have provided help with our packaging," Varian Logistics Services Manager Stella Stanton says.
Additionally, Legacy provides transportation services and manages Varian's finished goods and raw material storage, as well as its vendor consigned inventory. "They have been a very valued partner for us," Stanton says.
What has made Legacy so important to Varian, she notes, is that the company constantly looks out for Varian's best interests. Often, "They come up with suggestions [to help us do things better]," she says.
"They try to anticipate for us where we may come into problems," she says, noting that during Hurricane Sandy, Legacy looked at ways it could get Varian's deliveries done quicker and kept it posted on delays.
Ready to Grow
Legacy's strategy is to continue building partnerships with its clients. Both Gipson and Migliozzi see continued growth for Legacy. "We just opened up a new, 35,000-square-foot warehouse and office in Las Vegas," Migliozzi says.
Opening the new facility in the gamer's paradise made sense for Legacy because the city "is the No. 1 tradeshow location in the [United States]," Gipson says. "We spend so much time in and out of Las Vegas.
"Now our services there have expanded to warehousing and distribution with 24/7 online inventory control; tradeshow, electronic and special commodity shipments; and scheduled services to and from Las Vegas, the San Francisco Bay Area and the Los Angeles Area. We have a fleet of equipment there that includes flatbeds, 53-foot flat floor and high cube vans as well as bobtails. We're looking forward to growing this business."