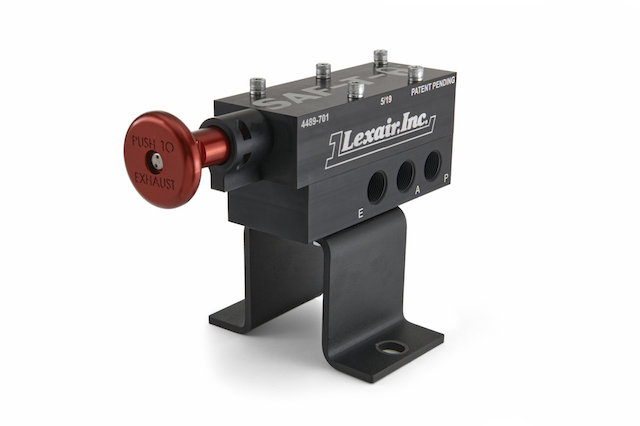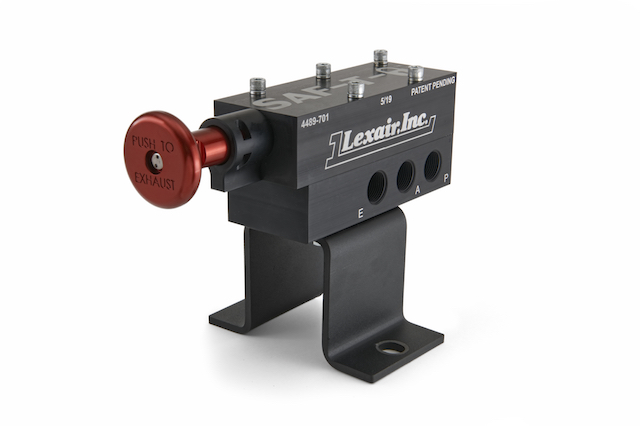 Deck: Lexair Inc. debuts ™ isolation valve for use on bottom dump hopper railcars of all types to improve safety.
By Janice Hoppe-Spiers, Senior Editor at Knighthouse Media
Lexair Inc. has become the trusted name in fluid power and process control valves as well as machine tool accessories because of its decades' worth of expertise in design and manufacturing. Its products can be found on virtually all types of equipment and machinery in almost any industry. Lexair's manufacturing standards adhere to stringent military performance, material and process specifications.
"We pride ourselves on our expertise in the fluid power industry," Vice President of Sales and Marketing John Jennings says. "On our sales, marketing and engineering side, we have close to 400 years of combined experience in fluid power. We have one engineer alone who has almost 55 years' worth of experience and another one with 42 years and I have 31 years of experience myself. We added it up one day and were amazed with the combined years of experience we possess."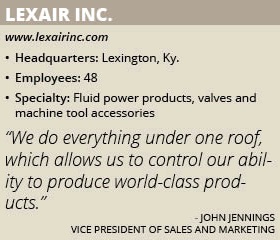 Lexair was founded in 1977 as a manufacturer of high pressure compressors and stainless steel valves for the United States Navy. In 1985, Lexair acquired the rights to the hydraulic and pneumatic valve lines from Airmatic Allied, a division of Snaptite Inc., which included the Hi-Cyclic® product line from Beckett-Harcum. These products are now manufactured and distributed under the Lexair name. Hi-Cyclic, Poppet, Tube-O-Matic® and Mini 1 valves are Lexair's four main product lines today.
In 1994, Lexair introduced its first bar feed product, the Rhinobar®. This heavy-duty hydrodynamic bar feeder for CNC lathes launched the company into the machine tool accessory market. In the spring of 2014, Lexair became the exclusive importer and distributor of Breuning IRCO in North and South America. Breuning IRCO is the premier German manufacturer of lathe automation, offering custom solutions for loaders and unloaders.
All of Lexair's valve products are made in the United States at its headquarters in Lexington, Ky. "We pride ourselves on quality and excellent customer service," Jennings says. "We do everything under one roof, which allows us to control our ability to produce world-class products."
Safety Features
Lexair has been designing and manufacturing railcar valves for more than 30 years. Its main valve element of the Original Series and Second Generation Railcar Valves is based on its rugged "sliding shoe" construction – the same trouble-free design that has been used in its railcar valves since day one. In the Second Generation Series, a sequenced mechanical lock maintains the valve in the "door close" position regardless of outside forces or vibration. A visual indicator is operated via the lock mechanism that clearly shows whether the valve is in the "door close" and locked position or not.
Lexair used its same "sliding shoe" technology to develop the new ™ isolation valve for use on bottom dump hopper cars of all types. This device allows for the fast and efficient release of hazardous stored energy (compressed air) from the door dump system components (reservoir, filter, valve, cylinder and connecting lines) in one easy motion. "In the past, there was no easy way to get the air out if you wanted to remove it from the car to service it or work near or around the car safely," Jennings explains. "You had to shut off the main air line and open a drain on the bottom of the reservoir that was often filled with rust and contaminants, which required cleaning before you could dump the air from the system.
The problem was, if someone manually operated the door control valve while someone else was working under or near the car, serious injury or death could occur. With Lexair's patent pending isolation valve, users need simply to push the red knob to exhaust the system, which takes about 15 to 20 seconds, add a safety pad lock or OSHA-approved Lockout/Tagout hasp for multiple safety locks and the door dump system is depressurized and can safely be accessed for servicing.
"Our main goal is to improve safety and we think the isolation valve will be a huge deal going forward," Jennings says. "One of our customers experienced an unpleasant personnel incident with a coal car and wanted to find a device like the isolation valve, but nothing was available. I told them to give me two weeks and we could develop something. We came up with this design in two weeks using our existing technology that's tried and true, and four weeks after that had prototypes installed on cars for testing."
The new safety device has only been available for a few weeks now, but Jennings has already sold 3,000 to one customer and is traveling throughout the country to explain the benefits of the isolation valve. "The valve has been well received and the customer who we designed this for has been talking to the American Association of Railroads and the Federal Railroad Administration about making it a recommended practice to install our product as a safety device," Jennings notes. "Recommended practices often end up becoming rules, and his goal is to get everyone else that owns these types of cars to install the isolation valve so they can quickly, easily and safely remove air pressure with one action."