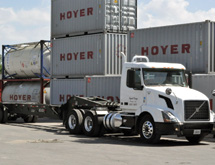 Founded in 1985 by Mark and Greg Jackson, Liquid Cargo represents a culmination of three generations of the Jacksons' hard work and effort. "My great-grandfather, Chester Jackson, was the one who got our family started in the transportation business back in the late 1910s," recalls President Kevin Jackson. Jackson is the fourth generation of the Jackson family in the transportation industry.
Liquid Cargo has been transporting chemicals and hazardous materials throughout the eastern United States and Canada for nearly 30 years. "It is the backbone of our company, and we pride ourselves on providing transportation services specifically optimized for each customer," says Jackson. Liquid Cargo has bulk liquid tanks for just about everything: the tanks are stainless steel, aluminum, rubber-lined or fiberglass. "In the right situation, if we do not have the equipment the customer needs, we will obtain it in order to provide the service required," Jackson pledges.
Liquid Cargo saw growth through domestic bulk liquid transportation from its founding up until 2010. "From 1985 through 2005, we were a one-horse show with a single operation in Kearny, N.J., but in 2005, we had the opportunity to add an affiliate in Baltimore," Jackson says. It was this addition that laid the foundation for future growth.
In 2009, Liquid Cargo acquired certain bulk tank affiliate operations from another trucking company, and in 2010, the company added company and affiliate locations. By the end of 2010, Liquid Cargo was operating approximately 80 trucks and was positioned in four major areas of the United States: the northeast Tri-State area, the Southeast (Atlanta and Savannah), Houston and Chicago. "This positioned us for our next phase of growth," Jackson says.
Tank Depot Services
Joining Liquid Cargo in 2009, Jackson quickly began discussions regarding the future direction of the company. "The roadways are getting more and more congested every day, and sooner or later, there will have to be alternative methods to move product from point A to point B," Jackson says. "That alternative will utilize ISO tanks."
Mounted in a steel frame 20 feet long by 8.5 feet high and 8 feet wide that matches the size of standardized shipping containers, the tanks – called ISO tanks after the International Standards Organization specifications that they follow – can be removed from trailers and loaded onto ships or vice versa. The technology is specially suited for shipments of chemicals over water or rail.
Liquid Cargo began transporting ISO tanks around 2008, but the company decided to make it a core focus of the business when Jackson joined Liquid Cargo in 2009. "In 2010, Liquid Cargo was invited to expand its ISO tank transportation business into Savannah, and, by 2012, we were able to offer full transportation and depot services," Jackson relates.
During periods of non-use, ISO tanks need to be stored while awaiting their next movement. This storage typically takes place at a service depot that can provide washing and maintenance services along with storage. A full service operation also provides transportation, allowing customers to make one phone call and have all their needs met, the company says.
The Next Big Step
"After two-plus years of planning and working with the city, we are finally taking our next big step in the ISO tank industry by opening a full-service depot in July 2013 in Newark, N.J.," reveals Jackson. This will give Liquid Cargo two full-service operations, and combined with the ISO transportation it provides in Houston, the company says it is making significant strides toward expanding in the ISO tank market.
One of the ways Liquid Cargo has gone about separating itself from the rest of the ISO tank market is its recent investment in special depot service software. "What sets this software program apart is the fact that it was designed by a software company for use in depots around the world," Jackson explains. "Currently, every other company in the United States has their own proprietary software, which means only one company has tested that software. The software we purchased is used in 26 countries and has been put to the test by many different companies around the world."
The software features unique technological advantages, such as 3-D mapping of depot storage areas so equipment can be located easily and tracked.
For the future, Jackson sees increased involvement in the ISO tank market, because ISO tanks can be moved easily by other forms of transportation, such as barges or railroads, which he anticipates will gain in importance as roadways become more congested. This will trigger greater growth in the domestic ISO tank market rather than international markets.
"We look at trucking as a way to service our customers' needs and solve their problems, and I think that's what separates us from other trucking companies out there," Jackson concludes.