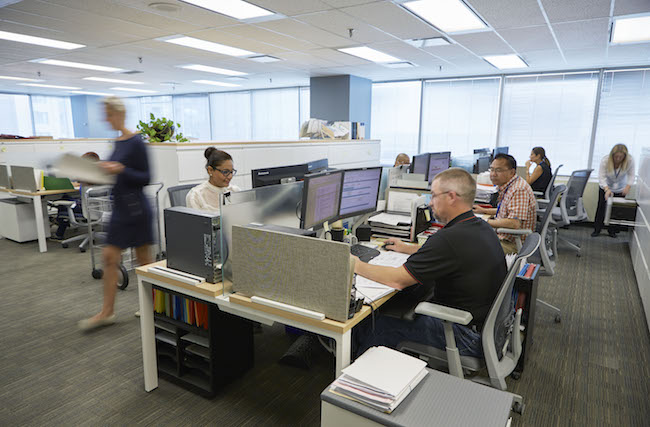 As anxiety rises in the global transportation market, Livingston International's experience and services help clients prepare for change.
By Tim O'Connor
This past year has seen the United Kingdom choose to exit the European Union and a free trade opponent ascend to the office of the United States presidency. With nationalistic sentiments on the rise, this is understandably a worrying time for companies that depend on the flow of goods and materials between borders. "More of the [uncertainty] has landed on the USA doorstep with the change in administration," says Mike Meierkort, president of international freight and transportation services for Livingston International. "That's created a lot of anxiety and questions around the world as it relates to global trade."
Businesses are increasingly turning to customs experts such Livingston to navigate policy changes that could upend longstanding trade norms. "Every tweet has turned into an opportunity for us," CEO Dan McHugh says. "Every time the president says anything about international trade our phone rings."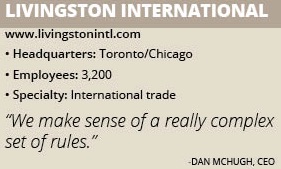 Livingston's job is to mitigate risk factors from the escalating lumber trade dispute between the United States and Canada to the uncertainty over the future of NAFTA and other trade agreements. "If you are well positioned with a good platform, good people and a good cost base, you weather those things," McHugh says.
Full Service
McHugh has been moving cargo his entire 35-year professional career, from container shipping to third-party logistics to aviation and express deliveries. The commonality across all those fields is that someone had to complete all the regulatory, legal and fiduciary work when exporting goods.
For many years, McHugh knew Livingston as the go-to provider of customs and import/export management. So he was asked to take over as CEO earlier this year he saw it as a great opportunity to make an impact in the field. "[Livingston's] reputation is we're a real trusted advisor and partner in our core businesses of brokerage and managed services," McHugh says.
Livingston has built its reputation by understanding the risk factors and complexity involved with importing and exporting goods and materials. Clients rely on the company as a critical component of their global supply chains. When a major hobby-supplies retailer wants to import ball point pens, for example, it turns to Livingston to calculate the amount of duty due base on the product's plastic content. "We make sense of a really complex set of rules," McHugh says.
"You know you're going to find the capacity, the question is if it's the right capacity at the right place and can you get enough of it?" he continues.
Livingston has three primary areas of business, each of which can help customers navigate global trade. The company is the largest pure-play customs broker in North America – two-way trade between the United States and Canada is its strong suit. It also provides global trade compliance work for several major companies. "We cracked the code on how to basically incorporate a compliance and managed-services framework into key large customers," McHugh explains.
The third leg of Livingston's business – freight forwarding – is where the company sees the most potential for growth. Livingston has not traditionally put a large focus on its freight forwarding services, but that's beginning to change. Every business that deals with customs needs freight forward, and brokerage services often utilize freight forwarders.
Freight Focus
McHugh wants the company to become more aggressive in the freight forwarding market. More than 40,000 clients rely on Livingston for brokerage services, and he says the company should have conversations with every one of those clients about forwarding their freight. "How do we move our solutions and compliance-focused DNA into one where we're also growing our freight business?" he says of the company's central mission.
McHugh's first 90 days at the company were spent building the capability to have that total service conversation with its customers, centered on one, unified product line.
That full-service capability is why Livingston has been chosen to manage the toughest logistics challenges. When a construction firm working on the Kearl oil sands projects in Alberta, Canada, needed to move steel pilings from a supplier in Germany through the Port of Vancouver to the project site, it turned to Livingston.
Using its freight forwarding services and custom expertise, Livingston arranged for the pilings to be transported via rail from Vancouver to Fort Saskatchewan, Alberta. From there, the pilings were loaded onto trombone trailers and driven about 250 miles north to the oil field with as many as 30 truckloads dispatched each day. Livingston coordinated the movement of the pilings in addition to managing the delivery at the job site.
"One of the things that differentiates us today from most of our competitors is we're big enough to offer our customers a comprehensive portfolio of solutions in a cost-effective manner," Meierkort says, "but we're small enough that we have enough agility and flexibility to customize solutions to fit what our customers need."
Staying Informed
Despite the industry-wide unease over the looming changes to trade, McHugh remains bullish on Livingston's future. The terms of NAFTA might change and the United Kingdom may finalize its exit from the European Union, but countries will still need to import and export software, lumber, dairy, automotive and other goods. "Trade has been going on as long as people have been getting around," McHugh says.
"That's one thing Livingston has done well, is continue to adapt with the environment," Meierkort says. "We're very good about being proactive, being educated and being able to adapt to the environment and keep customers informed."
The company talks to its clients and the terminal operators and truckers on the import/export frontlines to understand how policy changes and new regulations affect their operations. It then shares that information throughout its network so that customers can adjust accordingly. "Everybody has an agenda and everybody is impacted in different ways," Meierkort adds.