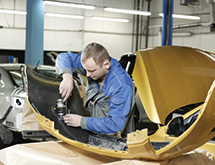 It seems like LKQ Corp. is growing every day. Since 2013, the provider of alternative auto collision parts and recycled components has completed more than 20 acquisitions, including Keystone Automotive in 2014.
With each buyout, the operation expands its market, but at the same time must also bring those new acquisitions up to its service standards.
At some companies, that may be a daunting task, but for LKQ it is just a part of the growth strategy. "They're a challenge but not an interruption," Bob Anno, director of fleet management, says of the frequent buyouts. "They're a normal part of the business."
On the fleet management side, Anno must do a thorough review of the buyout's vehicles and capabilities. Depending on the acquired company's resources, LKQ may simply rebrand the trucks or it may need to buy new vehicles to supplement the fleet and guarantee the location can meet the service goals. "The intent is when we fold an acquisition in we make them appear like the rest of the organization," Anno says.
National Network
The company was formed in 1998 through a merger of recycled products wholesalers located in Michigan, Ohio, Wisconsin and Florida. Today, the company boasts more than 500 warehouses, salvage yards and customer-facing stores in North America. LKQ's primary business is providing parts to collision repair facilities, but the company also has an aftermarket division that reaches as far as the United Kingdom and the Netherlands. It's extensive network of stores and supporting facilities have made LKQ a leading company in the alternative auto parts market. "There's very few places in North America we can't reach with same-day, next-day type of service," Anno says.
LKQ's broad product lineup and desire to be a one-stop shop for collision repair businesses have fueled the company's growth during the past 17 years. Anno says LKQ's scale, the footprint of its locations and its complete collision repair catalog of aftermarket and salvage parts have lifted the company above competitors. No matter the size of the vehicle that needs work, collision repair shops know they can get nearly everything they need from their local LKQ branch. Further, the company is able to pull parts straight from its salvage yards and refurbish them to be like new, giving LKQ access to almost any component someone may need to complete a repair.
Managing Fleet
To provide the service collision repair shops need at the speed they demand, LKQ must have control over its deliveries. The company maintains more than 5,000 vehicles in North America, including passenger vehicles, SUVs, pickup trucks, cargo vans and tractor trailers. Each driver is an LKQ employee, giving the company better control over its transportation and shipping operation.
LKQ is investing in new technology to make delivery even faster. For the past five years, the company has partnered with ARI, a privately held fleet management company, for software tools and fleet management staff. LKQ is also working to make the drivers more efficient from inside the vehicles. Nearly 70 percent of the fleet is equipped with GPS software designed to improve local delivery by maximizing routing. Implementation began about four months ago and Anno says the entire fleet will eventually be outfitted with GPS systems. "The capability is there," he says. "We believe it's going to be a big winner from the customer satisfaction standpoint and cost reduction."
No matter how large the company grows and how many acquisitions it undertakes, LKQ believes it has the resources to ensure it can continue to provide for its collision repair customers. "We always are out there trying to look for the best possible value for parts and service," Anno says.