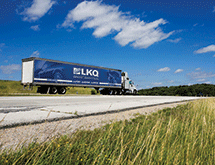 When a car is totaled in an accident, its usefulness may be lost to the driver, but not to LKQ Corp., which sees the wrecked vehicle as a possible source of parts. Based in Chicago, LKQ is a leading provider of alternative and specialty parts to repair and accessorize automobiles and other vehicles.
LKQ has operations in North America, the United Kingdom, the Netherlands, Belgium, France, Australia and Taiwan. LKQ operates more than 700 facilities, offering its customers a broad range of replacement systems, components, equipment and parts to repair and accessorize automobiles, trucks, and recreational and performance vehicles. The firm also is the largest nationwide provider of collision replacement parts, as well as a provider of recycled engines and transmissions, and remanufactured engines.
Senior Logistics Manager John Cordell says LKQ's history goes back to 1998, when the company was founded with the goal of forming the largest nationwide provider of recycled OEM automotive products. By the end of 1998, LKQ had acquired six businesses in the United States and reached revenues of $31 million.
"Our operation's founders, and original sellers of the initial salvage yards that formed LKQ, saw the power of creating a nationwide network of recyclers focused on industry leading fill rates, distribution and customer service to better serve the professional repairer," Cordell describes.
For its North American recycling operations, LKQ buys vehicles at salvage auctions that have been deemed a total loss by insurance carriers.
"Everything that's in there, we salvage it," Cordell says.
But LKQ does not limit itself merely to parts. "We recycle things such as fluids and precious metals," he says, explaining that it uses the vehicles' fuel and windshield washer fluids for its fleets. "We're a very green company."
Additionally, when LKQ acquires other companies, it looks for firms that have strong management teams with an appetite for growth, Cordell adds.
Technology Evolution
LKQ's approach to logistics has evolved with the adoption of new technology, Cordell says. "Technology just gets you where you want to be faster," he says, noting that the transportation management system (TMS) is one example.
The TMS system, he explains, gives LKQ the ability to have technology support shipping decisions and minimize unnecessary steps. "It simplified the process, which has made it easier for training, and for the processing of shipments," Cordell says.
A Serious Contender
LKQ wants to continue growing, Cordell says. "We are a serious contender in the global market," he says, noting that the company's staff is key.
"We have a very good distribution model that is made up of all the individual managers that make it happen day in and day out.
"I give guidance, but there is no possible way I could get anything accomplished without the people of this company," he says, noting that LKQ wants to be a "one-stop shop" provider of alternative parts for its customers.