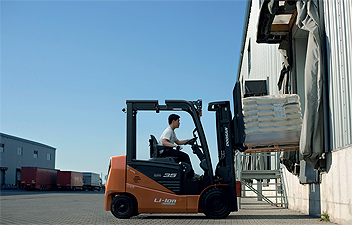 This electric equivalent of Doosan's 'value' GX IC engine range, offers all the advantages of electric power in a series of competitively priced four-wheel models, giving occasional users a reliable low-cost 'buy new' alternative to purchasing a second-hand or reconditioned forklift truck.
The new range promises to deliver outstanding performance, and takes safety to the next level, with features such as: anti-roll back on slopes, automatic speed control when cornering, automatic parking brake, ISO 3691 hydraulic locking valve – preventing unintentional lowering and tilting of the mast – and an operator sensing system that only allows the truck to operate when the driver is seated.
Further benefits include reliability, advanced ergonomics and serviceability, with further extensions to the range coming soon.