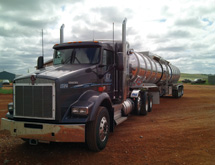 For Luke Taylor, the Williston Basin is more than just the United States' latest booming oil region. Taylor, like many entrepreneurs, saw the potential for business growth in the basin at the time he founded LT Enterprises, but the region is not an opportunity for national expansion of his trucking company or just the latest trendy oil play – it's home.
"We're a local company, and I was born and raised here," he says of Watford City, N.D., his company's home base. "I've seen a lot of people and companies come and go, but we're not interested in chasing other oil booms – we started in North Dakota, and we'll stay here and take care of our customers doing business here."
Taylor founded the trucking company in 2008 after purchasing two trucks. He recruited a few of the seasonal employees who worked for his father's agricultural business trucking fertilizer and other farming products to drive for him the rest of the year. The company initially transported water before moving into crude oil. Today, LT Enterprises operates a fleet of more than 70 trucks that transport oil from wellheads directly to pipeline injection facilities, rail yards or storage facilities. Practically all of the company's business is located within 100 miles of Watford City, which is centrally located in the Williston Basin.
The pride Taylor has in the local community extends to his workforce. Company employees donate time and money to a variety of the local schools, events and organizations.
"We stress to people that they need to not only work here but live here, be a part of the community and respect the people in the area," he says.
Service Capabilities
LT Enterprises operates both 3- to 4-axle semi-trailers and 4-axle trucks, transporting an average 200 to 240 barrels per load. All of the company's trucks are equipped with centrifuges as well as oil testing tools used to determine the density, temperature and quantity of crude oil before transferring.
In addition to hauling oil, the company transports fresh water and salt water for fracking purposes through another local service provider in the Bakken. "They have customer demands in our geographic region that they look to us to satisfy," Taylor says.
LT Enterprises uses a custom-designed 200-barrel, quad-axle vacuum trailer to carry water to well sites. The water tanker, modeled after the oil tankers used by the company, has a larger capacity than the 130-barrel tanks typically used in the oilfields.
Technology plays an important role in LT Enterprises' operations. The company has implemented a tracking, dispatch and electronic ticketing system from Qv21 Technologies that utilizes a smartphone. The device can receive and send dispatch information, billing information and other data.
"After drivers get to the well site, they enter data for the particular load they hauled into the device and print out a ticket to leave at the site," Taylor says. "Once that data is entered, it comes back to our office and we get real-time information on barrels, wait times and other information which in turn allows us to bill the customer faster and give them more up-to-date information than what they were used to previously."
The Qv21 system also includes GPS tracking capabilities that allow LT Enterprises to watch drivers' speeds and make sure they are routed correctly.
"The system has made us much more efficient, which has saved us money, allowing us to pass savings on to our customers," he adds.
Happy and Safe
One of the biggest challenges to LT Enterprises' growth is recruiting and retaining staff. "We want to not only find and hire good people but house them and keep them happy in the workplace," Taylor says. "The infrastructure out here is steadily growing, but still has a long way to go to meet the demands of the people working here."
The company rises to this challenge by offering competitive pay and benefits, as well as housing. LT Enterprises believes strongly in keeping employees safe as well as happy, and employs a dedicated safety staff that regularly hosts safety-training sessions.
Safety training programs including OSHA 10 and Safeland are conducted in-house, and the company is ISNetworld and PEC Premier certified.
LT Enterprises' dedicated staff is a key component of its success and plans as the company continues to expand its customer base and seek new opportunities. "We're a local business so we're not going anywhere, and we're fair," Taylor explains. "I think our current customer base sees that and our new customers tend to feel the same way once we start working with them.
"The relationships we've built with our customers and other service companies give us the potential to grow, and we feel we're in a great position."