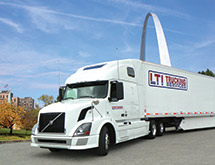 There's no doubt that the trucking industry has been through a rough stretch over the last several years. But, as the entire industry begins to pull out of its slump, it's clear that the companies that are still standing have survived because they are among the best of the best. One of those companies is St. Louis-based LTI Trucking Services, which has provided truckload refrigerated carrier and logistics services to Fortune 500 companies throughout the Midwest and Central States. According to President and CEO Nick Civello, the company's success even through the recession has been no accident. Serving the customer base that LTI does requires the company to be on top of its game.
"Our business model is to provide the highest-quality transportation service possible with the best companies," Civello says.
The company's history reaches back to 1975, when it was established as Lanter Transport Inc., a division of a larger company. Civello served as the company's vice president of sales and marketing before acquiring the division from its parent company in 2005 and rebranding it as LTI. At the time of the acquisition by Civello, the company was a 100-truck operation, but today it has grown to operate more than 250 trucks and more than 400 refrigerated trailers.
Today, LTI specializes in full truckload service, hauling food and grocery products for a customer base made up primarily of Fortune 500 companies. In recent years, the company also has expanded into providing private dedicated fleets for its customers throughout the United States.
'Equal Importance'
Civello emphasizes that although LTI has the equipment and the reach to provide top-notch service that meet its customers' high expectations, the most critical element of the company's success is behind the wheel. "Our company's platform is based on two primary factors: customers and drivers," he says. "LTI takes extreme pride in our customer base, which are primarily Fortune 500 companies.
"Our drivers are of equal importance to us, and we do everything possible to connect with them, communicate with them constantly and make sure they are successful and happy at LTI.
"What I feel truly makes our company quality the best is our people," Civello continues. "Every person throughout LTI was either hired for their position because they are the best in the industry, or trained to be the best in the industry. We instill that thought in everyone at LTI, and we truly stand behind it."
Having the best people in the industry behind the wheels of its fleet is crucial for LTI, and Civello says that will only become more important for the company to focus on as time goes on. "One of our major challenges out there is the declining driver pool," Civello says. "As our economy improves, as senior drivers retire and when [the U.S. Department of Transportation's Compliance & Safety Accountability program] has its full impact, there will be more demand for drivers and less of them available."
Nevertheless, Civello says LTI's position as a leader in the marketplace and its driver-friendly policies have made it much easier for the company to recruit and retain high-quality personnel. "LTI has done a very good job of attracting new drivers and retaining our drivers, which has enabled us to grow and prosper," he says.
Strong and Resilient
LTI's people have been instrumental in helping the company come out of the recent industry slump stronger than ever, Civello says. "We have seen the toughest years in the industry from 2007 through 2013 due to low freight capacity, new regulations, rates, equipment cost, fuel prices and the driver shortage, which have created a setback to the industry," Civello says. "I am pleased to see that we have turned the corner and our business and industry have much improved. The freight capacity is very strong and our trucks are in high demand."
The success LTI has experienced in recent years has driven some major capital improvement projects that Civello says will help the company become even more efficient and create stronger bonds between the company and its drivers. "We have just completed a new state-of-the-art maintenance facility and improved our yard and driver facility," he says. "This will help streamline our repair and maintenance services and will reduce our maintenance cost. We have improved our drivers' lounge to bring more comfort and amenities for our drivers."
Within the last two years, LTI has purchased more than 200 new trucks and more than 200 new trailers. Civello says the majority of the company's fleet is now less than two years old, and the company has invested more than $300,000 is supplemental technology in the last few years. "We strongly believe in investing in new and state-of-the-art equipment for our drivers and customers," Civello says. "We are committed to this and I believe you need to stay on top of technology, as it's the way to operate your fleet most efficiently and safely, and more so today than ever before."
Civello says LTI has been forward-thinking with its environmental policies, as well. The company is a proud partner in the EPA's SmartWay program, which encourages transportation and logistics companies to enact environmentally responsible business practices. "We were one of the first carriers to win Carrier of the Year with SmartWay, and we have continued to keep environmental standards a high priority," Civello says. "We have stayed focused on doing our part by reducing fuel consumption and emissions in every way possible. All of our trucks are equipped with auxiliary power units, we have set speed limits on our trucks and we invest in aerodynamic features to reduce fuel consumption."
Continually Improving
Civello says LTI's culture is built around the idea of continuous improvement, and the company is optimistic about the future. "LTI is looking at a bright future, although our industry will always be faced with challenges," he says. "We feel that we need to stay focused on what we do best and diversify within our boundaries.
"We need to continue to always invest fully within our company in people, technology and equipment," Civello says, adding that as long as the company continues to focus on making investments in the right people and technology, it will be able to fulfill its mission for its customers. "We need to always provide our customers with the highest quality transportation service possible, maintaining our integrity and values. Our future growth will be determined by our success."