Making Progress – Domestically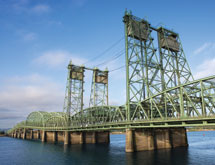 The current state of our transportation infrastructure is bleak. Of America's 605,000 bridges, 24 percent are either structurally deficient or functionally obsolete. While this may sound scary, the truth is that a structurally deficient bridge will eventually close or restrict traffic due to limited structural capacity, but the bridge is not in immediate danger. A functionally obsolete bridge is typically older and no longer able to support current traffic volumes, or isn't wide enough to support vehicle sizes and weights. While the impacts of these deficiencies aren't immediate, they contribute to traffic congestion and delays, negatively impacting our nation's ability to move goods and services effectively and compete globally.
While we can all breathe a collective sigh of relief that Moving Ahead for Progress in the 21st Century (MAP-21) has been signed into law, the reality is that we have another two-year extension of predictable, yet woefully low, levels of federal funding for highways and bridges. And while this bill was the best that Congress could come up with, it is this same current level of inadequate spending that has led construction unemployment to stagnate at 18 percent.
Completely solving our infrastructure problems is nearly impossible given the current economic and political climate. According to the American Society of Civil Engineers (ASCE), "If investments in surface transportation infrastructure are not made soon, those costs are expected to grow exponentially. Within 10 years, U.S. business would pay an added $430 billion in transportation costs, household incomes would fall by more than $7,000, and U.S. exports will fall by $28 billion per year."
Ultimately, a failure to heavily invest in transportation would cause productivity across the business sector to also tumble. ASCE goes on to state, "Those increased costs will cause businesses to underperform by $240 billion over the next decade, which will drive the prices of goods up. As a result, U.S. exports will fall by $28 billion, including 79 of 93 tradable commodities. Ten sectors of the U.S. economy account for more than half of this unprecedented loss in export value – among them key technology sectors like machinery, medical devices, communications equipment – which produces much of this country's innovations."
Buy America
Buy America provisions set forth by the U.S. Department of Transportation are meant to ensure that transportation infrastructure projects are built with American-made products. The National Steel Bridge Alliance has always supported Buy America and has fought diligently over the years to close the "segmentation" loophole that has plagued our U.S. manufacturing industry.
The "segmentation" loop-hole, as part of previous Buy America provisions, was exemplified by the self-anchored suspension span portion of the San Francisco – Oakland Bay Bridge (SFOBB) project. Instead of treating the SFOBB project as one singular project, it was broken up into nine separate contracts, thus the concept of "segmentation." Ultimately, the steel for the self-anchored suspension span was sourced and fabricated in China, delivering a substantial blow to the U.S. economy. This segmentation loophole was never part of Congress' initial intent when writing the Buy America provisions, and has now been closed within MAP-21 by clarifying that a bridge project is defined by the scope of the project analysis under the National Environmental Policy Act (NEPA) to be the entire bridge instead of defining a project as an individual contract for a segment.
MAP-21 also amends the Buy America law for transit projects by requiring that waivers cannot be granted without a public notice in the Federal Register and on the USDOT FTA website, requirements similar to what is currently in place for highway projects.
Lessons Learned
As U.S. citizens works tirelessly to claw themselves out of the worst economic decline since the Great Depression, the consequences of that fateful SFOBB decision to send thousands of jobs overseas is just embarrassing.
The reality was that the bridge was almost three years behind schedule and over budget. And to make matters worse, what could have been an American fabrication and manufacturing success story has evolved into a transfer of money and jobs to China.
According to Tom Hickman, vice president of sales and marketing at Oregon Ironworks Inc., the bridge would have required more than 4 million man-hours. "This is a very significant number considering its impact on the West Coast economy." In California, for example, unemployment currently exceeds 11 percent. Just as significantly, California essentially paid to have a production facility built in China rather than the United States – a facility that will now vigorously compete with domestic companies on future projects.
The NSBA strongly commended the Alliance for American Manufacturing (AAM) for its national "Should Be Made in America" campaign. The campaign brought into focus how decision-makers on the San Francisco-Oakland Bay Bridge financed the project with American tax revenues while circumventing Buy America provisions.
Just Like Rosie, We Can Do It!
Regardless of funding levels and legislative loopholes, the domestic steel bridge industry is more than ready to take on any project to come down the pike.
In May 2012, the NSBA conducted a national study to determine the capacity of our domestic steel bridge fabrication industry. The survey asked U.S. bridge fabricators to state their 2010 plant use as a percentage of their overall capacity. 2010 was a significant year because the real value of bridge work increased more than $2 billion (8.5 percent) compared to just one year prior. This significant jump can be attributed, in part, due to the American Recovery and Reinvestment Act (ARRA) stimulus package.
NSBA's survey results determined that, on average, our nation's significant steel bridge fabricators only used 67 percent of their total plant capacity in 2010, a year that showed a significant increase in demand when compared to the prior year. There are countless examples across the country of what American fabricators have done – and still do.
John O'Quinn, senior vice president of Hirschfeld Industries – Bridge and a member of NSBA, believes that "U.S. fabricators are poised to handle any future challenge that American infrastructure may present. Our industry has done a much better job of adapting to the changing market over the last five to seven years compared to years past. Through the utilization of new technologies – including 3-D modeling and virtual assembly – domestic fabricators are able to stretch the taxpayers' dollar further than ever before."
Hirschfeld is one of the largest domestic fabricators of steel bridges in North America with seven facilities located throughout the United States. Hirschfeld, and the entire steel bridge fabrication industry, have a rich history of fabricating complex, time-sensitive projects such as the new Woodrow Wilson Bridge in Washington, D.C., the Ravenal Bridge in Charleston, S.C. and a new Mississippi River crossing in Louisiana.
All of these success stories were built with domestic steel fabrication and their American workers, and the steel fabrication industry stands ready to build America's future.
Brian Raff is the marketing director for the National Steel Bridge Alliance, which is dedicated to advancing state-of-the-art steel bridge design and construction. For more information, visit www.steelbridges.org.