Manhattan Beer Distributors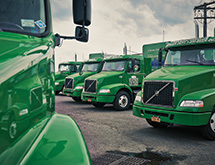 This past December, Beijing announced its first red alert for air pollution. The Chinese city closed schools and construction sites and restricted the number of vehicles being driven in the city. Helping to keep air pollution levels lower in New York City and its residents happier is Manhattan Beer Distributors. The company, which was founded in 1978, delivers beer, wine, spirits, ciders, water and non-alcoholic drinks with a truck fleet that is one-third powered by compressed natural gas (CNG).
Of the distributor's 300 vehicles, 110 are powered by CNG. Another 120 vehicles have been added to the company's fleet by the acquisition of another beverage distributor, Phoenix/Beehive, in 2015. Although price has been an advantage of CNG over diesel fuel in the recent past, the congested New York City area benefits from the use of lower-emission vehicles, and their purchase is being encouraged through government incentives.
Lowering emissions is a worthy mission for Manhattan Beer Distributors' Director of Fleet Operations Juan Corcino, but he additionally praises CNG vehicles for the emission technology they don't need: diesel particulate filters, tanks of diesel exhaust fluid and selective catalytic reduction systems. "The best part of CNG is that you don't need all the emission technology that is required on diesel to be in compliance with regulations," Corcino says. "When you use CNG, you have less downtime than diesel and fewer breakdowns, so you realize big savings. You don't have high-tech parts that fail and all the parts that have to be replaced every 20,000 miles on average."
CNG trucks produce fewer harmful emissions than diesel, and the vehicles last longer than diesel-powered ones, Corcino says. He estimates that CNG vehicles require approximately 50 percent less maintenance than the equivalent diesel-fueled vehicle.
Manhattan Beer Distributors refuels its CNG trucks itself at its headquarters in the Bronx and in Wyandanch, N.Y., on Long Island. A third-party company licensed to dispense CNG in the Hudson Valley refuels the company's CNG trucks in Suffern, N.Y. The company's other two locations in Ridgewood, N.Y., in Queens and in Brooklyn have no CNG refueling stations.
CNG Incentives
Incentives from state and federal governments help companies make the move to CNG vehicles. Corcino estimates that the incremental cost for a truck priced at $150,000 is approximately $40,000 to $50,000 more for a CNG model than a diesel-fueled one, depending on its size and the size of its fuel tank. But much of that increased cost is paid back through state and federal incentives.
Among the several incentives that Manhattan Beer Distributors has availed itself of are the Hunts Point Clean Trucks Program (HPCTP), which is funded by the Federal Highway Administration's Congestion and Mitigation Air Quality Program and implemented by the New York City Department of Transportation.
Manhattan Beer Distributors also has received funding for its CNG vehicles from the Greater Long Island Clean Cities Coalition (GLICCC), which is a U.S. Department of Energy Clean Cities-sponsored program. GLICCC administers federal funding for alternative fuel vehicles and fueling infrastructure projects.
"Some of the incentives pay for 100 percent of the incremental cost of CNG vehicles and some pay for 80 percent, but that has been absolutely crucial," Corcino emphasizes. He adds that Long Island has a good infrastructure of CNG refueling stations to support the GLICCC's efforts.
Other Environmental Efforts
CNG is not the only environmental initiative undertaken by Manhattan Beer Distributors. A sense of environmental responsibility runs throughout the organization. Solar panels on the roof of its Bronx headquarters send 1.1 megawatts of electricity back to the grid for credit. Additionally, all of the company's facilities use energy-efficient LED lighting.
"In one of the buildings in Brooklyn, 80 percent of the electricity is produced with cogeneration using natural gas," Corcino says. The company also uses its return trips to carry empty glass and plastic bottles, cans and cardboard to its in-house recycling facility.
Approximately 70 percent of the products the company distributes arrive by energy-efficient rail. Its trailers and trucks are heavily insulated to keep beverages at the correct temperatures. "We are doing a lot of things to be green and help the environment," Corcino points out. "We are looking forward to our truck fleet being 100 percent CNG in the future."