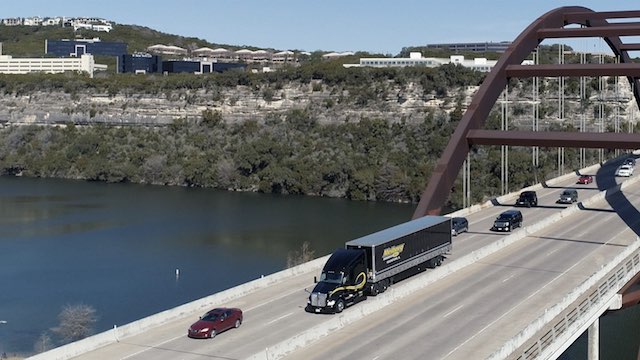 Family managed Meiborg Bros prides itself on strong service and staying up-to-date.
By Alan Dorich
Meiborg Bros Inc. does not let challenges get in the way of serving clients. "Our people don't stop when they hit their first bump in the road," President Zach Meiborg says. "We always follow through with our promises to our customers and always deliver a solution."
Based in Rockford, Ill., Meiborg Bros offers expedited freight, logistics and planning, dedicated trucking, cargo, warehouse and distribution services. Meiborg's founding father and chairman of the board, Bill Meiborg, started the company in 1981 with a single truck hauling produce from the West Coast to the Midwest.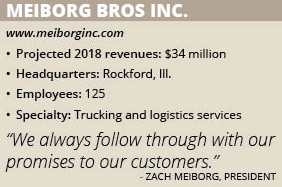 Today, Meiborg Bros has a fleet of 106 tractors and serves clients that include UniCarriers Forklift, ABC Supply Company and BASF Corp. Bill continues to be involved with the business to this day.
Just recently, one of the company's vehicles broke down in Nevada, "Dad dropped what he was doing and saddled up to recover the dead unit," Zach Meiborg recalls. "My dad loves acting as our clean up guy with projects like this."
Secret of Success
Zach Meiborg is a longtime veteran of his family's company. "My dad had me running the forklift when I was 14 years old," he recalls, adding that he held several positions before taking his current role.
He credits the company's success to its high level of service, which allows the company to charge premium rates and pay its drivers premium wages. "Always leave the customer with an option – even if that option is expensive and you'll find success," Meiborg says, adding that the firm uses a triangle as its business model.
While the center of the triangle represents the company, each point represents its customers, employees and vendors. "One leg feeds into the other," he says. "Without vendors and employees, we don't have or need customers."
The high value Meiborg Bros places on its employees is reflected in driver schedules that ensure they have time off the road. "Our model is five days out and two days off, at home," Meiborg says.
Trucking Technology
Meiborg Bros stays abreast of the latest technologies. "We are and have been E-Log compliant and try to leverage this data with our McLeod Software to the further develop best practices," Meiborg says.
"Analyzing our data is very important," he says. "We have a company CFO that does an amazing job of figuring out where we're at, and then projecting our future path so our operations managers can navigate us there." Its team recently launched Microsoft BI's dashboards around the office. Now the team realizes that they're being measured and rewarded for their success.
The company also has implemented collision-avoidance technology with the Bendix Wingman Fusion system, which utilizes a camera along with radar and brake systems. This helps Meiborg Bros avoid accidents and keep the motoring public safe, Meiborg says.
The firm also spec disc brakes on all its trucks and trailers, which has helped during winter conditions. "Up here in the northern Midwest, when you park a trailer with drum brakes, you often find issues where the brake shoes will freeze to the drums," he says.
Disc brakes prevent this problem and save tires from being flat-spotted. "The pads don't freeze to the rotors," Meiborg says. "Plus the disc brakes stop faster, cool faster, and last longer, and they're lighter weight."
Transition Point
Meiborg sees growth in his company's future, but also a significant evolution ahead. "There's going to be a transition point in our entire industry where we start to deploy autonomous tractors," he predicts.
"Some people talk about it, but I don't think many give it the degree of severity that it deserves," Meiborg continues. "Autonomous trucks are going to absolutely drastically change our economy, because it's going to drastically change transportation costs and revenues. My largest fear is that our regulators won't get out of the way fast enough for this good technology to reduce our costs while increasing our productivity."
He adds that firms will be able to keep roads safer with the autonomous trucks. While Meiborg Bros already uses collision avoidance systems, "Fully autonomous vehicles are just a evolution of the current technology," Meiborg asserts.