Mesa Public Schools fleet operations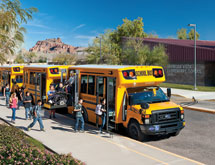 Ron Latko has overseen a number of major fleet-related projects during his 26 years working in transportation-related roles, but says his most successful endeavor is the one he's currently overseeing.
"I've been around for a long time and managed a lot of projects, but no matter how much you think things through, something that you didn't consider will come along and present a challenge," says Latko, director of transportation for Mesa (Ariz.) Public Schools. "This project has gone so smoothly it's been unreal."
The school district began an effort in 2011 to convert its bus fleet from diesel fuel to propane. The district now operates 90 propane-fueled buses, and plans to fully convert its fleet of 544 buses to the alternative fuel before 2025. Mesa Public Schools that year also purchased two permanent 18,000-gallon tanks and a portable 1,000-gallon tank to fuel its fleet. A third 18,000-gallon tank will be installed later this year. "We're ahead of schedule, and everything is working perfectly," Latko adds.
With a total enrollment of 64,000 students and 84 schools, Mesa Public Schools is Arizona's largest school district. Mesa's fleet of buses drives 35,328 miles and transports almost 19,000 students daily.
The district's project partners include bus manufacturer Blue Bird, propane provider Ferrell Gas and fuel system manufacturer ROUSH Cleantech, who use Ford engines as the basis for their systems, Latko says.
A Healthier Option
Like many large public and private fleets across the country, Mesa Public Schools first considered converting from diesel in 2008, when emissions standards started to become more stringent. Propane stood out as the best alternative fuel for the district's needs based on its on-the-road performance and ease of maintenance as well as its overall cost and environmental impact, Latko says.
Mesa's mechanic staff learned how to maintain the new vehicles following a four-hour training course, as opposed to needing a special certification. Only 15 engine parts distinguish the propane engines from their conventional gas engines. Any Ford-certified technician can service the vehicle, he adds.
The district anticipates saving a total of $3.6 million in fuel costs over the next five years. "In 2020, we will reach the point where the money we save in our fuel budget will cover the costs of new buses," he adds.
Mesa Public Schools reduced its greenhouse gas emissions by 2,789 tons in 2013 by making the switch. "[Propane buses] are healthier for the kids, healthier for the neighborhood and the citizens of Mesa," Latko says. "It's just better all around."
'The Perfect Choice'
Mesa Public Schools' embracing of propane has earned it acclaim from its peers and the alternative fuel industry. The district in 2013 became the first school district to win the Propane Autogas Fleet award from the Propane Education & Research Council. The award recognizes a propane autogas fleet for its efforts in using the fuel, the council says.
Latko has also earned a "National Sustainability All-Star Award" from Green Fleet magazine and recognition as a "Clean Air Champion" by Arizona. He is a member of the Valley of the Sun Clean Cities Coalition and the Transportation Administrators of Arizona.
"I'm proud to have had the opportunity to speak at different conferences and in front of different groups to help educate people on propane, and that is extremely important to me," Latko explains. "Propane isn't necessarily the right solution for everyone across all industries, but when it comes to school buses and school districts, it is absolutely the perfect choice."