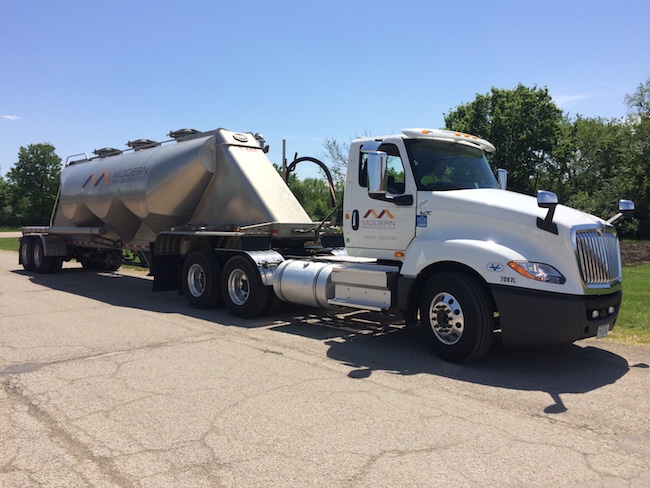 Modern Transportation's creative approaches reduce driver turnover.
By Alan Dorich
Although most transportation organizations list safety and their people as their top priorities, Pittsburgh-based Modern Transportation has built a culture of safety and engagement that is turning a nationwide driver shortage into a competitive advantage. "First," shares Modern's President, Patrick Cozzens, "if you're not safe, you're going to be out of business. And secondly, if you don't want drivers to leave, create a work environment that makes them want to stay." Modern is thinking outside the box to meet both of those challenges.
From a safety standpoint, Modern is world-class. With 12 years straight of Great West Casualty's Platinum Safety Awards lining the walls in their Board Room, Cozzens' team is working toward winning its thirteenth. "Great West's Platinum Award is a distinction that only their top 10 percent of carriers ever win," Cozzens shares. "We are humbled by those awards, yet realize they are the result of strong coaching on the part of our leadership team and focus on the part of our professional drivers."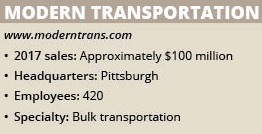 Another facet of Modern's safety culture is its mantra, "Home Safe Tonight!" Unveiled in 2014, this statement of encouragement prominently resides on the company website and at the base of company emails. "In addition," beams Cozzens, "it's often the last thing any of us say to each other at the end of the workday."
Modern began operations in 1987 with four trucks. Its first customer was Owens-Illinois, when Modern began serving a trans-loading operation in Butler, Pa., 20 miles north of Modern's present-day Corporate Office. "Those trailers were loaded to the brim with Soda Ash, a main ingredient in the production of glass bottles," Cozzens shares. Although that lane is no longer in existence, Owens-Illinois remains Modern's largest customer on numerous other lanes.
Soon after beginning the Butler work, Modern was hired to deliver sand from a supplier in Chardon, Ohio, to a glass plant near Meadville, Pa. This plant, owned by Vitro, remains one of the largest automotive glass plants in the country and has been a steady partner to Modern every year for the past 30 years.
In addition to transporting raw materials for glass manufacturers and shingle producers, Modern has also grown into a formidable player in the specialty chemicals, petrochemicals, oil and gas, and industrial mineral sectors of the transportation industry. "We focus almost exclusively on Fortune 1000 manufacturers," Cozzens shares.
Recently, Modern has earned high praise from some readily recognizable brands. "Our friends at Proctor & Gamble have recently shared 'You're not your typical trucking company,'" noted Cozzens, who points to the service to P&G as a true differentiator. Also recently, during their annual visit to one of Modern's weekly executive meetings, representatives from Owens-Corning provided the ultimate compliment, "You guys are absolutely No. 1, when it comes to service."
"Our Mission is simply to deliver superior transportation solutions in the safest, most professional and efficient manner," Cozzens states. Further, Cozzens states that this simple philosophy, noting that "safety" always comes first, has been responsible for company profitability through even the hard, lean times.
Here's to Another 30 Years
This year, Modern celebrated its 30th year in business. Commemorated by an additional logo that graces Modern's invoices, stationery and holiday cards, "It's just another way to show the pride of our team members, while also reminding customers that we're not new at this," says Tim Dougan, director corporate development for Modern. "We've been a safe, professional organization for 30 years and fully intend to be a safe, professional organization for the next 30 years," Dougan states. In addition, the company plans to maintain other facets that have kept it successful, including its entrepreneurial spirit.
Entrepreneurship and Modern's commitment to innovation have served it well. Recently, Ernst & Young recognized Modern for their entrepreneurial spirit. Further, Commercial Carrier Journal has selected Modern on two separate occasions as their Innovator of the Month. "We're just doing what we do every day, trying to always get better," Cozzens states.
All disciplines throughout the company subscribe to the company value system. Bob Smith, Modern's sr. director of maintenance and equipment shares, "There's an overarching sense to do the right thing. We truly work to live our Mission and do things right."
Similarly, Modern's Tammy Bennett mirrors the sentiment. "We definitely embrace and promote a family culture," shares Modern's vice president of human resources and strategic initiatives. "It's our People First Philosophy where our team members and their safety are our top priority."
A Different Approach
Modern Transportation recognizes the industry driver shortage. Yet, instead of simply doing more of what was only marginally successful, it has adjusted its approach to transform a perceived obstacle into a distinct advantage. It has introduced two human resource initiatives that have helped to differentiate it from other carriers from a hiring standpoint, while enhancing driver retention.
"Every carrier is out there, competing against one another, trying to pull from the same group of drivers," Bennett shares. "We recognized back in 2016 that to achieve different results, we were going to have to do something different than the standard recruiting process."
It was at that time that Modern designed and implemented an outbound recruiting process. "We sought out a successful driver recruiter, immersed him in our culture, shared with him our company goals and cut him loose," Bennett recalls. "If we have a hot spot location, he'll go out to that location, put 'boots-on-the-ground' and spend as much time as he needs to, talking about us to drivers. Plus, he has a deep passion for Modern, which only makes him more successful."
Cozzens notes that Modern's recruiter was a driver himself, so he knows drivers and knows what they want. Further, Cozzens speaks to his recruiter's honesty. "Some carriers have reputations of making promises to recruits, yet falling short on delivering on those promises. Of course, once on board, that approach creates disappointment and disengagement." Continuing on, Cozzens shares, "Our recruiter shares the good, the bad and the ugly. So, when a new team member joins, there are no surprises and rarely any regret."
Important Input
In 2017, Modern's outbound recruiting process resulted in lower turnover and an enhanced quality of driver candidate. But the company didn't stop there. "We recognized this year that the driver industry was still continuing to experience changes," Bennett recalls.
As some markets were still experiencing unacceptable levels of turnover, Modern began conducting round tables with other carriers. "Every carrier we talked to was adding more recruiters and spending more on advertising and marketing," she recalls. "Yet, they were still experiencing the same issues. In order to further differentiate ourselves, we knew we had to go in a different direction."
This led to the development of a new position at Modern entitled driver retention specialist or DR specialist. By design, this role provides value on three fronts. First, the DR specialist follows up on social media inquiries, arranging face-to-face interviews for those who meet Modern's stringent driver requirements. By aggressively reaching back out to these candidates, the connections are made much quicker and with a greater degree of professionalism.
Secondly, the DR specialist conducts exit interviews. "If team members leave Modern, yet no one knows the specific reasons, we could lose more team members for the same reason," Bennett notes. "Our DR specialist initiates contact with team members who have left our company, to obtain insight on what we may wish to change to retain drivers." Modern has enjoyed great success by aggressively addressing any potential changes that result from these interactions.
The third role the DR specialist fills involves recent hires. After the second week on the job, each new team member will receive a phone call from the DR specialist. "Our drivers are the backbone of our success, so we want to make certain they are receiving all of the support they require from Day One," Bennett shares. "Everyone has been the 'new person' at one point in their career. It can be a lonely place, particularly for a driver who spends 95 percent of his or her time by themselves."
Bennett continues, "We reach out to new team members to make certain we are meeting their expectations and that their transition to Modern is going smoothly." If something needs to be addressed on the part of the new hire, he or she has an advocate. It's all part of creating that culture of "honesty and respect, where a sense of trust and mutual confidence will flourish," as part of Modern's Mission states.
At the onset of introducing the DR specialist, Modern had 60 open positions throughout its network. "As of today," Bennett beams, "we are down in the teens." Cozzens, who personally calls "a handful of drivers each week," went on to share the positive response Modern has enjoyed from its team members.
Of the DR specialist position, Cozzens shares, "I've had drivers tell me, 'This is the first company I've worked for where someone has called me just to see how things are going.'" As another litmus test, Cozzens shares, "If I was a professional driver, I believe I would want to work at Modern."
Equipped for Success
Modern is in growth mode, which includes continuously updating its fleet. "We're constantly working with our lease partners to get the lightest weight and most fuel-efficient vehicles we can," Smith notes. Modern's business model includes buying trailers, while leasing tractors. "Our leasing partners," Smith shares, "update the units every three to five years. That clearly gives us the flexibility to take advantage of some of the new features that are introduced."
The average age of Modern's tractor fleet is two-an-a half years. "We are scheduled to take delivery on 50 tractors in 2018," Cozzens shares. "We partner well with our lessors, so we are always on the forefront of technology. Plus, with all of the research being done with electrics, we are excited to see what trucking will look like in the next 10 years."
Driving Success
"Modern Transportation plans 60 more years of careful, measured growth," Cozzens notes. Recently, he hosted an executive retreat where his department heads meet offsite to set specific performance goals for the coming year. "We came away from that event as positive as ever that we are in one of the strongest financial positions we've ever been in," he says. "Our customers are satisfied as ever with our service rates going up," he continues, noting that Modern has enjoyed growth over the past nine years. "We're preparing for a decent 2018."
"Modern also will strive to keep being the best," Smith states. "That approach will serve us well as we enter new markets. We'll be well-positioned to ride out those ups and downs that we see in our economy because we diversify ourselves effectively."
Through it all, Modern will stay true to its Mission, valuing its team members and supporting its customers, always with a laser-focus on safety. "We begin each meeting with our Mission," Cozzens says. "We ask all team members to internalize our Mission and live it every day. It drives our culture of working hard, unquestionable integrity, having fun and interacting with each other honestly and respectfully, always with the goal of getting everyone home safe. This is at the very core of who we are and what will drive our ongoing success."