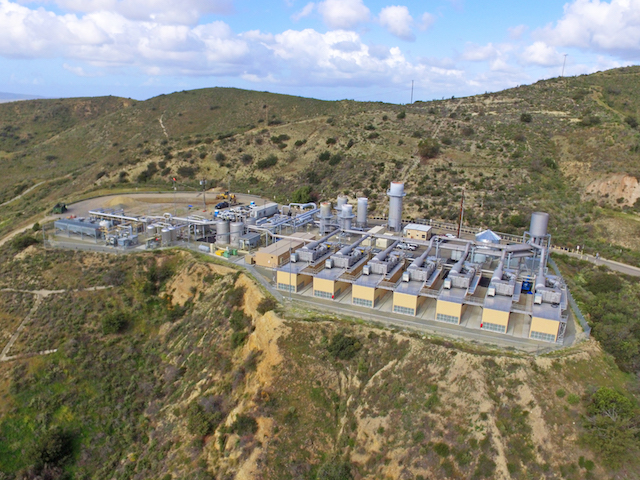 Montauk Energy is in growth mode with the development of four renewable energy plants.
By Janice Hoppe-Spiers, Senior Editor at Knighthouse Publishing
For more than 30 years, Montauk Energy has specialized in providing fully-integrated solutions for the management, recovery and conversion of biogas from waste sources into renewable energy. Montauk Energy is one of the largest producers of renewable natural gas (RNG) in the United States and a major producer of renewable electricity from biogas. The company's unwavering commitment to renewable energy began at the inception of the industry and remains today.
In 2006, Montauk Energy was sold by Duquesne Light and became a subsidiary of Hosken Consolidated Investments, a publicly traded company in South Africa, until 2014 when it was unbundled and separately listed on the Johannesburg Stock Exchange (JSE) under the ticker symbol "MNK". "Although the company is incorporated in South Africa and its shares trade on the JSE, all of our operations, assets, employees and customer relationships reside exclusively in the United States," President and CEO Marty Ryan explains.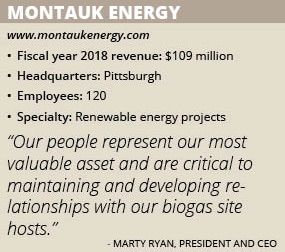 The company had $109 million in annual revenue in the fiscal year that ended March 31, 2018, up from $89 million in the previous fiscal year.
Primed for Growth
Pittsburgh-based Montauk owns and operates 14 renewable energy facilities today, nine of which produce RNG and five that produce renewable electricity. The RNG Montauk Energy produces is pipeline quality and can be used for transportation fuel when used as CNG or LNG providing a distinct economic benefit driven by the federal Renewable Fuel Standard ("RFS") and state-level carbon reduction initiatives. A Renewable Identification Number (RIN) is a serial number assigned to a batch of biofuel for the purpose of tracking its production use and trading, which is required by the RFS. "Refiners of gasoline and diesel purchase RINs to evidence compliance under the program," Ryan explains.
Montauk Energy has partnered with landfill owners to produce renewable energy from landfill methane since 1983. The company currently employs 120 people and is in the process of hiring another 10-20 employees across all disciplines of organization. "We have a lot of employees who have been with us for over 20 years, are dedicated and the driving force behind the organization. Without them we would not be successful. Our people are critical in developing and maintaining the relationships we have with our biogas site hosts," Ryan notes.
The company recently announced the intention to develop four additional RNG projects in 2019 and 2020, including its first 2 projects utilizing dairy cow manure into RNG. "We use commercially viable technology to process and clean the biogas," Ryan says. "We are technology agnostic and apply the most appropriate technology tailored to each host site's needs."
To remain in aggressive growth mode, Montauk is evaluating additional sources of waste gas beyond landfill gas and dairy manure digester gas, including swine or wastewater, all of which qualify for the generation of RINs when used as a transportation fuel.
Montauk Energy's entry into the dairy digester space is expected to well-positioned it benefit under California and Oregon's low-carbon fuel standard, which incentivizes reducing greenhouse gases. These state programs offer credits additional to RINs and Montauk Energy sees other states trending towards implementing their own low-carbon fuel standard. "States with low-carbon intensity programs are an additional value stream for us to participate in," Ryan says. "There will be more avenues that will drive the demand for compressed natural gas vehicles to displace diesel fuel vehicles, and we are positioned to participate in that growth."