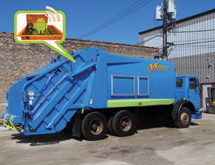 Jim Castelaz founded Motiv Power Systems in 2009 with one goal in mind: to make electric power an accessible option for diesel truck fleet owners. "My vision was to free trucks from traditional oil and fossil fuel without reinventing the way trucks are built, bought and serviced," he says.
Initially, the company served solely as a consultant to companies designing battery packs for prototype electric vehicles. A California Energy Commission grant changed that, giving the startup company the capital it needed to pursue the development of its own product. This product, the electric Powertrain Control System (ePCS), consists of a power train kit, motors, a controller and other components needed to convert diesel fuel trucks to fully electric vehicles.
The system gives truck builders a common platform to use on vehicles of different sizes, weights and power levels. "We wanted to make it very easy for a wide variety of truck builders to make electric versions of the trucks they were already building," Castelaz says, noting that the ePCS can easily be "plugged" into a variety of truck frames as diverse as medium-duty frames from Ford to heavy-duty frames from Crane Carrier.
Motiv provides the ePCS kit directly to intermediate stage modifiers, third-party companies contracted by truck manufacturers to modify vehicles from conventional to alternative fuel systems. Modifier companies then send the trucks back to final stage manufacturing companies. "We allow those final stage manufacturers to run these trucks as a part of their regular lines and not have to set up a specialized assembly line," he adds. The company also trains the final-stage manufacturer's dealer network in how to service the vehicles.
Plugging In
Motiv manufactures in-house the circuit boards found in the controllers used in its ePCS kits. Batteries and other accessories packaged in the kits are purchased from suppliers. The kit includes multiple battery packs instead of a single, large battery, which makes replacements easier. Digital controls can be used with any make of battery and are forward compatible, as they are linked to Motiv's secure telematics system, which can transfer software updates to the controller in real time. The telematics system also allows the company to track the vehicles and determine potential problems or service needs, Castelaz notes.
Batteries can be charged at voltages ranging from 208 to 600 volts, allowing fleet owners to use their existing electrical infrastructure and eliminating the need for the company to install transformers.
Motiv is building an assembly line in San Jose, Calif., that will give it the ability to increase its production rate from five controllers per month to 200. The line, funded by another California Energy Commission grant, will be at 20 control systems per month by the end of the year, he adds.
A Bright Future
Motiv's systems will get their first major application starting later this year when the company delivers the first of 20 garbage trucks to the city of Chicago. The company signed a $13.4 million contract with the city last year to electrify the trucks, which will have a range of 60 miles per day, enough to complete a single day of trash collection.
Garbage collection is one of the applications that is an ideal fit for the company's systems, because it follows a regular mileage pattern. "Applications that use a lot of fuel and do about the same thing and drive the same amount of miles every day are the best fit for us," Castelaz says. "If you have a vehicle that goes 10 miles most days but occasionally goes 150 miles, you have to size the battery for a 150-mile range, which can be very expensive, and you wouldn't be offsetting enough fuel to pay for it by only using 10 miles on an average day. Batteries can pay off very quickly if they're consistently using the same amount of mileage."
Further applications are anticipated for Motiv's systems in the near future. Additional vehicle frames the system can be applied to are also anticipated later this year, Castelaz says.
Castelaz credits the company's growth to his staff. "I think we are where we are today because we have an amazing engineering and commercial team that is very passionate about what they do and believe in our vision," he says. "They do amazing work making electric trucks a reality."