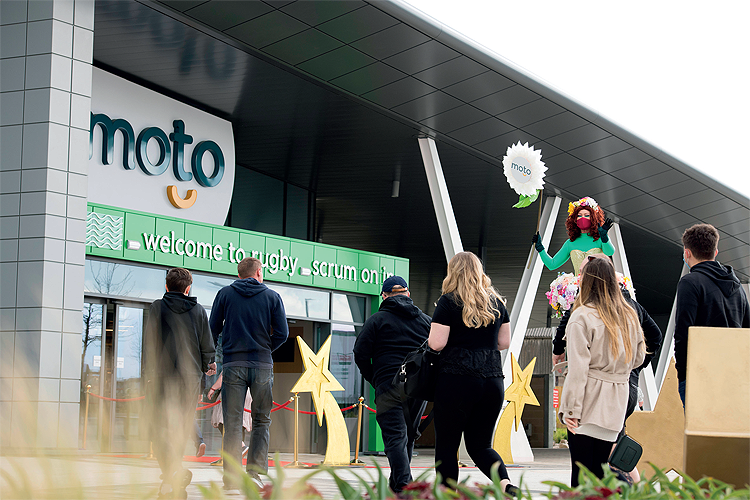 The Moto way
Responsive and customer focused, Moto Hospitality, the UK's largest motorway services operator, continues to brighten
Opened in April 2021, Moto Hospitality's newest motorway service area, in Rugby, England, encapsulates the company's mission to 'brighten people's journeys through life'. Moto's first new site for 13 years, the service area cost over £40 million and was designed in close collaboration with customer feedback – an essential part of everything the business does today.
"On average," CEO Ken McMeikan begins, "we serve about 120 million people over the course of a year at Moto, providing a vital rest stop experience for motorists on journeys, as well as a critical overnight service for HGV drivers moving food, medicines and other goods around the country.
"Our success is driven by the fact that we are fanatical about responding, adapting to and pleasing our customers. We have a five-year plan centred around the UK motorist and just before the pandemic, we carried out our biggest, broadest and deepest customer insight ever. Based on that feedback, we are now investing in new sites like Rugby, as well as transforming our existing sites to create a better experience for motorists based on their specific suggestions."
As a direct outcome of numerous visitor requests, Moto's Rugby service area contains indoor and outdoor play areas for children, spacious baby changing and toilet facilities, a multi-faith prayer room, a dog walking area, and, like all Moto locations, many of the nation's best-known, well-loved food, drink and retail brands. For instance, Moto holds exclusive rights to operate Greggs and Marks & Spencer on UK motorways.
"We operate fantastic brands, beloved by the UK motorist, and I think we operate them exceptionally well – to the point that you wouldn't know it was Moto colleagues running these outlets," Ken says. "In light of an increased desire for technology from consumers, and encouraged by the nature of the Covid-19 pandemic, we worked with our brand partners to roll out self-order kiosks, self-scan check-outs and click & collect apps across the portfolio.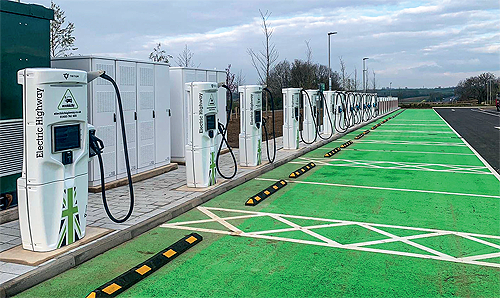 "We want to empower the consumer from a technological perspective, so we have also introduced pre-order capabilities for brands like Costa. It means that, if you are a passenger in a car and you know you are coming up to a Moto, you can actually pre-order food and drink and then, by the time you've parked and gone to the loo, your order can be ready and waiting for you."
Health and wellbeing was another common theme in Moto customer feedback and, together with its core brands, the company has taken steps to address this. Along with providing full and varied offerings in its restaurants and stores – the like of which customers would find on the high street – Moto also endeavors to cover all tastes and preferences.
"All of the brands we operate have put a lot of focus and energy into expanding choice for our customers by adding ranges like vegan options," Ken states. "Still, we understand that there are more brands out there that customers would also like to see included at our service areas. This is something we have tried to remedy recently with the introduction of Pret for example.
"Pret is a really good fit for us. It was a name that resonated well during our customer research and so we recently brought the company on board at the end of 2020. The calls for Pret seemed to come from a desire not only for more healthy food, but for freshly prepared offerings too. That's why our new Rugby site is home to our second Pret outlet following the first Pret opening at our Cherwell Valley site."
Evident throughout the Moto organization is the company's commitment to creating value for its customers. Consequently, one particular area of focus for the business at present is trialing lower fuel prices at four of its motorway service areas on the M5, M6 and, most recently, on the M1.
"About eight or nine months ago, we launched a trial for lower fuel prices. The key difference to previous efforts was that, this time, we wanted motorists to be able to see the price of fuel from the motorway, so they could make an informed decision about turning in to re-fuel," Ken reveals. "With the support of Highways England, at Frankley on the M5, we've now got the only motorway service area signage that includes both diesel and unleaded fuel pricing for motorists positioned on the motorway – prices that are comparable to high street petrol stations."
Though a 12-month trial of the initiative will conclude in September 2021, Moto has already received positive feedback, suggesting that service area users would welcome a full rollout of the scheme in time. Ultimately, Ken would like to see Moto lead the motorway sector with lower fuel prices.
"That's our ambition," he asserts. "We know lowering fuel prices is what motorists would really like to see, and we want to find a way of doing that sustainably."
Alongside its efforts to overhaul motorway fuel prices, Moto is taking a lead in supporting motorists making the switch to electric vehicles. In the coming months, the company and its partners are set to invest more than 100 million in upgrading Moto service areas so that they are better suited for electric cars.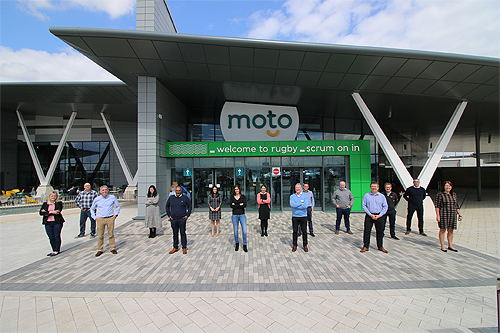 "At the moment, we hear a lot about motorists who want to transition to an electric vehicle, but can't do that confidently because of range anxiety and a lack of charging infrastructure in place in the UK," Ken explains. "As a result, by the end of this year, half of our sites will have a minimum of six high-powered, ultra-rapid chargers, and that will be the case for all our sites by the end of 2022. It will make a huge difference to motorists in terms of being able to decide about electrification for themselves, safe in the knowledge there will be ultra-rapid chargers available at all Moto sites which can provide 100 miles of charge in less than 10 minutes. We are very excited to be working with our partners Gridserve and Tesla to lead the way on electrification on the UK's motorways with the major roll-out of ultra-rapid chargers."
These ambitions, as set out by Ken, can be seen in action at Moto's Rugby service area, where the company went beyond even its own initial aims, installing 24 ultra-rapid electric vehicle charging points.
"With 12 Tesla and 12 Gridserve ultra-rapid chargers, Rugby is the largest ultra-rapid charging site on the motorway," Ken confirms.
"More and more of our service areas will start to look like this," he continues. "It's a transformational change because, soon, electric vehicles users will be able to stop at any Moto site and be provided with easily-accessible, powerful, reliable ultra-rapid chargers, with contactless payment facilities."
With a turnover of £800 million, Moto provides jobs for 4,500 people in the UK. Just as it listens carefully to customer responses, the company has stayed abreast of the thoughts and feelings of its workforce throughout the Covid-19 pandemic and, following the news that up to 80 per cent of its central support colleagues wanted to move to a hybrid working model going forward, the company will introduce more flexible, personal-choice-based working patterns once Covid restrictions are eased. According to Ken, Moto hopes to play an important role in facilitating the shifting work patterns of its customers too.
"An interesting opportunity for Moto is that we think motorway service areas will become a third workplace for many people," he reports. "We have great facilities that are already used by commuters and business travelers, not only as a place to stop and rest, but as somewhere to make calls, send emails, and meet colleagues.
"We believe that, if we put the right facilities in place, people who don't want to travel into an office, but equally don't want to work at home, will find our service areas an ideal place to conduct business. At Rugby, we have really tried to accommodate this new trend by increasing the amount of charge points, upgrading Wi-Fi, and installing booths and quiet areas where people can sit and work. You've got your office, you've got your home, and now Moto can offer you that third workplace."
An organization built on great service, today, in 2021, Moto is more than just a motorway service station operator, but a positive force transforming UK communities for the better. Back in 2019, the company donated over £1 million to charity initiatives – £500,000 of which went to Help for Heroes to help improve the lives of service men and women injured in action. Other non-profit partners have included The Woodland Trust and breakfast clubs across the nation. Every Moto site has an adopted school and a huge amount is done for local communities and charities.
"We do a lot for children with regard to donating books," Ken adds. "We have a real concern about literacy standards which have only worsened due to the pandemic, particularly for those children from disadvantaged backgrounds. As a result, we've been working with the National Literacy Trust. One in eleven children do not even own one book, which is horrifying, so we do a huge amount to support young people like that.
"I've always believed that the more successful a business or an individual becomes in life, the more they need to do for those from disadvantaged backgrounds. Those values run incredibly deep at Moto."
Most recently, in solidarity with the large volume of Moto customers and employees with family and friend connections in India, the company set out to raise funds to support the British Asian Trust oxygen appeal to support people in their fight against Covid-19.
"None of our business is in India, but when we saw the horrific situation there, we mobilized and raised £25,000 over just one weekend," Ken declares. "The UK was doing better in its battle against the virus at that time, so turning our attentions to helping India seemed like the right thing to do. The level of commitment from our people was incredible – some of our most senior managers even offered to shave their hair off and wax their chests – and everybody responded in kind.
"We believe we saved in the region of 15,000 lives because of the oxygen concentrators the British Asian Trust was able to buy with the money we donated."
By its own admission, the company is not perfect, but it strives for perfection by listening to, and acting upon, the suggestions of its customers and its colleagues. This humble 55collaborative approach to business is the heartbeat of Moto and will remain integral to how it operates in 2021, and further up the road.
Moto Hospitality
www.moto-way.com
Services: Motorway services