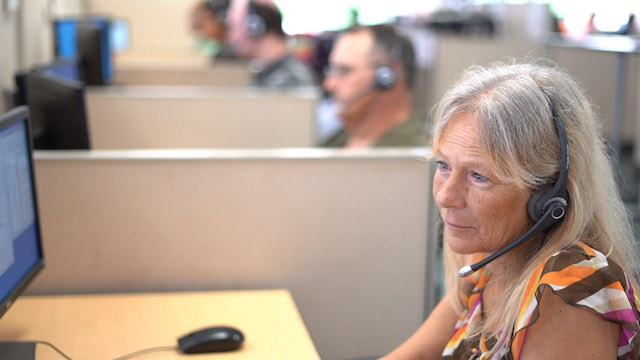 Continuous improvement helps MTM Inc. create customized solutions in medical transportation services for clients across the country.
By Staci Davidson, Senior Editor at Knighthouse Publishing
It is well known that women play a key role in healthcare delivery in this country, and this is likely to continue because as of 2017, there are more women than men enrolled in medical school in the United States. MTM Inc. and its woman-led management team plays a role in the industry as well, known as one of the nation's most experiences and qualified non-emergency medical transportation (NEMT) brokers.
"Being woman-owned is definitely a distinguishing factor for us," President and CEO Alaina Macia explains. "The majority of our executive team and leadership are women, and that allows us to be more focused on things women are really great at, like processes, collaboration and customer service. MTM is known for having a high level of integrity and ethics, and we have found people want to work for leaders they respect."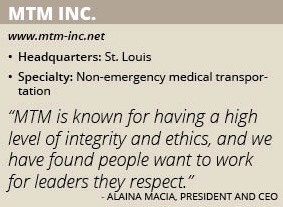 Operating in 28 states and the District of Columbia while maintaining call centers and offices across the United States, MTM also is a family owned and operated business. The company was established in 1995 by Peg and Lynn Griswold when they realized how difficult it was for health plans and government organizations to arrange transportation services. They wanted to ensure more people had access to healthcare, and now MTM schedules more than 16 million trips for 11.5 million members nationwide, while handing 8 million calls every year.
MTM's ongoing goal is to remove barriers for those who want to access healthcare and community services, while also delivering responsible, cost-effective results. The company provides customized solutions to each program it offers, and maintains priorities of delivering value to clients, creating awareness on how to use it programs, utilizing the right technology to deliver services, demanding quality, developing the best networks, managing its work with care and always being innovative.
"We designed a system that is organized and flexible, so we can tailor clients' needs based on the market but still be efficient," Macia says. "We do a lot of customer service training with our staff and push are core values throughout the organization. We are dedicated to aligning with our clients and delivering value, and all of our employees are aware of this mission and vision guidelines."
Collaborative Culture
Aiming to be clients' one-stop transportation solution for healthcare, MTM offers NEMT, home healthcare coordination, preventative care and courier services, as well as helping the disabled, elderly and other transportation-disadvantaged populations with their transit needs. The company understands the critical importance of these services, so it is continually improving to enhance what it offers. Macia explains MTM has been employing the lean manufacturing and Six Sigma models, using business process mapping to find areas of waste, eliminate issues of service quality. All of this work has been highly regarded by MTM's staff, she says, because everyone is working collaboratively to improve and this is increasing overall engagement.
"We have a very collaborative and driven culture," she says. "We are never satisfied with the status quo, so we are always looking to improve our processes, technology and people. This is a very high-growth company, so it is really important to make sure our processes are efficient while we are growing quickly. Always looking to do better is the key to our success."