N.Y.C. Department of Citywide Administrative Services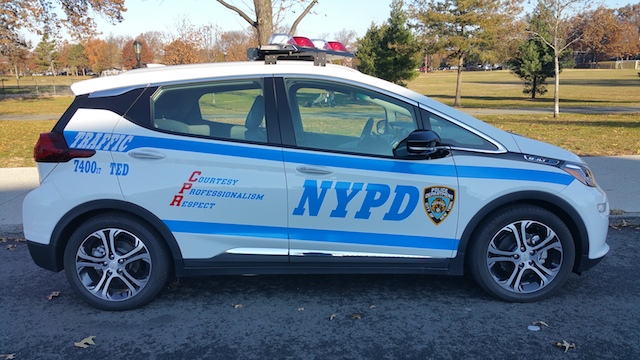 New York City's DCAS is on track to achieve its goal of cutting greenhouse gas emissions in half by 2025.
By Bianca Herron, Senior Editor at Knighthouse Media
The New York City Department of Citywide Administrative Services (DCAS) operates more than 30,000 owned and leased vehicles, the largest municipal fleet in the United States. More than 40 percent (12,000) of the fleet consist of emergency service units assigned to the New York Police Department (NYPD) and the Fire Department of the City of New York (FDNY).
New York City maintains fleet units at 37 dedicated fleet repair facilities and has more than 400 in-house fueling locations. In addition, N.Y.C. employs more than 2,000 full-time city employees in fleet repair and garage dispatch operations across the 10 largest fleet-operating agencies. In total, more than $900 million was spent citywide in 2017 on fleet-related costs including acquisitions, repair, fueling, parts and collision claims.
DCAS works to improve services and safety across the 10 major fleet operations involving its own and other New York City agencies. They include NYPD, FDNY, correction, sanitation, environmental protection, parks, transportation, education and health. In addition to these agencies, DCAS manages and services 50 other agencies and offices with smaller fleets.
DCAS leads initiatives in sustainability, performance reporting and emergency management. "DCAS manages day-to-day services on a citywide basis, including repair, fueling, auction, parts supply, car share and claims management," Chief Fleet Officer Keith Kerman explains. "On the sustainability front, DCAS operates one of the largest alternative fuel fleets in the world, with 18,314 total units using some type of alternative fuel including electric, solar, hybrid-electric, natural gas or biodiesel."
Clean Fleet Initiatives
Through Mayor de Blasio's NYC Clean Fleet initiative, DCAS is working to cut greenhouse gas emissions in half by 2025. As part of this effort, DCAS aims to roll out at least 2,000 on-road electric vehicles by 2025. The agency currently operates more than 1,100 electric vehicles, including the General Motors Bolt and Volt, Toyota Prius Prime, Ford Fusion Energy and Nissan Leaf.
"We'll be at least 1,500 electric vehicles by the end of 2018," Kerman says. "So we're well ahead of our pace of 2025, which I think we'll beat dramatically."
DCAS also operates more than 600 off-road electric and solar units, including carts, forklifts, light towers and signboards. It recently announced the rollout of solar/electric light towers. "We have our first formal contract to do that with Progress Solar Solutions," Kerman says. "We had piloted this about four years ago in a smaller contract. However, with Power Solar, we're looking at transitioning as many as possible of our 550 currently diesel light towers."
Kerman notes that the current diesel light towers are noisy and use a lot of fuel. "They also have to be turned on and off everyday, which is another reason we're making the switch to programmable solar/electric light towers," he says.
In addition to electric cars, DCAS operates 500 electric charging stations, mostly Chargepoint units. The agency plans to expand that number significantly, according to Kerman. He notes that DCAS recently finished implementing its first 37 solar carports, which came from Envision Solar. Each carport has a 30-kilowatt hour (kWh) battery for energy storage and can power two to three plug-in hybrid electric vehicles (PHEV) daily. These batteries can also provide electricity in emergencies.
"This is something that we intend to expand upon as well," he says. "As we grow our electric vehicle infrastructure we want solar to be a part of that."
Another one of DCAS's clean fleet initiatives includes expanding the use of anti-idling technology for its ambulances. "We now have 300 ambulances using electric batteries to reduce emissions with 128 additional units on order," Kerman says. "These initial units are with Stealth."
Historically, DCAS's ambulances have had "enormous" wear and tear on their engines and transmissions, Kerman notes. "The ambulances never turn off," he explains. "The vehicle has to run, with the engine on, at all times to get to a response quickly. The anti-idling alternative units are meant to power the ambulance to allow it stay in the ready position while it's idling, but with an electric battery. We have an incredible potential to not only reduce fuel use and noise, but also maintenance costs."
Last year, DCAS implemented its largest-ever biodiesel program with 16 million biodiesel blended gallons, or 2.1 million gallon equivalents of pure biodiesel (B100). This year, the agency will implement a first demonstration contract for 1 million gallons of renewable hydrocarbon diesel fuel (RD), which can achieve environmental benefits equal to biodiesel but without equipment compatibility issues at high blends.
"Sixty percent of the fuel we use is diesel, which may grow to 65 percent of our fleet," Kerman says, noting that RD is available now, but mainly in California.
"A big part of our challenge is to bring renewable diesel to scale in New York and on the East Coast," he says. "When adding in the biodiesel program, our use of fossil fuels has reduced, from 2013 to 2017, by 2.3 million gallons or 8 percent, while absorbing expanded fleet operations and usage."
Looking Ahead
DCAS is positive that it can achieve all of its goals. "We not only operate a large fleet, but also 160 different types of vehicles ranging from police cars to construction and transportation vehicles, fork lifts, buses, dump trucks and more," Kerman explains. "If we can show this kind of change in a fleet as large and diversified as ours, it will become a pathway for others – both publicly and privately – to do the same."
Ultimately, DCAS knows that by working together with all of its agencies, it will succeed. "With all of our lines of service, each agency has different missions and fleet portfolios," Kerman says. "So we're helping to get everyone working together, talking to each other and moving in the same direction. That's not always easy because there are a lot of varying perspectives and cultures."
Despite the challenge, DCAS is "working relentlessly" to manage its relationships to ensure the success of its sustainable initiatives. This includes performance reports, regular inter-agency meetings and communicating through its newsletter.
"We are very aggressive in raising the profiles of our initiatives and moving forward with all of our agencies," Kerman notes. He adds that DCAS and NYC Parks bring all of its agencies and partners together for its annual fleet show. This year, the 30th annual fleet show will be held May 17 in the Flushing Meadows Corona Park in Queens, N.Y.
"This show highlights vendors who support NYC's Clean Fleet and Vision Zero initiatives, as well as daily operations," Kerman explains. "We will have vendors offering a wide array of products to improve vehicle safety including cameras, truck side guards, systems to track and manage fleets, and systems to avoid or mitigate collisions.
"The show also highlights vehicles and equipment with alternative fuels and emissions-reducing technologies, along with the latest in light and heavy-duty vehicles, trucks, horticultural equipment, tools, fleet services and more," he adds.