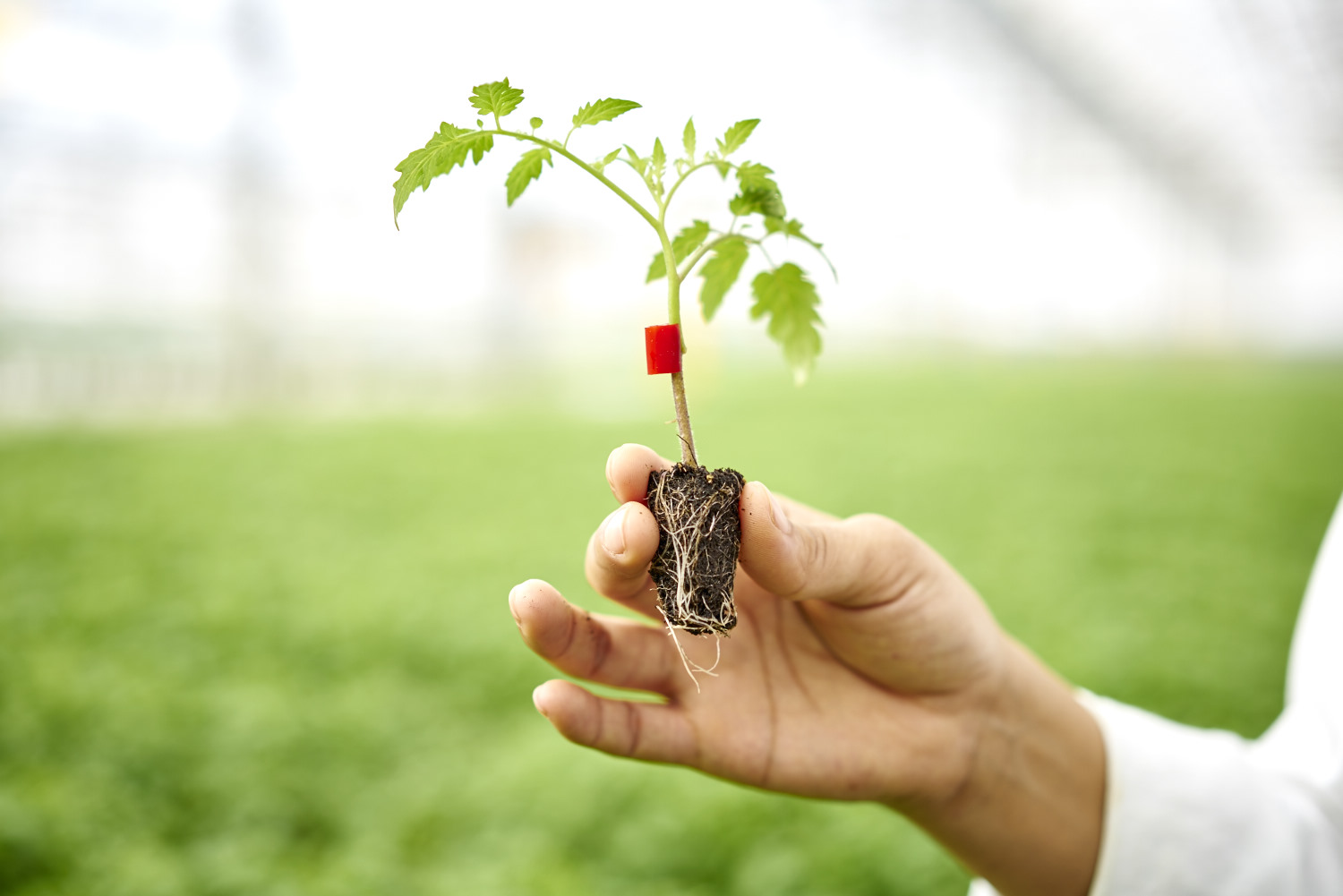 NatureSweet's traceability technology can track a tomato's history down to the greenhouse row it was picked from.
By Tim O'Connor
Some brands within the tomato market source their vegetables from a mix of growers. Mixing those sources together can create inconsistency and quality issues once the tomatoes reach store shelves.
As a vertically integrated grower and consumer packaging company, NatureSweet works 365 days a year to ensure every tomato meets "best in industry" specifications. "We start from seed and deliver to shelf," says Matt Volker, vice president of supply chain. "We're able to control the quality from start to finish."
Since its founding in 1990, NatureSweet has built five greenhouse facilities in Mexico and purchased a greenhouse operation in the United States. With nearly 1,400 acres of greenhouse space, NatureSweet is the largest greenhouse grower in North America and a leading supplier of tomatoes to retail grocery, club retailers and food distributors. Its nearly 8,000 full-time associates average more than five years of experience. Through employee retention, the company has expertise in how to manage plants and product yield to provide the best tasting tomato varietals across all seasons.
The company's growing operation is segmented between the U.S. and Mexican facilities. About 30 percent of the company's tomato production comes from its location in Willcox, Ariz., and the remaining 70 percent occurs at its greenhouses in Mexico. "We have a global presence through an integrated supply chain for both in-bound material and maintenance requirements, as well as a finished goods network across the United States and Mexico," Volker says.
Ensuring Quality
Freshness is important in all foods, but especially when it comes to vegetables. NatureSweet's logistics division plays a key role in ensuring the product that appears on the end-customer's plate matches the brand's fresh promise. "First and foremost, we do an excellent job with a product that expires at 21 days from pack date," Volker says. "The logistics network must be able to deliver products within an eight-day window to any customer within the United States and Canada."
Tomatoes are transported from greenhouse to packing facility via refrigerated transport services. Once at the packing plant, the tomatoes are kept at 40-45F degree warehouse operations to control maturation and maintain product quality. From there, the finished containers are shipped to regional distribution centers.
NatureSweet uses a combination of an in-house dedicated fleet and third-party carriers to move packaged products throughout its network. In Mexico, the company contracts with Ryder to manage the execution, planning and financials of its intra-farm transportation. Ryder's service is a comprehensive logistics service for sourcing and shipping raw product, packing materials and finished goods between NatureSweet's Mexican operations.
In the United States, NatureSweet utilizes dedicated transport services through C.R. England to deliver finished goods to customers. The trucking company also provides an intra-farm program for NatureSweet's Willcox operation. In addition to those transportation management agreements, NatureSweet bolsters its transportation operations through the use of more than 25 contract carriers with committed volume capacity across both the United States and Mexico.
To best support its rapid delivery schedule, NatureSweet utilizes a reverse logistics approach to its network. Products are delivered to customer locations three times a week to ensure excellent rotation of fresh product. Because the inventory window is only three days at most, NatureSweet operates a cross dock concept to move its products quickly through regional distribution centers that supply customers.
All that movement is tied to the packing date of the tomatoes. "We pay strict attention to the age of the product to optimize the consumer's experience," Volker says. Each pallet's identification number can be traced back to the greenhouse section and the row from which the tomatoes were picked. "That traceability allows us to track the product from greenhouse to the consumer's counter," Volker adds.
The traceability program has evolved during the 10 years it has been in place. At first, the tracking was more manually driven. But Volker says that made it susceptible to the challenges of human input error. Today, the program is in the middle of a two-year transformation to become completely automated.
The program now uses a scanning method tied to NatureSweet's ERP system, creating real-time visibility into the movement and freshness of each tomato while eliminating the opportunity for mistakes.
NatureSweet continues to expand on its traceability technology. Within the past six months, the company installed wi-fi across all of its greenhouses, enabling staff to use wireless tablets to enter information on each plant at the time of harvest. The company can now access data on the product before it even reaches the packing facility, allowing it to better understand the overall volume and ensure that products meet NatureSweet's specifications.
Evolving Logistics
"As the most powerful end-to-end supply chain in the produce industry, we set objectives to improve product quality, service levels and build powerful partnerships with vendors," Volker says. Sometimes a major supply chain breakthrough can come from something as basic as a change in materials.
As NatureSweet continues to elevate the tomato market, the company is evolving toward a dedicated fleet program that can reach 100 percent of its appointments on time. Already, 97 percent of deliveries are at their drop off on time but Volker believes the company can do better. The company uses Kewill TMS to track updates and on-time rates for its carriers. "If we're 100 percent committed to improvement we need to know how we can accomplish that," he explains.
To accomplish that perfect rate, NatureSweet is instituting a number of requirements for its carriers. All trucks must now have GPS tracking and carriers must provide location updates every six hours at minimum. Finding the logistics providers that meet those requirements necessitates a hands-on transportation planning process, Volker says. NatureSweet continually cycles through the market to identify potential regional carriers based on their primary transportation lanes and capabilities.
Volker believes powerful partnerships with vendors coupled with cost containment will drive the future of NatureSweet's logistics vision. "It is the alignment of an end-to-end integrated supply chain that allows for reaching higher levels of product quality compliance and meeting internal and external customer service levels," he says.
www.naturesweet.com
HQ: San Antonio, TX
Employees: 8,000
Specialty: Tomatoes