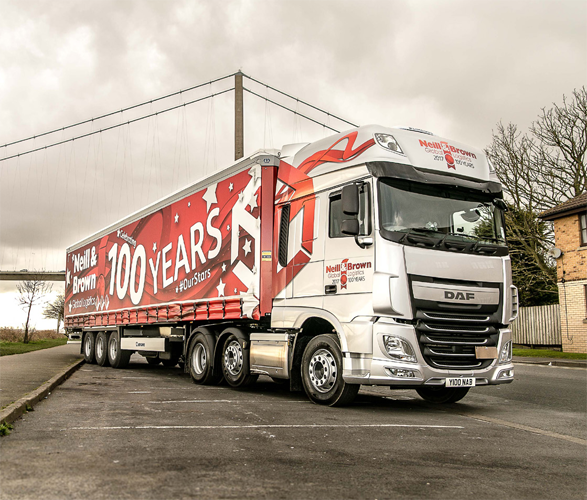 Neill & Brown Global Logistics
A round the clock service
One of the most experienced UK and European logistics providers, Neill & Brown Global Logistics offers a complete package of services to its customers, from warehousing to distribution
A proven leader in its field, with over 100 years of history behind it, Neill & Brown Global Logistics (Neill & Brown) is a highly respected British logistics provider delivering efficient, integrated supply chain solutions from its headquarters in the Humber region. Boasting a thorough understanding of both domestic and global markets – as well as expertise in transportation, abnormal loads, warehousing, documentation, packaging and insurance – the company offers numerous secure, daily timed collections and deliveries, tailored for a wide range of products.
"To summaries the business, we are an international hauler and logistics services provider, dealing with customers predominantly across Europe on a day-to-day basis," explains Neill &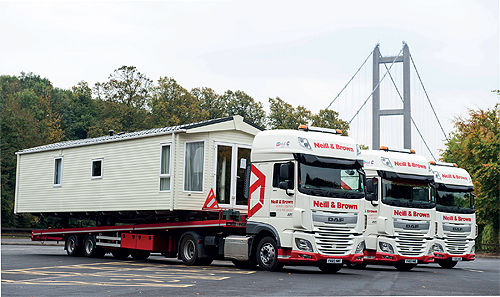 Brown's Chief Executive Officer, Peter Brown. A proud member of Pall-Ex – the pallet shipping network trusted by hundreds of customers all of the UK, Europe, and across the globe – Neill & Brown's fleet of vehicles move through countries including Italy, Belgium, Germany, the Netherlands, Spain, France, and Switzerland daily. The company operates a self-drive operation, using British drivers to deliver goods throughout the continent, before its trucks (predominantly Volvo and DAF-made vehicles that are changed on a five-year cycle) are reloaded to return to the UK.
"In addition to the 50 vehicles that make up the aforementioned fleet, we possess approximately 200,000-square feet of storage space across two sites – one in East Hull and the other in West Hull – which includes the capacity to hold up to 18,000 fully wrapped pallets," Peter adds. "We also run a hugely reliable and efficient pick-and-pack operation, and carry out custom clearance activities, which have become a much bigger focus area for Neill & Brown since Brexit was finalized."
Bearing the above in mind, to say that Neill & Brown today covers a large cross section of the logistics arena is, if anything, probably doing the company a disservice. So, what have been some of the secrets to its success and its growth into a multi-million-pound turnover entity? "At the end of the day," Peter continues, "a lot of it comes down to the fantastic people that we have employed through the years, many of whom have been with us for a significant period of time.
"It is also important to understand that this is a business that has never been known to take many risks. By that I mean, we don't do things like go out to market and purchase a lot of equipment without work already being secured for it or anything like that. Over the years, we have cultivated a very good portfolio of customers, many of whom have been with us for a great deal of time, and we are pleased to be able to say that the strength of these working relationships has allowed us to grow at the same time as said customers."
It will probably come as little surprise that one of the more defining events of recent times to impact upon the way the Neill & Brown – and indeed its peers – operates has been the UK's exit from the European Union (EU). As Peter goes on to detail, just one of the changes of note has been the company's need to re-establish its customs clearance capabilities.
"If we turn the clock back a number of decades, before the UK even became a member of the EU, customs clearance was at the very heart of Neill & Brown, it was practically all we did," he says. "Once the UK joined, the need for such services virtually disappeared, and it led to the company closing down a number of its offices, and subsequently pivoting its activities towards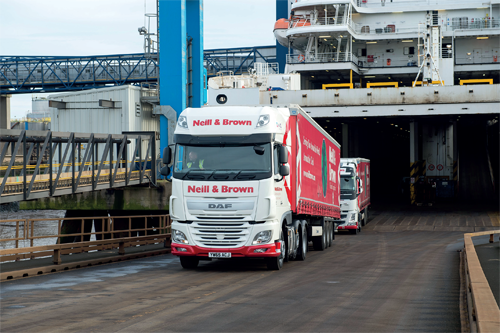 expanding into warehousing, trucks, trailers, and other aspects of the logistics chain in order to replenish and grow.
"Ironically, since the end of 2019, we have had to go back into the field of customs clearance, and we now have a steadily growing team of people within our operations department who are dedicated to this one area and to handling all of the extra paperwork, checks and processes that have resulted from Brexit. For their part, these people have responded to the challenge exceptionally well."
Indeed, these men and women that Peter speaks of share the distinction with the rest of their colleagues throughout Neill & Brown of knowing that they were all able to assist in the continued growth of the business, even in the face of Brexit and the other monumental obstacle that has arisen in the last 18 months, that being the Covid-19 pandemic. During the height of the first lockdowns across Europe in the Spring of 2020, the company would in fact handle levels of freight never previously experienced in its illustrious history.
"I personally feel that, through everything that has been thrown our way in recent times, our people have been, and continue to be, absolutely fantastic," Peter enthuses. "Their loyalty and commitment to working as hard as possible has been second to none, with the hours that they have put into the business alone being just incredible.
"I honestly believe that a large proportion of the general public today simply do not realize the complexity that comes with moving goods today. Everything takes so much longer, it isn't simply a case of needing a single invoice for the goods you want to transport any longer. Instead, everything customs related needs to be specially organized, from the details of the customers that you are delivering to, to the shipping lines being utilized, and so much more. One of the results of this has been the need to evaluate our customer base and concentrating on those that we work closest with. By doing so, we have been able to make every possible effort to continue to provide the right service in such trying times and to keep delays down to a minimum. This, in turn, has helped us to increase our own turnover, which is amazing, all things considered."
The level of the task that has presented to Neill & Brown over recent months cannot be discounted. As Peter notes, this is a business that has survived two World Wars and three Recessions, and even in his 50-plus years of personal experience he cannot remember a more difficult period of time than that of the Spring of 2020. "It has remained a very challenging environment since, and the combined impact of Brexit and the pandemic have meant that the marketplace has changed considerably in a relatively short period of time," he points out. "Prices across the board have risen markedly, and will continue to do so as new restrictions and legislature come into force, and there is a serious shortage in trucks, trailers, and drivers that we have to find our way around. To do so, we are being proactive by bringing new people into the business, and by installing new IT systems and programs that will allow us to deal with shipping lines and other third-parties in a much smoother, less time-consuming manner."
While the company has grown, and continues to operate, businesses in markets such as the United States, India, and the Far East (which is run through its Hong Kong office), Peter tells us that for the time being it is perfectly comfortable concentrating the majority of its efforts on its activities in Europe. "We know for a fact that there continues to be a lot of opportunities out there in 2021, and also that we have the talent within our workforce who are capable of making the most of this by giving customers the very best possible level of service, at the best possible price that we can. It is that ability to meet and exceed the needs of customers that we take the greatest amount of pride in.
"While we will never go chasing business that does not make sense to us from a financial and operational point of view, we also recognize that in order to be able to go on reinvesting in the company we need to make a profit. As such, we will keep a close eye on how we can expand upon the great customer base that we have today, so long as we do not lose sight of the need to continue providing the high level of service that Neill & Brown has come to be known for."
Neill & Brown Global Logistics
www.neillbrown.com
Services: Global logistics experts